Features & Columns
The Quest to Be the First to
Scale Mount Umunhum
A new trail and park give new life to one of the Bay Area's iconic landmarks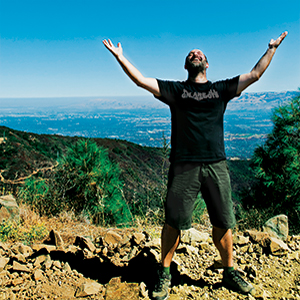 11:30am
Shortly after finishing the first mile of my hike up Mount Umunhum, I look up at the large, mysterious rectangular structure at the top for the 20th time. It feels just as far away as it did at the beginning of the trail, effectively deflating any sense of progress I'd made.
If you've spent as much time hiking trails in the backcountry as I have, you've experienced a "false peak," meaning you spot what you think is the top of the mountain, only to learn after much exhaustive hiking that the spot you had your gaze locked in on was only partway up. Mount Umunhum is the exact opposite: there's never any doubt about where the summit is. It's constantly reminding you—taunting you, one might say.
I won't spend too much time complaining about how out-of-shape I am, or how hard this measly 3.7-mile hike is turning out to be. I have gone on multiple backpacking trips that exceeded the 100-mile mark, and I've survived to wolf down the mandatory victory burger. But I haven't hiked in a while, and the opportunity to do this hike came up rather suddenly.
I don't care. For the past year and a half since I heard this trail was opening, I've wanted desperately to be the first civilian to climb Mount Umunhum, reach the 3,486-foot summit, and touch that Cold War radar tower on top with my own two hands. So I keep my head down, and put one foot in front of the other, following my guide, Brian Malone. That's what you do when your mind wants to make it to the top of a hill, but your body wants Scooby-Doo and a bowl of Captain Crunch.
Obviously, I'm not the first person to ever hike this trail. The guy walking right next to me, a 51-year-old employee of Midpeninsula Regional Open Space District (the public agency that owns this land) has done it several times—Malone even remarks at one point that he "hasn't hiked the whole thing in a while."
But it hasn't been open to the public in decades, and hikers have been waiting to bag this peak since Midpen acquired the land in 1986. When it finally opens to the public Sept. 18, they can add it to a short list of accessible peaks that can be hiked in the Bay Area (Mount Tam, Mount Diablo and Mount Hamilton). It'll be open to hikers, bicyclists and equestrians.
Malone has worked for the open space district for 27 years and knew this long-awaited opening would take a while. "I've been telling people that have been asking, 'probably in about 20 years,'" he says. "There was some point in there where I was correct."
Malone is chipper; he tells me that I got him out of some meetings today, and now he gets to spend the morning hiking and telling me about the trail. The department he manages (Land and Facilities) worked with Midpen's planning, engineering and natural resource staff on the design and construction of the trail, and he's proud of the result. It's a good trail: well-graded, frequently shaded, nice views. I'm thinking right now that I would enjoy it a lot more if I were in better shape, but what can you do?
10:15am
The day starts when I meet Malone at the parking lot on Hicks and Umunhum roads a little after 10am. The drive from San Jose proper was short and pleasant; the road goes past the Guadalupe Reservoir on the left, and weaves past bicyclists that spend more money on a stylish bike outfit than I make in a month.
I get out of my car and shake Malone's hand. He's been waiting for about 15 minutes but doesn't seem annoyed. He's a friendly man with a gruff voice that reminds me of Dauber, the loveable sidekick on the '90s sitcom Coach.
We caravan up Umunhum Road until we stop at another parking lot. Until recently, this was the farthest one could drive up the road. Part of the three-year construction project to open Mount Umunhum also involved the creation of a safe road to get to the summit for those not intent on hiking up the hill. That's fine and all, but Malone and I are going to "earn our peak."
There's a side trail at the far end of the parking lot, Bald Mountain Trail (0.07 miles one way), that leads to a vista overlooking San Jose and Coyote Valley. We head the other direction to the beginning of the trail. I stare at the building on top of Mount Umunhum. It looks so magical, so surreal. If I were a conspiracy theorist, I would be absolutely convinced that there were alien corpses stored inside, or that "no one knew the origin of this building." (i.e. Aliens built it, just like they did the pyramids) In fact, it's the last remnant of the Almaden Air Force Station, a general surveillance radar station built to detect a possible Soviet attack. The base opened in 1957 and went operational in 1958. It was part of a network of similar structures along the coast with the same purpose. The Almaden Air Force Station closed in 1980. The Soviet attack, thankfully, never came.
At one point, there were 86 structures up there: housing, a pool, a bowling alley, a movie theater, stores. The commute was too cumbersome for base employees to get to San Jose, so they had their own community of sorts. Clearing out most of the buildings and removing hazardous waste was one of the major hurdles Midpen faced in opening the mountain to the public. It was a long process, which they finished in 2014 with federal funding. The one remaining building is the radar tower, a five-story structure that housed the antennae. Today it's empty—and closed to the public (a fact that will likely stir up alien conspiracy theorists, although not here)—but guests can walk right up to it. There was much debate over whether Midpen should remove the building. The agency's board ultimately decided to keep it based on feedback from the public and a May 2016 decision by county supervisors, who added the radar tower to the Santa Clara County Heritage Resource Inventory.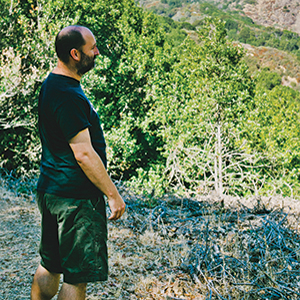 11am
It's a beautiful day to hike. The sun is out. Birds are flying overhead. The fragrance of trees and bushes permeate the air, and the views of San Jose are spectacular. The even grade—it never exceeds 10 percent, Malone tells me—is a nice change of pace after the chaos of so many less-maintained backcountry hikes. The gentle smattering of fallen leaves on the trail is a nice touch. It makes you feel like it's fall already. However, the heat of the sun begs to differ.
The frequency of shade helps the hike, but I'm still sweating. Thankfully, Midpen labored to route the trail under as many trees as possible. We see madrones, bays, nutmegs and other trees I don't know the names of leaning overhead, occasionally resembling a Sherwood-Forest-esque tunnel.
There's an intersection near the beginning of the trail that goes all the way to Lexington Reservoir. That means a person could hike the entire Los Gatos Creek Trail, walk to Lexington Reservoir, zip over here for an additional 10 miles, and then hike up to the top of Mount Umunhum. I file that info in the back of my mind for future reference.
Downhill to the right, just around the bend, I see a wrecked, rusty Volkswagen that was probably brand new when it was left here. I'm always surprised when I see old vehicles abandoned near trails. "A lot of times, it's old roads where you wouldn't expect them," Malone says. Though in this case, he guesses, it was probably driven off the road. We both stare at it for a few minutes, not saying anything, then proceed.
A majority of the 27 years Malone has worked for the open space district, he did so as a park ranger. "I spent 25 years telling people that they were trespassing up here," he says. "It's going to be great to actually invite people." He strikes me as having a highly scientific mind, knowledgeable about details I can barely fathom. It turns out he majored in biology and environmental studies, graduating from UC Santa Cruz in 1989. At the time, there weren't jobs at Midpen like the one he currently holds; his title now is the land and facilities services manager. Maintenance and park ranger work was his way in, and it was a role he enjoyed. "I tend to think of myself more as a git-'er-done guy than a planner or a scientist," he says. At the same time, he's thrilled at how he's been able to apply his knowledge over the course of his career.
When I was told I'd have a guide on the trail, I figured it would be a person making sure I didn't go off trail and damage the natural habitat. But Malone was a guide in the truest sense of the word, and he educated me about everything we saw. He stops a little up the trail and points to a fallen tree on the left: "Oh look, a whiptail lizard," he says. It takes me a second to see it. The little guy is squirming around, almost snakelike.
"It's not a rare lizard, but it's definitely one that shows up more here because of the special environment," he says.
We gawk at the slithering creature a moment. It reminds me of the vast array of lizards I grew up with as a kid. My land surveyor dad used to bring home reptiles he found while working in the hills of Santa Clara County. We had an aquarium full of them. My favorite was an alligator lizard that I used to hold. He would wrap his tail around my arm. Nobody told me how hostile alligator lizards typically were—I was lucky he was such an anomaly.
Malone points to a tree that looks like a Douglas fir, but he tells me it's a nutmeg, not related to the spice of the same name. You can tell it's nutmeg and not a Douglas fir because of how spikey the needles are, he tells me. He holds a branch out for me to touch. The razor-thin sharpness of the needles surprises me a little bit, and I stumble back.
"That smell," I say, "is that the nutmeg?"
The scent has grown intense, but it's a pleasant part of the outdoor experience. I feel like I can taste it. It turns out to be nothing more than bay leaves. One reason the smells are so strong right now is that crews are still out clearing the trail, so there are fresh-cut branches and brush everywhere. Hiking is all about engaging the senses. Looking at the variety of colors of vegetation along the hillside, with pockets of San Jose peeking through, accented by the smells of trees and the sounds of birds. It's all such a rewarding experience.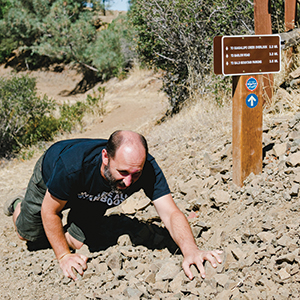 12:00 pm
Just before the mile-and-a-half marker, we see the best view yet. It's much of San Jose, including the tiny spot of slightly larger buildings comprising the downtown skyline. This spot on the trail is called the Guadalupe Overlook. It surveys the Guadalupe Creek watershed. The crew even built a special off-trail viewing area. Someone in the crew apparently stumbled in this direction when they were working on the trail and found the hidden spot. They decided to add a side trail with a deck and rails.
"If you're planning on getting to the summit and you make it here and someone in the family's not feeling it, you can go out and see the view there, and head back," Malone tells me.
We stop and gaze. Why are smoggy cities so beautiful from far away? I imagine what this view would look like back when the valley was just a valley, and the air was clear—even before it was filled with orchards in the pre-Silicon Valley days. The Amah Mutsun tribe, a group within the Ohlone people, are descendants of Native Americans who lived in this general area. Umunhum, as the highest peak in the area, held a spiritual significance for the Ohlone people, who believed it to be the the site of creation in indigenous lore. ("Umunhum" means "resting place of the hummingbirds" in Ohlone.) Midpen wanted to ensure that they paid it proper respect, and worked with the Amah Mutsun tribe to do so. They designed and built a ceremonial circle at the summit, and agreed to allow ceremonies there.
Besides the really well-graded trail, a newly designed road to get to the summit, and a nice overlook, Midpen also constructed three bridges to cross three creeks along the trail, which aren't running at the moment but will be when it starts raining again. When we get to the first creekbed, Malone lights up, excited to tell me about the installation of the bridges. Most of the construction happened underground and required lots of concrete. But the bridges themselves were flown in, since there weren't nearby roads. Helicopters hovered above the creek beds, slowly lowering them into place. "I came out ceremoniously on the last day, it was an incredible amount of work just for that one day," Malone says.
The closer we get to the top, the less we talk. After a while you get into a Zen state of hiking that transcends any pain to be felt, at least for a while. I'm starting to see the building on the top of the summit as we climb the side of the final hill. Malone feels great pride in the fact that they were able to build this trail with as little impact as possible on the ecosystem.
"When it gets to not imposing a structure on the environment, and making it blend in as much as possible, it's still a heck of a lot of work if you do it right," he says. "The public doesn't really notice it."
As we get closer to the top, we slow down. I'm nearly out of water and doing my best to keep my composure. It turns out we aren't allowed to hike that final half mile, because crews are out working the land. Instead of getting to walk right up to the building and touch it with my own hands, we take the side trail that goes to the parking lot at the top. It's a little anticlimactic, but I decide to check Mount Umunhum off of my list as a completed trail. Malone and I snap a few photos, and I bask in the accomplishment for a few minutes.
"Am I the first person not associated with Open Space to hike this trail?" I ask.
He considers it, and then starts listing off people. "Consulting. Tractors. Regulators," he says.
"Yeah, but someone completely unaffiliated with this project?"
"We had a group of bicyclists that was outside that made a promotional video."
"But what about a hiker? Someone not on a bike?"
Malone thinks about it for a long pause. "I can't say for sure," he says. "But maybe."
Good enough.