Features & Columns
All Hail King Patrick
Cross-dressing amateur wrestler, burlesque impresario and
all-around oddball aims to make San Jose weird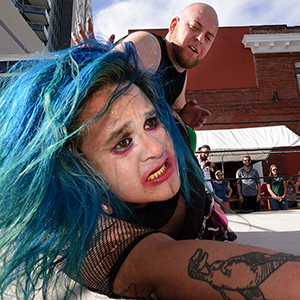 King Patrick Eugenio paces in the back of a rented Ryder truck, moving through a clot of other wrestlers. It's a quarter after four on a Sunday afternoon in downtown San Jose, and he's anxious. It's hot, almost unbearably so, but he focuses on what is to come. Most of the other wrestlers sitting in the truck are dressed in spandex leotards. King Patrick wears ripped fishnets and a battered skirt, sports a shock of long blue hair and has Japanese kabuki makeup smeared across his face. The other wrestlers have names like Scorpion, Guido or Bronson. Eugenio goes simply by KP, as if his character is nothing more than a distillation of himself.
Only a few spectators mill about the ring at the start of the performance—organized by San Jose's long-running Underground Wrestling Alliance, or UGWA. By the time Eugenio appears, the crowd has swelled into the type of throng that would make a fire marshall nervous. While KP's opponent, Van Andrews, approaches the match with brawn and bravado, Eugenio moves ... strangely. Before any punches are thrown, he is already putting on a show, gyrating his hips and swooning over his rival to whoops and cheers from the crowd. He uses his trademark weapon—an oversized dildo, which he licks and wraps around his head—to taunt his challenger.
As the match begins, Andrews strikes first. Eugenio dodges punches before being taken to the ground. He endures a barrage of kicks to the back until jumping free and pinning his hulking adversary in a leglock. In an instant, KP clambers to the top of the ropes, springs into the air and lands on top of Andrews. He pins his foe, this time choking him with a pair of pink panties he has pulled off of his hips. Eugenio calls this move the "camel-toe clutch," a tribute to '80s grappling legend The Iron Sheik.
The match ends and the referee declares King Patrick Eugenio—bloody, bruised and smeared with makeup—the winner. The outcome was decided well ahead of time, but the moves, the taunts and the subsequent pain all came down to King Patrick's gusto.
Super Sinner
It's close to 10pm on a Tuesday night in San Jose. A crowd has formed inside The Caravan, a legendary downtown dive bar. After a bit of murmuring and a warm up performance featuring a man and woman stapling themselves in the chest and face, KP appears. Dressed in a frilly rose-patterned dress, messy lipstick and a bleach blonde wig, he takes the makeshift stage. Puffing on an unlit cigarette, he introduces an alter ego in an over-the-top Long Island drawl. Her name is Phylis Clitoria and she hosts the longest-running burlesque show in San Jose: The Circus of Sin.
Eugenio is already deep into his cups, but it's no obstacle to the chaos and revelry that informs the Circus. Between gender-bending strip-teases, shock acts that include performers lying on a coffin full of nails and tawdry singalongs, Eugenio acts as the mistress of ceremonies. Speaking in a husky, cigarette-laced brogue, Eugenio channels Clitoria, who is naughty, wild and sweet.
Only a year in, The Circus of Sin has become the weirdest variety show in San Jose, showcasing both locals and famous burlesque dancers, along with comedians, singers and other entertainers on a near-monthly basis.
And as quaint as The Circus of Sin might seem hidden in the back of a bar, it's but one step in Eugenio's master plan of helping San Jose recognize it's innate weirdness.
Let's Get Weird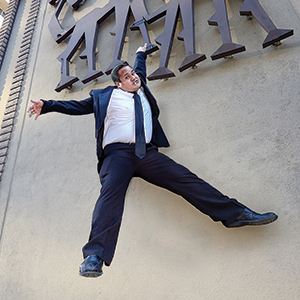 San Jose is a big city with a small-town mentality, but it's also full of oddities. Whereas other hokey hamlets across the country—like Portland, Austin or even Santa Cruz—have made a cottage industry out of their perceived weirdness, San Jose seems to resist any labels that might highlight its denizens' transgressions, preferring to project a sense of upward and bustling normalcy.
The very existence of King Patrick Eugenio flies in the face of all that. And however ad-hoc all of the different masks appear—the wrestling, burlesque show organizing and even officiating weddings—they all are manifestations of Eugenio's explicit goal of making San Jose the strangely sublime place it's known to be by its residents.
"I want to change San Jose for the weirder," Eugenio proclaims. "San Jose is full of weirdos, they just need to fly under a single banner."
For Eugenio, that banner includes all the activities with which he's already involved and more to come. He wants people to follow his lead and start their own offshoot burlesque shows and odd events, even if they end up competing with him.
Eugenio cuts a memorable figure, and through all the wildness he has crafted a network of like-minded people, making friends wherever he goes. It's an asset he's already used in making The Circus of Sin a staple of the burlesque circuit.
"I guarantee if you go anywhere in the Bay Area, somebody you talk to will know of him, at the very least," says Alex Gollihar, Eugenio's best friend since high school.
Eugenio hopes to rebrand his city in his zany image, a little naughty, a little nice, but ultimately accepting and empowering for all stripes of people—however different from the norm.
"If you look up the definition of fairies, it says they are fallen angels," says Jen Harper, a regular patron of The Circus of Sin. "Too bad for heaven, but too good for hell. That's KP."
A True King
Of course, beneath all the makeup and behind the Long Island affectation, there is a man. His name really is King Patrick—just ask to see California I.D.
Eugenio fell in love with wrestling as far back as he can remember. Raised in a hard-working immigrant Filipino family in San Jose with little after-school supervision, Eugenio got away with watching whatever he wanted on television. A true child of the '90s, Eugenio was raised on a diet of South Park and the WWE, two staples that heavily influenced his love of characters and the outsize personas that come with them.
"I was a very impressionable kid," he says, laughing.
Besides practicing wrestling moves on his little brother, an early exposure to dramatic TV instilled an urge to transform himself into other people—the weirder the better. This desire blossomed during his senior in high school, when Eugenio came to class dressed up as different characters one day a week. He called them "Theme Thursdays."
He'd dress as a cowboy or in drag—whatever allowed Eugenio to disappear into someone else's shoes, something he kept up the entire school year. "Then the next day I would be back in my football or wrestling uniform," Eugenio says.
Though high school football teams are hardly bastions of nonconformity, he says his teammates didn't seem to mind his eccentricities. "I was definitely the odd man out," he says. "We had gone through the same trials and tribulations, so the football team was basically a family. I was just the weird cousin."
When Eugenio first heard about UGWA a few years after graduating from high school, he knew it would provide a platform for him to truly express his wild personas. The only thing that stood in his way was his epilepsy.
Not one to give up on his dreams, Eugenio brokered a deal with the group's director, Anthony Trevino, who allowed him to learn the ropes in the UGWA women's league. He adorned himself in panties and bikinis for the sake of assimilation, not yet grasping the significance of such a choice.
After a six-month probationary period, Eugenio was allowed to drop the Andy Kaufman approach and join the men. Instead of disappearing into a sea of burly dudes in leotards, he doubled down, reinventing himself as a gender-fluid, crossdressing threat.
"My favorite wrestler was always Mankind," Eugenio says. "He wasn't a big buff guy, he was jokey and weird ... kind of like me."
Around this same time, Eugenio started going out on the town dressed in drag. One night he befriended the late Ruby Rutledge, a trans woman who encouraged him to "do what he wanted to do, and not care about what anyone else thinks."
During these forays he also met Albert (better known locally as Necromos), who hosted Goth nights at Lido Nightclub. After they got to know each other, Necromos asked Eugenio if he had ever run a drag show of his own. Eugenio handn't, but he liked the idea enough to partner with Necromos on monthly Goth drag shows at Lido.
"I liked how I could express myself in different personas, where I couldn't just as me, KP. Sometimes I feel like an old woman," Eugenio says, once again taking on Phylis' croaking New York accent.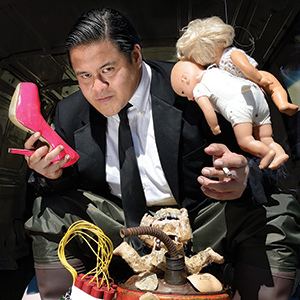 Not long after joining forces with Necromos, Eugenio left California for New York City, where he assumed a transient life, sleeping outside in parks and graveyards in between pilgrimages to dive bars and other dirty watering holes. At one bar on the Lower East Side, he witnessed a burlesque show that opened his eyes to newfound possibilities.
"Previously, I thought burlesque shows required this grand pageantry. But no, you can have a little rinky-dink operation in a bar," Eugenio says. "That idea definitely burrowed in the back of my head."
When he moved back home to San Jose, he decided to incorporate what he saw at that bar in the Bowery into the show at Lido, which slowly transformed into a Goth-burlesque show. After some of the regular characters moved away from San Jose, including Necromos, Eugenio moved the show to The Caravan and opened it to all types of burlesque performers—not just the Goth variety.
If King Patrick had grown up a few decades earlier or in more monotonous circumstances, he might have turned out to be a repressed insurance agent or civil servant. But like many creative millennials eager to live up to a stereotype, Eugenio finished high school with no real plan for his life. He wanted to go to art school but didn't get in, so he kept searching for possibilities. Eugenio sorted through his other career desires—photography, psychology and graphic design—but nothing seemed to hold his interest. He finally earned an associate degree in fine art from Mission College, but he was already over the prospect of working as a visual artist by the time he received his diploma.
His current—and most consistent—fixation is working with the dead. "Now I want to be a funeral director," says Eugenio, adding that "business will never run short" and the job "helps people let go of loss." Suffice to say he has trouble making up his mind. But as Eugenio points out about his latest interest, morticians learn how to deal with insurance, makeup, presentation, how to read a crowd, and how, in a sense, to entertain them—all skills he's honed as a wrestler and emcee.
The Mission
Even if he does end up becoming a mortician, Eugenio sees no reason to abandon his other pursuits. "Burlesque and wrestling are passions of mine. I don't get paid at all but it's a lot of fun and something I would want others to get into," Eugenio says, punctuating the statement with his characteristic nervous belly laugh.
While he approaches his characters with a trademark irreverence and self-deprecation, Eugenio's fearlessness in expressing himself is equally inspiring.
"His wrestling character portrays a really badass gay dude," says Rachel Warner, who pours drinks and books shows at The Caravan. "I think it's a really positive role model for kids who are discovering their sexuality and who they are."
Hands down, KP is the favorite act for kids who attend UGWA wrestling shows. "Parent's don't even freak out about it, which is surprising," Gollihar says. "I think it makes younger people want to be less shy. He shows them how to open up and be comfortable with themselves." Above anything, Eugenio considers himself an absurdist who's willing to face despair and make meaning of life's nonsense. To paraphrase Camus, a person can only understand the world if they turn away from it on occasion. For Eugenio, that's as simple as jumping off the top rope.
Likewise, a shocking sense of humor serves as a coping mechanism for life's ups and downs, a way to yank the power from people's perceptions. But for all his outlandish if not offensive expression, there is for Eugenio a purpose beyond the gags.
"Growing up, I was never taught how to deal with my emotions," says Eugenio on the methods behind his madness. "Dressing up as different people or even getting thrown through a table that's on fire is how I've learned to confront what's inside of myself.
"I want people to break out of their shell and do something they consider 'wild and crazy,'" he adds, "something that will make them smile for a moment, because the universe is a cold and uncaring void."
Identity can be a fragile thing. But people like King Patrick Eugenio show that fragility and fear can be faced head-on—even in a torn dress with makeup smeared and a weaponized dildo in hand.
Upcoming events:
Circus of Sin presents: Dreamscapes
Oct. 31
The Caravan
UGWA's Devil's Night
Oct. 29
The Ritz