Features & Columns
Late Night Dining in Silicon Valley
A local chef serches for restaurants open late in Silicon Valley
and returns with ethinic cuisine, pizza and donuts.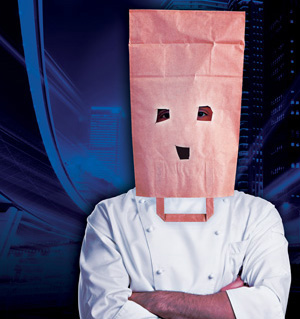 Here's my dilemma: After spending 12 to 14 hours a day cooking for others, I don't cook for myself. I'm tired of the food I prepare and serve. I've touched and tasted it all day and can't stomach another bite.
One would think, given the "cowboy" mentality of Silicon Valley, the disappearance of the 40-hour work week, globalization, conference calls at 2am, 5am or whenever and the South Bay's aggressive start-up mentality, that there would be more options to grab a bite after 10pm other than the usual suspects: Mini Gourmet ... Original Joe's. Their food is predictable and acceptable; if you desire a more intestinally "intrusive" dinner, there's always Taco Bravo.
It was easy in Chicago and New York to find anything to eat late, but San Jose is an enormous bedroom community and requires more digging. What follows are my best guesses at "off the grid" late-night suppers.
The rules were simple.
For starters, open and serving until midnight. Many of the early joints I tried are open until 2am or later but did not pass the pass-or-fail grades attached to each meal: Did I wake up with a sour tummy or worse? Did some taqueria in downtown Campbell ding me $12 for nachos that don't come with meat? Why would someone charge $12 for a plate of chips? Is there a drastic shortage of canned jalapeno peppers?
I am sure there are places that I may have missed, and I will take suggestions from those of you with similar late-night cravings for future forays, but I have to admit that I was surprised by the food at the following spots.
I am, dare I say, proud to be surrounded by the quality of cuisine and the kind and witty professional attendants I met. The servers, cashiers and cooks are pulling their weight in an arena of increased critiquing, diet frenzy and know-it-all foodies without looking for their Michelin stars. I'm normally a picky diner, but I'm happy to admit that at these joints, the food is good and pretty cheap—and I know I'll be back for more.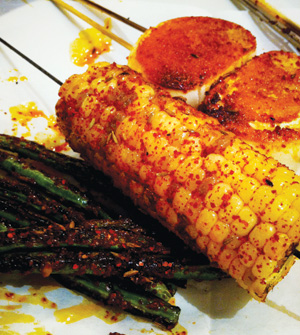 Chef Yang's BBQ
10831 N. Wolfe Road, Cupertino
Service until 12:30am
When we approached, a throng of men stood outside the door smoking and yelling at each other. We passed through, and they grew silent. The servers looked at me as if we were lost. My pal stared back for a minute, and they sat us and tossed menus on the table.
The menu is only partially written in English, which leaves the simple fact that one has to be adventurous. One has to roll the dice. Even the items printed in English may be misleading, as we would later discover.
The space was about half full at 11pm, and the large group doused their cigarettes and took their seats only when they noticed the server coming with large plates stacked with barbeque skewers. They were a loud and raucous crew, which was a good thing, since there is no audible music present, or TVs. So they were our entertainment.
A friend of theirs stormed into the dining room and tossed a 30-pack of Budweiser on the table, and the drinking started. No question or cause for alarm; the servers did nothing. This scene is anything but normal, but since it was a Tuesday, I can only imagine what happens on Fridays and Saturdays, and I like it. It's like street food.
As for the food, we enjoyed what was described as "Pork and Cucumber": pickled pig's feet with diced cucumber. Lovely, if you like pig's feet.
Doughboy Soup: a milk soup with shredded dumplings, rice and spinach. It was tasty with the addition of a bit of hot sauce.
Sweet Corn: a half-ear of corn brined in suet and starch and griddled with ground red chili paste. This was way out there, so immensely heavy it was impossible to finish, but upon subtle glances, I noticed every table had its fair share of corn ears. It must be me.
Sliced Buns: simply amazing. Steamed buns sliced horizontally and seared on the flat top with what appears to be sambal or another chili paste.
Beef Skewer: both tasty and delicate. It was not overcooked and was very flavorful without being aggressive.
Barbecue String Beans: a plank of green beans dusted with ground spices and seared on the flat top. Perfect.
All of this for about 26 bucks including tip.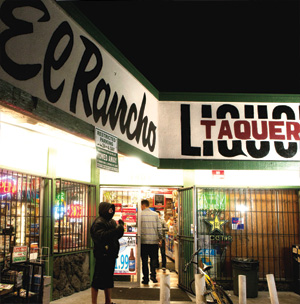 El Rancho Liquor Store and Taqueria
1401 Almaden Road, San Jose
Service until 1:45am
One-stop shopping with amazing tacos and a wide selection of malted beverages. A bus boy I worked with turned me on to this place, and I've been coming here for years. It's a bit sketchy but well worth it.
There is fantastic "people watching" to be found at El Rancho. Families with children grub here after midnight while rubbing scratchers and unloading temporary tattoos from the candy machines.
Getting a meal is a bit complex, since you order and pay at the register then provide your order ticket to the men behind the prison bars, but the results have never failed to please.
I brought a culinary student with me over the weekend, and his one comment was simply, "This is exactly what I wanted, and exactly how I would do it, if I made it myself."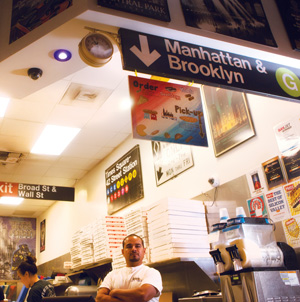 A Slice of New York
3443 Stevens Creek Blvd., San Jose
Service until midnight
Real cheese on pizza is a rarity these days, specifically mozzarella without "anti-caking agents" that mirror the flavors and gumminess of fresh Italian mozzarella. It is getting difficult to produce quality pizza while maintaining prices that match the ever-expanding presence of corporate pizzerias.
The owners of A Slice of New York have completed the task. The staff is incredibly friendly, given the frequent attendance of drunks. I placed a to-go call just to see if my previous visits were an exception. Nope. They are very kind—and surprisingly so.
As I waited for a late-night slice, I was offered the leftovers at a discount, since they would be closing in minutes. I cleaned them out. The cashier then gave me instructions for the best method to reheat the pies. The flavors of the pizza are very simple—a bit light on the sauce for my taste, but no matter, it's good, especially after a long day.
The Sicilian Meat Square: One slice does the job and consists of a thick, Chicago-style dough topped with all things meat.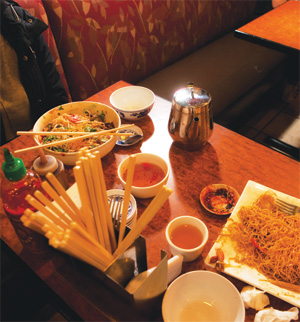 Pho Tau Bay
454 Keyes St., San Jose
Service until midnight
Over the years, I've been weaned from my quest for pho. It's fallen off my radar since I grew tired of always having to create my own dish using salt and the herbs provided in a bowl of hot water, parsley, vermicelli and chipped-meat products. I know I've missed many solid performers, but I just wearied of the challenge of finding a quality pho house.
I went to Pho Tau Bay recently, however, and was stunned. It was crowded at 11pm, and as I walked up, I noticed the woman in the kitchen through the screened rear-entry door. She was there by herself and was moving in rhythm with extreme precision.
I went inside and was pointed to a table and handed a menu. They knew that I was new. I ordered using my butchered version of a presumed dialect, and the server corrected me by pointing at the numbers listed with a smirk on his face.
Long Chinese Donut: I had to try this. It's similar to an unsweetened churro. There were nine different bottles of dipping sauces on the table, but none quite matched until the Vietnamese Fried Eggrolls With Lettuce and Mint Tea in Plate showed up. The homemade dip for the rolls was staggeringly good—light, not too sweet, a touch of vinegar, shaved carrots and herbs with a touch of heat. The eggrolls were great, too—crisp and flaky, and the stuffing consisted more of pulled pork than the usual suspects of carrot, cabbage and sprouts. The aforementioned dip completed one of the best eggrolls I've ever had. They worked together without excess. Elegance was found on Keyes Street.
Pho, Slices of Steak, Fat Brisket: I tasted it before reaching for the provided Thai basil, sawgrass, sprouts, jalapeno and lime wedges É and I didn't need to add anything. The broth was clear and savory, the vermicelli was al dente and the minced onion and parsley completed the dish. The bowl was huge and generous.
The place was very quiet considering the dining room was filled with people. The sounds of a casual slurp and the rush of gas-propelled woks in the kitchen took me away from San Jose for a moment or two.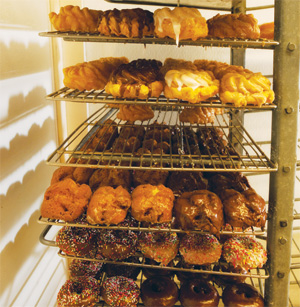 Donut Wheel
10250 N. De Anza Blvd., Cupertino
Open 24 hours
At 1am, Donut Wheel was crowded with De Anza College students on study dates. It's disorganized inside and a bit messy. Upon entering, though, I got an immediate sense of the quality of product.
A small older gentleman left the kitchen and approached us with the expression of an angry person. That's a good thing. He's busy, and we are a distraction from his current project.
I ordered the fritter, some simple donuts and a maple bar. They were all fresh at 1am. One comment from my friend, a complaint, was that she was unable to pick the glaze away from her donut. It was stuck on. Blended into the dough, I suggested, but she remained nonplussed.
Quite simply, the pastries are elegant and not overly sweet. This is a nice late-night donut shop with the character of an establishment that remains unchanged and unaffected by being located in the middle of Apple's numerous and visually delightful corporate compounds.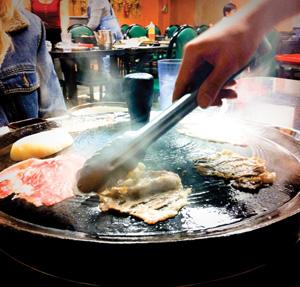 Gooyi Gooyi
1328 El Camino Real, Santa Clara
Service until 2am (dinner only, open at 5pm)
I saved the best for last. Gooyi Gooyi is tucked into a dingy strip mall on El Camino. Unbelievably, my Apple iPhone map app located it accurately. Walking in with two blondes at midnight, to a room full of established Asian gentlemen, I was immediately respected for my taste in escorts.
We sat down and were approached by one of the three women who were busying themselves by plucking bean sprouts on the center table. It was midnight, and Gooyi Gooyi was busy.
I explained to our server that it was our first time, and she aided us through our dining experience. In the center of each table sits a gas burner that is lighted upon order of one of the 15 or so choices of "Korean BBQ."
We settled on the brisket, and the burner was almost immediately capped with what resembled a cast-iron garbage-can lid. We were supplied with numerous dips, pickles and veggies, along with rice paper to fold around our garbage-can-lid-seared brisket. Everything was expertly done. Our server attended the burner and placed the finished slices of meat atop a large slice of onion in order to keep them warm.
To go along with the brisket, we chose fried chicken and a kim chee pancake. Both were excellent. Crisp chicken was served with a spicy dipping sauce, which, as our server advised, is normally tossed with the chicken, although that step was neglected given our announced plebeian status.
The pancake was composed of sliced yam within layers of spices and pickled cabbage. We were also advised by our server to use the soy and sesame dips for the pancake, and she was right. It was our first time at Gooyi Gooyi, and we will definitely be back for more food and more OB Golden Lager.