Features & Columns
NYE2020: Date Night
Intro | Family Fun | Date Night | Zoom Together | Gotta Go | Early Bird | Party of One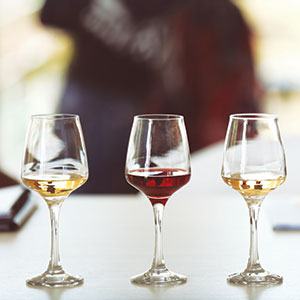 You and your beau or your favorite roomie have probably gotten pretty comfortable with each other by now, especially after nine consecutive months of quarantining together. But any good date night with a friend or partner comes with a little planning up front.
Make a plan
Start by picking out your favorite drinks in advance, whether a peaty whisky from 10th Street Distillery, the fixings for mixed drinks with a citrus vodka from South Bay Spirits or a cold one from one of Silicon Valley's brewpubs. Don't forget to pick up some bubbly and wine, too.
The last thing you want to do on New Year's Eve is get stuck on loop asking each other "what do you want to eat?" until the ball the drops. Check out Metro's dining guides to narrow down your choices: bit.ly/SVdiningguides
Pre-game
What better way to loosen up ahead of a night on the couch than a wine tasting? (Spit bucket optional.) You could jump into a tasting event online, like the one Together With Wine is hosting for free at 3pm (see eventbrite for tickets). That said, setting up your own intimate wine tasting doesn't have to be complicated.
Buy some crackers and cheese as a palette cleanser and because you're fancy.
One person should pick out the reds and the other can choose the whites. Cover them in numbered bags and keep them a secret.
Pour just a taste of the wines one at a time into your favorite glasses and pull out your notepads to jot down your thoughts. Make sure to use fun terms like "aroma," "earthy," "tannins" and "notes of citrus" where applicable.
Pick your favorites and reveal the wines.
Let's say wine isn't your favorite cup of spirits; you can trade the tasting for a two-person board game. If your current collection is played out, pick the brain of a tabletop aficionado at one the South Bay's local game shops, including Game Shop Downstairs, Game World and Legends Comics and Games, all based in San Jose. In Santa Clara, Game Kastle, Elusive Comics and Isle of Gamers are also open for business.
Laugh it off
Made Up Theater, based in Fremont, has hosted its New Year's Eve Spectacular for a decade, but this will be the first time the improv show happens virtually. Tickets are priced on a sliding scale based on what viewers can afford. The show will be "inspired" by the troup's audience with games and a special toast at Midnight, when everyone will celebrate the end of 2020—finally.