Features & Columns
NYE2020: Early Bird
Intro | Family Fun | Date Night | Zoom Together | Gotta Go | Early Bird | Party of One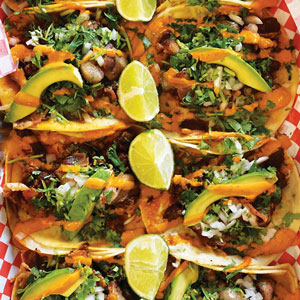 Time is truly an illusion, but somehow it's both finally and already time to ring in the New Year.
In a typical year, you'd probably drop by a house party or catch a comedy act with friends, but 2020 has refused to be typical in any way. Without any destinations to celebrate responsibly with other people, you may as well make the most of (still) being stuck at home in style or in sloth—whichever, really, because no one will be there to judge.
Eat your heart out
Dress to your own personal pandemic nines—aka your favorite sweater/soft pants combo. And remember that this is a day when you can devour whatever you want and then chalk it up to one of the pitfalls of a crazy year once the clock strikes midnight.
The 10 Taco Pastorinos from Bravo! House of Enchiladas is enough to almost feel like you're at a catered get-together, and you'll likely have delicious leftovers the next day. Or pick out one of the smaller combos if that feels just a little too ambitious.
Craft a plan
If your plan to accomplish "all the things" during quarantine didn't pan out, now's the time to send 2020 off with a bang, so when parties are back on you'll have something to brag about. Curl up on the couch with a fun DIY craft kit from SJ Made, a hub for local artist wares since 2011. Choose from projects like a Pokémon-themed cross-stitch, San Jose-themed wooden lantern or a terrarium. SJ Made even offers two-day local delivery in San Jose for last-minute planners.
Live vicariously
Once you've checked off the "be productive" box on your to-do list, live vicariously through stories that celebrate the occasion. Queue up When Harry Met Sally, Carol or High School Musical for feel-good binge watching. Or dive into more serious New Year's Eve waters with Fruitvale Station or Snowpiercer.
By the time the clock strikes midnight in the time zone of your choice and you're ready to kiss this year goodbye, do it in the most 2020 way possible: with a cheap glass of champagne. There's no one in your home to impress and it all tastes the same anyway, so save that cash for next year's back-to-normal bash.
Jump start
If you're feeling extra ambitious about 2021's possibilities after a good night's sleep, earn those extra tacos—and bragging points—by jumping into a virtual 5K hosted by the Virtual Run Challenge on New Year's Day. Don't worry, you can run like nobody's watching, because they won't be.