Features & Columns
New Year's Eve 2019 in Silicon Valley
There will be plenty of time for self-improvement next year—so eat, drink
and be merry this New Year's Eve
New Year's Eve 2019 in Silicon Valley | New Year's Eve Parties | New Year's Eve Noms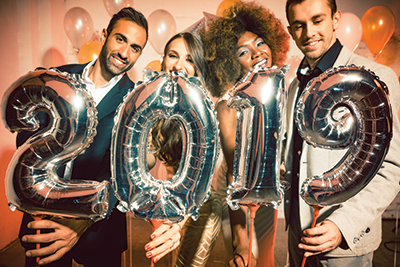 It's always darkest before the dawn. At least that's what they say. And as the sun sets on 2018, we find ourselves working increasingly in the sterile, flickering glow of artificial light. This Friday marks the winter solstice. We are entering the long dark.
This time of year lends itself to contemplation and self-examination—as the weather drives us indoors and as tradition calls on all of us to strive toward self-improvement.
And that's great and all ... but it can really be a bummer.
Fortunately, there is another way to observe the coming of 2019. From small neighborhood bars to award-winning restaurants, from nightclubs to music venues, Silicon Valley is brimming with New Year's Eve celebrations. Boozy parties, fancy fêtes, decadent feasts and lively performances—there's something for everyone.
So diets, workouts, temperance and modesty can wait. Dress up or keep it casual. Dance all night or park it on a barstool. And before you resolve to make yourself into a better person, make sure you eat, drink and keep things merry on Dec. 31.
Happy New Year!