Features & Columns
The Protocol: New Year's Eve Guide
A guide to yet another overindulgent New Year's Eve in Silicon Valley.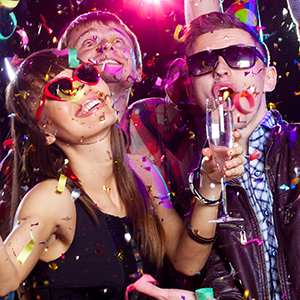 Let's be real: New Years Eve is totally overrated. Everyone feels obligated to go out, to be with other people, to have someone to kiss when the clock strikes midnight, and to spend an inordinate amount of cash.
For what? Some balloons, a dash of confetti and a flute of Cooks? Psh... When will we as a species evolve and move beyond all of these trifling, NYE traditions?
Not this year. There's just too much going on, and the #FOMO is palpable.
So read this guide carefully. Whether free, cheap or pricey, swanky or casual there is a party out there that will satisfy.
Or don't read-that's what the emojis are for. Less thinking, more drinking. Happy New Year!
KID FRIENDLY
It's The New Year Somewhere
Children's Discovery Museum, San Jose | 10am, $13
Teach the kids about time zones while also allowing them to celebrate the coming of the new year at a reasonable hour. The Children's Discovery Museum will ring in multiple midnights with several ball drops and confetti showers-at noon, 1pm and 2pm. The new exhibit, "Adventures in Light: A Holiday Workshop," will also be on display. Free for infants.
Gingerbread Village
The Fairmont, San Jose | All Day, Free
New Year's Eve marks the final day of The Fairmont's Winter Wonderland, which event organizers describe as a "holiday version of Willy Wonka's Chocolate Factory," featuring 6-foot-tall nutcrackers and a massive gingerbread house display.
'Frozen' in the Park
Plaza De Cesar Chavez, San Jose | 7pm, Free
The annual Christmas in the Park fantasyland is a great place to usher in 2016 with the whole family. There are concession stands, rides and holiday-themed activities-and, on Dec. 31, a special performance featuring characters from the Disney film Frozen. Plus, there's the option to stay for a NYE countdown with long-running San Jose band, SAGE.
Noon Year's Eve
Cheeky Monkey Toys, Menlo Park | 10am-1pm, Free
With crafts, other fun activities and a noon-countdown to an epic balloon drop, this is a solid Mid-Peninsula destination for the little rager in your family.
Mid-day Countdown
Northside Branch Library, Santa Clara | 11am, Free
Not everyone can stay up until midnight, and for young parents, it's inadvisable. So for those with a tot in tow who still want to cut loose on the last day of 2015, there's the second annual Noon Year's Eve. Formal attire is mandatory as DJ Kevin and MC Cheryl host an all-ages countdown to midday. (JF)
FREE FOR ALL
No Frills At The Hill
The Hill, Morgan Hill | 4pm, Free
The Hill's no nonsense layout and straight shooting bartenders are sure to keep it real in Morgan Hill this New Year's Eve. Talk about a solid pre-house party destination for a quick pop or even a perfect place to find yourself after a tasty dinner in downtown Morgan Hill. (CF)
Champagne Toast
CB Hannegan's, Los Gatos | 'Til 2am, Free
This traditional Irish pub is perfect for those who want a low-key New Year's. The traditional champagne toast at midnight is a favorite of regulars. Order up a pint of stout, a Black & Tan, or whatever your tipple, and usher in 2016 with a boisterous group singalong of "Auld Lang Syne." (AL)
Hometown Lounging
Tequila Shots Bar and Grill, Milpitas | 'Til 2am, Free
This casual sports bar is turning things up a notch for New Year's Eve. Bartenders will be slinging house specialties, like the strawberry shortcake and watermelon Jolly Rancher shooters, and on-hand Mexican food is no-frills but tasty. Shoot some pool and knock back a shot or seven of premium tequilas, like Clase Azul and Corralejo. The ever-present manager, Silver Dragon, has as much fun as his loyal customers. (AL)
Jäger-Rager
Paul & Eddie's Monta Vista Inn, Cupertino | 'Til 2am, Free
Voted California's number No. 1 Jägermeister bar two years in a row, this local haunt is always ready to party. There will be funny hats, noisemakers and complimentary champagne at midnight. That's on top of the usual-pool table and darts, a nonstop jukebox and a festive crowd. (AL)
Drinking, Dancing, DJs & Dinner
Loft Bar & Bistro, San Jose | 'Til 2am, Free
Local favorite The Loft will provide a special dinner menu to celebrate the evening in style. Later, the dance floor will open up with a pair of the downtown club's resident DJs. Finally, ring in 2016 with a balloon drop, and champagne toast.
New Year's Party
Lilly Mac's, Sunnyvale | 'Til 2am, Free
Celebrate the new year with the luck of the Irish. Lilly Mac's is hosting an Irish-themed New Year's Eve party with no cover and plenty of drink specials.
New Year's Downtown
The Britannia Arms, San Jose | 'Til 2am, Free
The Brit in downtown San Jose is ringing in the new year with plenty of booze and two bars-inside and on its heated back patio. DJ Ready Rock is set to spin the ones and twos.
Formal Masquerade
Branham Lounge, San Jose | 'Til 2am, Free
Put on your finest duds and bring a mask-the Branham Lounge is stepping things up this year-with no casual attire allowed, a midnight champagne toast, drink specials and DJ DVS Dave on the decks. You stay classy, San Jose.
Prost!
Das Brew, Fremont | 'Til 10pm, Free
When Jan Schultz was just a tot, growing up in Germany, his sage grandfather taught him the secrets of brewing terrific beer. Now, Jan's brewery offers the ultimate in New Year's pregaming with a sampling tour of his tasting room where he has 12 beers, four of which are seasonal. (JF)
Pied Piper's Pub
The Rose and Crown, Palo Alto | 'Til 2am, Free
This English-style pub serves a wide spread of beers, specializing in local Palo Alto products or imports from Belgium, like Duvel, the hallowed and mighty pale ale that has its own specialized bulbous glass for consumption. The rustic joint's claim to fame is a cameo appearance in the HBO comedy, Silicon Valley. (JF)
The Paris of Paly
NOLA, Palo Alto | 5:30pm, Free
This Palo Alto watering hole patterns itself after the Big Easy. Spread over three levels and featuring seven funky dining rooms, this slice of the Deep South has ample beer on tap and a long list of wines to choose from. Should you get peckish, chow down on their alligator and crawfish dumplings. (JF)
Bloomsday Brews
Katie Bloom's, Campbell | 'Til 2am, Free
The perfect spot for locals who stick around during the holidays, Katie Bloom's is known to be packed on New Year's Eve. The juke will have sentimental favorites going on all night, as the bartender queues up the champagne glasses for the countdown to 2016. Sop up that Guinness with an order of fish & chips or shepherd's pie. (AL)
Break Free
The Escape, San Jose | 9pm, Free
With a complimentary champagne toast, party favors and dancing, The Escape is keeping it simple on New Year's Eve.
Heavy, Heavy New Year
Caravan, San Jose | 10pm, Free
Heavy metal music is the most brutal way celebrate the death of 2015. Check out locals Disvein, Deathgrave and Dead Pressure at Caravan Lounge and ring in the New Year with a pint of champagne-the Champagne of Beers, that is.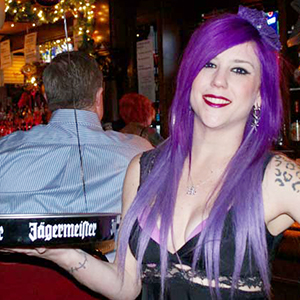 BALLIN' ON A BUDGET
Phantom of the New Year
Pure Lounge, Sunnyvale | Doors: 9pm, $20-30
With a midnight countdown, balloon drop and confetti blast, plus a champagne toast, Sunnyvale's ultra-luxe club aims to ring in 2016 in high style. Get your swagger on in the main room with an opening set by Pure regular DJ eHash, followed by DJ Sequence dropping Top 40, hip-hop, and EDM grooves; over in the Red Room it's straight hip-hop from Chris F. Doors open 9pm; 21 and over. No guest list for this event. (AL)
Music Fest 2
Taste Nightclub, Santa Clara | Doors: 8pm, $25
This swank Santa Clara spot is ringing in the new year with three rooms of booty-shaking beats. In the House Room with DJs Rated R, Zeewala and Audio 1. In the Hip-Hop and Soul Room, Squintz and Nasty Dick will be spinning trill and chill tunes. And then there's the Open Format Room, with Jay Reese and Remedy. Buffet dinner from 8pm to 9:30pm. Ballers can order VIP bottle service starting around $300. (AL)
Dirty Dancing
The Brass Rail, Sunnyvale | 'Til 2am, Free before 6pm, $10-$15 after
Up to 10 lovely ladies will be dancing NYE at the Rail-one of the oldest bikini bars in the nation. Balloons, horns, hats, confetti-and, um, other things. For an extra $20, guys can go up on stage for one last lap dance in 2015. If that's not your thing, there are also pool tables throughout the club and eight HDTVs. (AL)
The Royal Ball
Charley's LG, Los Gatos | Doors: 7pm, $22
Awarded best place to dance in the Silicon Valley, Charley's LG is an ideal spot to cut a rug on New Year's Eve. DJ Aaron The Era will be spinning at this upscale, high-energy event. Doors open at 7pm, and all patrons are strongly encouraged to arrive before 9pm to avoid the line. VIP bottle service starts at around $180 per bottle.
A Jazzy New Year
Cafe Stritch, San Jose | Doors: 9pm, $20
Cafe Stritch hosts live Jazz music just about every night, and they're keeping the tradition going into 2016 with a live performance by the Marcus Shelby Quartet to ring in the new year.