Features & Columns
A New Year's Eve Guide to the
21 best South Bay Parties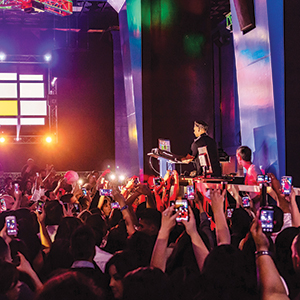 Let's just face facts. The next year is probably going to suck if the first morning is any indication of things to come. If all goes to plan, there's a good chance you'll wake up on Day 1 to the feeling that someone has lanced your temple with a 2x4. That lipstick on your collar might actually not be lipstick at all. What is it? You will pray it's not blood, or at the least not your own. You will see stamps on the inside of your wrist, faded like an old Navy tattoo—the Hawaiian gal twerks when you clench a fist! You will wonder where all your money (and dignity) went.
If there is ever an appropriate time of the year to go big, it's most certainly the last fleeting hours of December 31. Resolutions? Turning over a new leaf? Putting down the bottle and picking up a book? That's dumb. Your mother would be ashamed of you. Start the year the way you always do—with a soul-sucking hangover and a faint idea that you have amends to make over the coming days.
Whether you're into alternative rock, hip-hop, EDM or jazz; whether you are looking to chill out or rage; whether you want to drink on the cheap or are primed to shell out for top-shelf bottle service—whatever the case, we've got you covered with our New Year's Eve Party Guide.
Now go do some damage.
CLUBS
Agenda: Extravaganza
Dec 31, 9pm, Agenda Bar and Lounge, San Jose, starting at $25.
Free party favors and a midnight champagne toast for all in attendance, but that's not all. For a few extra bucks, you can choose from one of Agenda's premium packages, which include combinations of bottle service, dinner and hotel accommodations. Let them do the work for you and just concentrate on partying. (JF)
Tie One On
Dec 31-Jan 2, 7pm-2am. Charley's LG, Los Gatos. $20 and up
Ah, that familiar Faustian bargain: drink your hangover away today, but pay double tomorrow. And at that point, why not just go for three days? Charley's LG has you covered. The club is hosting "Glitz and Glamour" on NYE with open format DJ Chris Slater, "Hangover" on Jan 2 with DJ J-Trip and "Bad Resolutions" with DJ DVS on Jan 3. (SL)
Julius Papp
Dec 31 9pm-2am. The Continental, San Jose. $15-$25
The newest bar on South First Street is bringing in longtime Bay Area DJs Julius Papp, Jay-J and Rated R for a night of classic house tunes in their main room. Papp's been floating between San Francisco and San Jose for more than twenty years, with roots in disco and new wave, as well as involvement in the '90s Mushroom Jazz scene. Richard G., Albert Campnoy and others will be spinning '70s and '80s old school classics on the patio. (SL)
Hors d'Oeuvres and an Open Bar
Dec 31, 8pm, Fahrenheit Lounge, San Jose. Starting at $80.
This deluxe evening offers organic and locally sourced hors d'oeuvres and an open bar leading up to a champagne toast and balloon drop at midnight. DJs Melvis, Randy G, and Tasi will take turns turning up the heat on the ones and twos as live countdowns tick away on seven plasma screens. (JF)
Get Fancy
Dec 31, 9:30pm-2am. Opal, Mountain View. $25-$1,500
Modeled after prestigious clubs you'd expect to find in Vegas or San Francisco, the folks at the recently opened Opal promise New Year's Eve party to satisfy even "selective nightlife connoisseurs" complete with a live DJ spinning Top 40, a complimentary champagne toast and a live stream of the ball drop on their big-ass LED screen. (SL)
A Cinderella Story
Dec 31, 9pm-2am. Pure Lounge, Sunnyvale. $25 and up
Pure Lounge promises a ball drop, a confetti shower, flowing champagne and has plans to make "all your dreams come wtrue" this New Year's eve. We're game. DJ Sequence will spin Top 40 and EDM in the main room, with DJs Bubble and Raymix on hip-hop in the Red Room. (SL)
Your Host, The Homie Miguel
Dec 31, 8pm, Motif Lounge, San Jose, Starting at $20
Continuous confetti, a live countdown feed from Times Square, complimentary champagne, Gogo dancing, midnight balloon drop, and food and drink specials will fill out this bash. Your celebration will be in excellent hands as the event will be hosted by The Homie Miguel, EDMSF & Pross and feature DJs Eternal, Defcon, and A. Midas. (JF)
DJ Eni
Dec 31, 9pm-2am. Nomikai, San Jose. Free
DJs Eni and AJ Orbit are playing this no cover New Year's party at Nomikai. Complimentary hors d'oeuvres are promised before 10pm, plus a champagne toast at midnight. (SL) In The Studio
Dec 31, 9pm, Studio 8, San Jose, Starting at $35
Party favors, a champagne toast, a massive confetti drop, "the biggest countdown of the century," and thousands of dollars worth of props and decor. It's gonna be going off at Studio 8. The club will provide bangers, a world-class venue and one heck of a way to end your year. (JF)
ROCK/BLUES/JAZZ
Sweet HayaH
Dec 31, 9pm. Woodhams Sport Lounge, Santa Clara. Free
This friendly neighborhood dive is hosting local soul groovers Sweet HayaH for their NYE party, along with a complimentary champagne toast. Noah Kibreab of soul rock band Melted State opens. (SL)
The Danny Gerz Quartet
Dec 31, 8:30pm. Cafe Stritch, San Jose. Free
Local jazz bassist Danny Gerz will be playing with his quartet for Stritch's NYE celebration. Ring in this New Year's in a way that suits your more refined self. Chill out over one of the their classy cocktails, like an old fashioned or a Stritch fizz. (SL)
Paula Harris and Big Funkin' Blues
Dec 31, 8pm, Angelica's Bistro, San Jose, $50-$60
There will be a full dinner of Angelica's classic American fare followed by Paula Harris and her Big Funkin' Blues band. Turn off the stove, and hire a sitter, Angelica's will serve a lip-smacking meal. And for dessert, dance to bluesy, brassy stylings all the way into 2015. (JF)
Dead on New Year's
Dec 31, 8pm, Club Fox, Redwood City, $25 adv/ $35 at door
Ever, like, think about time, man? Grateful Dead tribute band, the China Cats, will compliment the party favors, a balloon drop and midnight champagne at this event. The Cats are not your typical cover band, and will bring something new to even the Deadest Head. Listen to their swirling, psychedelic jams as 2014 melts away. Trippy dude. (JF)
The Megatones Massive
Dec 31, 8pm, Number One Broadway, Los Gatos, $25.
Midnight ball drop, party favors, hats, and noisemakers will provide a traditional New Year's party scored by the populist grooves of the Bay Area's premier cover band, the Megatones. The Megatones are not wed to one band, but instead cover the biggest hits of the past half century. (JF)
Double Bill Bash
Dec 31, 6pm, Little Lou's BBQ, San Jose, Tickets at Door
Little Lou's is known for two things: deliciously smoky meats and blues. They'll have both in ample supply to end 2014. A.C. Myles and the Engine Room will fill out the double bill, providing a great soundtrack to rustic hors d'oeuvres, dinner, dancing, and champagne. (JF)
In The House
Dec 31, 6pm, Poor House Bistro, San Jose, $50 (reservations required)
Pete Contino is in control of "Cocktail Hour," which runs from 6-7pm. Then, after everyone is a bit looser, Ron Thompson & the Resistors with Jimmy Pugh will kick off a blues set on the patio. Finally, Laura Price and the Velvet Plum Band will deliver dance music inside. In between, there will be enough drinks, dinner, and dessert to keep you going until the ball drops. (JF)
ALTERNATIVE
All Day and All of the Night
Dec 31, 4:30pm-2am. Johnny V's and Paddy's Pub, San Jose.
While insignificant every other day of the year, when the clock strikes midnight on New Year's Eve—marking the turning of one year into the next—it can inspire an existential awareness, as we realize that in spite of all our stress and scrambling, time marches on inevitably, and will, indeed, someday leave us behind without so much as a second thought. Fuck it. Johnny V's knows self-reflection is more often than not simply self-serving delusion. Who needs to remember that stroke of midnight? Make sure the memory never has a chance to settle. With $2 shots, $2 wells and $2 beers from 11pm to 12am, Johnny V's is surely the place to make sure you aren't sure what you did the night before. RogCon & Carlos are spinning '80s and '90s house anthems on the Johnny V's side, and Sean Blak is hosting TrapShop on the Paddy's Pub Side. If anything unseemly rears its ugly head the following day, you can hit Johnny V's again for the day-long, New Year's Day Music Marathon, running from 6am-9pm, Jan 1, and featuring more than 20 DJs in two rooms. (SL)
Black & Red Ball
Dec 31, 8pm. The Blank Club, San Jose. $10
The Blank Club, though not long for this world (it's closing at the end of January), is once again hosting its NYE Black & Red Ball with resident selector, DJ Basura. The drinks will be cheap and the dance floor is always dark, so you can exorcise your demons to alternative dance classics from the '80s and '90s. (SL)
BARS/PUBS
Bangers and Mash
Dec 31, 9pm, Britannia Arms Downtown Location, San Jose, Free
Though the Brits will be ringing in the New Year about 8 hours earlier, get an authentic pub experience and a whole lot more while celebrating in the fashion of our former colonizers. Two live DJs, shooter specials, a balloon drop, jello shots, heated outdoor patio, photo set, and free buffet all offered. (JF)
Gold and White New Year's Bash
Dec 31, 9pm, St. Stephen's Green, Mountain View, Free
Free party favors will accompany this regally colored bash at the Mountain View Irish pub. The New Year will be welcomed in style, as resident DJ Tony spins jams to groove to until January. The Celtic pub will probably be the site of the most rousing rendition of "Auld Lang Syne" on the peninsula. (JF)
Auld Lang Syne
Dec 31, 8pm, Molly Magees, Mountain View, Free
While they might give a rousing rendition of "Auld Lang Syne" at St. Stephen's Green, the crowd at Molly's is sure to give their neighboring Irish pub a run for their money. Molly's will also be giving a champagne toast, dropping balloons and handing out New Year's gear. DJ Dynamic will be spinning. (NV)