Features & Columns
Eat Less, Taste More
Orchard City Kitchen and head chef Jeffrey Stout have invited
the sharing economy to dinner
Jeffrey Stout wears his overalls high and tight and he doesn't have time, or at least the inclination, to give off pretenses. He has the most successful new restaurant in the South Bay, Orchard City Kitchen, and the chef admits it while assessing why his Campbell establishment succeeds while fine dining institutions are going the way of the dinosaur.
"It's not what people are interested in," Stout says. "They're just looking for good, tasty food and value. The days of a server in a suit coming up to your table and reciting a four-minute spiel about how great the restaurant is are done."
Elaborate table setting procedures, mise en place, are particularly anachronistic, he says in exasperation, as if such a scene should be confined to BBC period pieces about turgid aristocrats and the sexually repressed help. The sequential ordering of forks, folding of napkins, crumbing the table, and again with new, clean napkins—who has the patience?
"By the time you sit down, it's 40 minutes before you even see food," Stout says. "This restaurant we wanted to create is the exact opposite. A casual place you come to twice a month instead of twice a year. Let's not make it a celebratory place. No white tablecloths. No carpet. Let's do it all hardwood. Let's keep things simple, straightforward, transparent. And let's make the food—bam, bam, bam."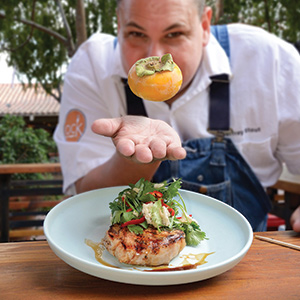 The pace of Orchard City Kitchen (OCK) is no coincidence. Silicon Valley diners' expectations have changed dramatically in the era of now, when the immediacy of a swipe or one-button order can result in genuine indignation over a seconds-long inconvenience. But beyond technological innovation, it's the sharing economy that has disrupted dining out. It not only affects the way we book rooms and hitch rides around town, but now, more than ever, it has carried over to the way we order food and split the check.
The migration to communal dining tables and shareable plates is about "eating less and tasting more," says Cyrus Schultz, OCK's general manager and the yin to Stout's braggadocious yang.
"Everything is moving faster and everything has become simpler," Stout adds.
Quality, however, shouldn't suffer, and OCK has raised the bar for meals that cost little more than the average pizza delivery. Last week, Stout and his managing partners—Schultz and bar director Perry Hewitt, who has assembled an impressive collection of spirits, wine and craft beers—learned the Michelin Guide, the preeminent judge of restaurants worldwide, awarded OCK with a coveted Bib Gourmand. The distinction is the equivalent of a Michelin star for restaurants that deliver two world-class courses and wine or dessert for under $40.
Stout, who has won a Michelin star—twice—while previously overseeing operations at Alexander's Steakhouse in Cupertino and San Francisco, says that while the restaurant experience has only become easier for customers, who can fire off an order of global influences in just a few dishes, the opposite holds true for restaurateurs of his ilk... continue reading