Features & Columns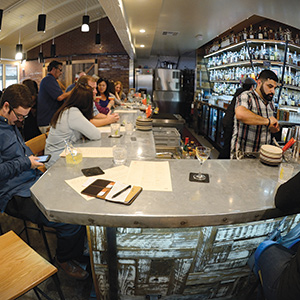 "We have to wow you for
under $40. It's harder," he says. "You go to every high-end white tablecloth restaurant and there's a definite style of cooking. It's a sweep of a sauce. It's a powder of this. It's a high-end ingredient sitting on this with an exotic mushroom and a micro-green. That's not what this restaurant's about. This restaurant is just—you put out the food. Another restaurant you might reach for this, this and this. Here I just say: fuck it, it's done."
And it's done well, even when the ingredients in a dish take less than five fingers to count.
OCK makes room for simple and succulent, with its Korean Fried Chicken, drizzled in a rudimentary Asian glaze, or its barbeque brisket mac and cheese, or its Triple B house staple: bacon, biscuit and butter. And yet, the menu, seasonal and hyperlocal, also finds room to produce dishes like smoked duck pupusa, grilled day boat scallops and Argentinian shrimp with grits.
There is a balance between trying to wow and knowing what works. Nearly everything is supposed to be shared and enjoyed over a drink, which more often than not tends to be a craft cocktail rather than beer or wine.
"I see restaurants all the time, they pop up with young chefs and they're swinging for home runs every time," Stout says. "It's like, 'Here's combinations that haven't been done before—blue cheese with Monterey spot prawns.' Hey, that's kind of weird, and maybe it's going to come together, but you're experimenting on the guest. And if your whole menu is like that it's not accessible for the general public. My mom doesn't want to come in and eat that shit. She wants to come in and she wants to have a balance."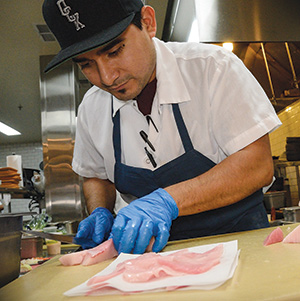 That balance, at least at the highest level, is easier said than done, of course. The only South Bay eatery other than OCK to receive a Bib Gourmand this year, of 74 Bay Area restaurants total, was Evvia in Palo Alto. But even Stout, who doesn't suffer from a lack confidence, at least in first impressions, says meeting the needs of the current crop of "foodies," a term he hates, has been a challenge.
"I think the first month was the most eye-opening," he says. "We open the doors and we don't know anything. We have no data. That first month told us everything: who our clientele is going to be, what our price point is going to be."
Stout says he expected the average check to run around $50, roughly $10 dollars too high.
"I missed. I screwed up on my projections," Stout says. "I thought we'd be doing 250 people on a good night. We're not. We're doing 500 on a good night."
It's an acceptable faux pas, one that neighboring chefs surely envy. Serving an average of 1,500 plates a day, it's clear OCK's customers aren't cornering their own dishes elbows wide and forks high. But in the era of shareable plates, where people eat together and taste more of the menu, Stout has a simple request: a welcome death for the word "foodie."
"The thing is you like food," he says. "Everybody likes food. So everybody is a foodie. Who's not a foodie? Mr. Bodybuilder who's eating protein shakes. Other than that, if you like the way food tastes, you're a foodie."