Features & Columns
The Resistance Is Fertile
in Silicon Valley
The revolution is being televised, tweeted, tattooed and
Instagrammed by these South Bay artists and activists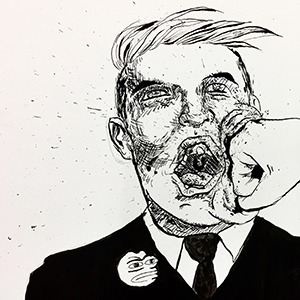 Read: Local Activists STAND Tall against Trump
Benny O'hara flips through a stack of drawings on tracing paper and produces a recent piece: a protest sign on a wooden stake, surrounded by lilies. The time for peace, it seems, has come to an end.
An artist at Death Before Dishonor tattoo parlor in downtown San Jose, O'Hara, who uses they/them pronouns, has received numerous requests for political ink in the last few months. Feminist tattoos like clothes hangers and burned bras, anti-fascist tattoos and trans-pride art. "Lots of people are wanting to have that conversation starter readily available and put it all out there," O'Hara says. "If you care about something and you want to be expressing it to as many people as possible, a tattoo is a much bigger commitment than a T-shirt."
O'Hara is one of several local artists using ink, paint, pen or Sharpie to protest the Trump administration. Like the giant antiwar puppets of the 1960s or the "SILENCE = DEATH" posters of the AIDS activist movement, visual art can be a quick and powerful way to communicate dissent, and Silicon Valley artists are doing their part for the resistance.
O'Hara has drawn logos for Rise Up for Justice and STAND San Jose, anti-fascist stickers and 12 postcard designs intended for legislators. Some postcards have messages like "Protect your people," while others address topics such as deportation and reproductive rights.
"I don't think that any social movement could have happened without a solid poster maker or a really good political cartoon," says Saoirse Alesandro, a student at San Jose City College. She sees her art as a way to show solidarity and remind others that they're not alone. "Conveying that with an image is important, and that creates feelings of safety when there maybe isn't any institutionally."
Before last year's election, Alesandro made comics about her experiences as a queer, mixed-race woman of color and a survivor of sexual assault. "Speaking clearly about that is a political act," she says.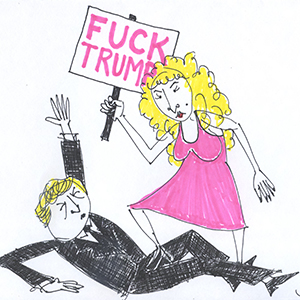 O'Hara's experiences as a trans person and growing up in group homes influenced their art, as well. "Even if it's not meant to be political, we live in a place where that's a politicized identity," O'Hara says.
But since Donald Trump was elected president, both Alesandro's and O'Hara's work has become more direct. "It's a decision I make going into it now, whereas before, I took for granted that other people would see it that way," O'Hara says. Alesandro also feels strongly about her purpose in this new era. "We have to up our game," she says. "There's no room for apolitical art anymore."
Juan Carlos Araujo, who co-owns Empire Seven Studios in Japantown, agrees with that sentiment, and he has a few projects brewing in response to current events. "It's a matter of speaking up, and I think artists have a great tool to do that, because they can do it visually," he says. "Art for me has always been something that can trigger awareness and create some kind of voice."
Eric Victorino, a local musician and visual artist, is driven by a similar urge: "I had a friend on Facebook who said, 'Get back to making art. Stop letting Trump consume you.' My response in my head was, 'He's already consumed me.' I can't think about anything else."
Victorino, who runs the Campbell chapter of the national activist group Indivisible, has turned his Trump obsession into an enterprise, selling more than 200 Sharpie drawings on watercolor paper of the president's head with a quote inside, for $30 each. "I started to do these busts," he says. "There's something so dignified about that silhouette, and then I take something stupid that he said, that's so not presidential, and juxtapose it." He has a running list of quotations on his phone. "I can do them all day because you're never out of material."
There's clearly a local thirst for resistance imagery. Jeremiah Harada, whose paintings are on display at Local Color, found that his line drawings of the president have resonated with a surprising number of people, garnering more support than anything else he's posted on Instagram. "It was cool to see something I just doodled in my bed while I was watching the election have so many people respond," Harada says.
Resistance art can build momentum quickly on social media. Artists like Harada have an immediate gallery on their Instagram profiles. Damian B, who makes art "about people of color in the community," using colored pencil, clay and wood, saw potential in the way online art can inspire millennials to fight back instead of isolating themselves behind a phone screen. "Growing up, art inspired me to ignore the people who were trying to stomp on me," the artist says. "As much as we're exposing the alt-right, we're also bringing in a whole new generation of people who were afraid to speak up."
Others have used art to capture the public's temperature. Leah Jay was struck by the creativity in signs she saw at the San Jose Women's March, which drew tens of thousands of people. She wanted to recognize that outpouring of expression, so she collected 150 signs that had already been used at protests and lined them up against the wall of the San Jose Museum of Art for what she called a "SignStorm" in February.
Jay intended to put the signs on the floor of the plaza, but the wind started to blow them away, so she moved them to the side of the museum. "People came up in and out of the museum and walked up and down the row of signs," she says. "It fit perfectly with my attitude: present it as an installation." Jay wanted to highlight the grass-roots feeling of the protests. "Consider the signs themselves—the physicality," she says. "Who made them? Are they in crayon, or on a pizza box? Think about what went into making them."
Hoping for 250 signs, she put up a flyer at University Art in San Jose's Midtown. "But an interesting psychological thing occurred," she says. "People started falling in love with their signs." Some wanted to keep their very first protest sign, and others planned to leave theirs inside the front door to bring to future events. Jay expects more clever, personalized art at the April 22 March for Science, and she's putting together a "SignStorm" kit for others who'd like to replicate her idea.
"You may not be able to verbalize what you're feeling until later," Jay says. "But it's the visual impression that sticks with you in your memory for a long time."