Features & Columns
Conventional Wisdom
Local comic book store owners talk about the state of the industry and
share thoughts on the new convention in town.
Intro | Comic Book Store | William Shatner | Back to the Future | Firefly | Women in Comics | Geek Out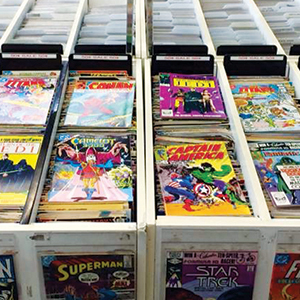 A number of South Bay comic book store owners have mixed feelings about the upcoming Silicon Valley Comic Con. They welcome an event that encourages interest in comics. But they worry that the focus on blue-chip celebs and superhero franchises may eclipse the purpose these gatherings originally served—that is, to bring comic books fans together and help independent shops in the process.
As longtime comics maven Lee Hester puts it: "My only fear of the Silicon Valley Con is that it's going to be the kind of party where most people have their nose against the glass watching celebrities eating Lobster Thermidor."
This spring, Hester will shutter the San Mateo branch of Lee's Comics to focus on his larger Mountain View shop. He insists there is nothing foreboding about the decision, noting his plans to increase hours and bump up the number of staffers at his Mountain View store.
Lobster Thermidor or no, Hester will attend the Silicon Valley Comic Con. "It remains to be seen how this will pay out," he says. "But Woz wants to do it big time, and he's got the deep pockets."
When it comes to the state of comics, Hester says there is still plenty of great work being done. He lauds Sacramento-bred Adrian Tomine and the work of Image Comics in Berkeley—the publisher that helped launch the '80s "retro boom" by partnering with writer, artist and convention guest Josh Blaylock.
"Image really has the mojo these days," Hester says. "Image is the Bernie Sanders of comics. They're not relying on gimmicks, superheroes and campy crossovers. The creators are able to do their own things."
Anna Warren Cebrian, another fan of Image, runs Illusive Comics in Santa Clara. Her 9-year-old store is relatively unique in the comics business. Of the 2,500 or so direct sales shops left in the United States—down from about 4,000 before the Great Recession—less than 4 percent are women-run. She rattles off some of the small-business woes she faces. Skyrocketing rents in Santa Clara are squeezing out shops. The city now has a mandatory minimum wage with increases every year. She feels her employees deserve the money, but it's hard to flex prices on the merchandise when comics traditionally sell for $3.99.
"Business is very challenging now," she says. "But I'm always up for a challenge." While online sales take their toll on brick-and-mortar retailers, Cebrian claims Illusive can coexist with cyber store giants like Amazon.
"What can never be replaced by Amazon is someone who can answer the question 'what's good?' When someone asks me 'what's good,' I want to be able to answer, "What do you like, what's your favorite TV show? If you're looking for something that you can share with the kids, it'll be less sex and violence. If it's something for you, then it'll be more sex and violence."
She's looking forward to the rebranded con. "I'm very curious of how it's going to work." Still, she has some concerns, like the placement of the comic sales booths.
"I was very surprised when I saw the floorplan," Cebrian says, noting that merchants are usually clustered at the center of the room. At the SV Comic Con, all the direct sales tables are in the Big WOW! Tent, separated from the main floor. "That was unexpected," she continues. "We're shoved off to a corner. And we're a little depressed we can't sell tickets for the convention at the shop. I'm nervous about how it's going to work with attendees. I've heard there are not a lot of indie artists showing up."
Neil Farris, who owns Willow Glen's Hijinx Comics, San Jose's oldest direct-sales comic store won't be attending this year, mainly because he doesn't have time. "Setting it up requires a lot of time and prep," he explains. "In most respects, I'm kind of a one-man gang."
He's the fourth owner of the direct sales shop that started out in 1982 as the collectible card shop Mike's Colosseum. In his view, the newly remade convention didn't do enough outreach to the local direct sales shops.
"I wish 'em well," Farris says, "but it's puzzling that they didn't reach out to us." Like Cebrian, the Hijinx owner complains that the ticket setup didn't include direct-sales stores. "I've heard after the fact that they didn't have time, but I think they had tons of time. When we did Big Wow! previously, we helped promote the show. Now that Wozniak and Stan Lee own it, it's different."
The comic book business is in "a very healthy state," Farris says. "Business is solid now—we had too many dips over the past few years."
His only complaint is that the major publishers—namely, DC and Marvel—produce too many superhero films. "They may be killing the golden goose," he says, "by putting out too much stuff."