Features & Columns
ShatChat
Negotiate your way through SV Comic Con with these essential Shatner-isms.
Intro | Comic Book Store | William Shatner | Back to the Future | Firefly | Women in Comics | Geek Out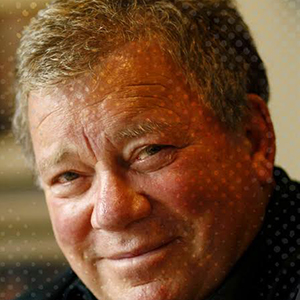 From Captain Kirk and T.J. Hooker to the "Priceline Negotiator," William Shatner has spent more than 60 years in the public eye—imbedding himself in every nook and cranny of the modern world. Articulate, brash, maudlin, campy, sophisticated, and even Canadian, Shatner is truly a modern day Renaissance man. But don't take our word for it. These six Shatner-isms are proof positive of the Shat's ubiquity across the pop-culture spectrum.
Beam me up, Scotty
One of the most famous lines from Star Trek and one of the most reused pop-culture references, doesn't actually exist. Much like Dirty Harry, people have been messing up Shatner's references to teleportation for decades.
Rocket Man
In the late '60s Shatner turned to spoken word, doing surprisingly compelling jazz-poetry takes on such hits as "Mr. Tambourine Man," and most famously, Elton John's "Rocket Man."
KHAAAN!!!
One of the most famous lines uttered—well, screamed—by his Star Trek character, Captain Kirk. Although overlooked at the release of Star Trek II: The Wrath of Khan, it has since become a rallying cry.
Shatnerize
There's literally a word to describe Bill's over the top constitution and method to acting. Urban dictionary describes it as "deliberately produce(ing) something so bad it's good." Joe Piscopo, take note.
Not a Fan
He (apparently) hates his fans. Trekkies have reported that they've received little love from the Shat. The movie Galaxy Quest is allegedly based on the relationship between the Star Trek actors and over-eager fans.
There's A Man Out There!
In one of the more notorious episodes of The Twilight Zone, "Nightmare at 20,000 Feet," William Shatner plays an airplane passenger convinced that there is a gremlin on the wing. The episode—satirized in Ace Ventura—predated his run as the captain of the starship Enterprise.