Features & Columns
San Jose Jazz Summer Fest
Gregory Porter, En Vogue, Dianne Reeves and San Jose's own Peanut Butter Wolf perform at the 30th anniversary of the festival
San Jose Jazz Summer Fest | Choice Cuts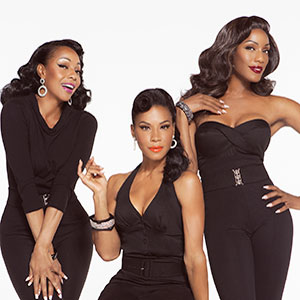 In the summer of 1990, local music impresario Bruce Labadie set up a stage at Plaza de Cesar Chavez Park and invited a handful of jazz heavyweights—including Bobby Hutcherson, Hugh Masekela and Freddie Hubbard—to perform outdoors at the first ever San Jose Jazz Festival.
Rechristened the San Jose Jazz Summer Fest, the annual party marks its 30th anniversary this weekend with an eclectic lineup of more than 100 performers playing on a dozen stages over the course of three days.
With free stages and exclusive VIP packages to a variety of acts—from jazz traditionalists to cutting-edge, genre-blurring performers—there's a little something for everyone at this year's Summer Fest. Music lovers can catch performances at Plaza de Cesar Chavez, Post Street, the Hammer Theatre Center, Café Stritch, the Tabard Theatre and elsewhere.
Some of the bigger names this weekend include Dianne Reeves, Love Train hitmakers the O'Jays and San Jose native, Peanut Butter Wolf.
In addition to the standard-bearers and the boundary pushers, there will be plenty of big-band, Latin jazz, New Orleans-style, blues and R&B. Read on to learn about many of this year's performers and get a taste of what's to come this weekend.
Akira Tana & Otonawa
Fri, 6pm
Cafe Stritch
Framing the rich cultural roots of their shared Japanese heritage, veteran drummer Akira Tana's Otonawa quintet reimagines traditional Japanese folk songs in a modern jazz context. Alongside Tana, pianist Art Hirahara, bassist Noriyuki "Ken" Okada and woodwinds multi-instrumentalist Masaru Koga first came together for a benefit concert dedicated to the victims of the 2011 earthquake and tsunami in Northern Japan. Otonawa—meaning "sound circle" in Japanese—recorded a self-titled album and later toured Japan, bringing their blend of Japanese and African American musical traditions to affected communities.
Marcus Shelby Orchestra
Fri, 8pm
Hammer Theatre
San Francisco-based composer, bassist and band leader Marcus Shelby has led one of the hardest-swinging big bands in the Bay Area since 1999. His compositions and arrangements celebrate African American musical heritage, honoring the music of Duke Ellington and Billy Strayhorn with Bay Area jazz staples like Kenny Washington and Faye Carol. His orchestra has recorded original suites and oratorios paying tribute to the legacy of cultural icons like Martin Luther King, Jr. and Hariett Tubman. He will be accompanied by vocalist Tiffany Austin.
Marquis Hill Blacktet
Fri, 8:30pm
Cafe Stritch
Breaking down the boundaries between jazz, hip-hop and neo-soul is Marquis Hill's specialty. Hailing from Chicago's South Side, Hill's artistry reflects the ever-shifting cultural continuum of African American music. His latest album, Modern Flows, Vol. 2, spreads spacey horn arrangements and bop flourishes on top of boom bap-derived drum beats. It's all sewn together with spoken word verses focused on the black experience in America. Hill capped his 2014 victory at the Thelonious Monk Institute Competition with his 2016 album, The Way We Play. Hill's group, the Blacktet, includes rising stars like Joel Ross, Braxton Cook and Jeremiah Hunt.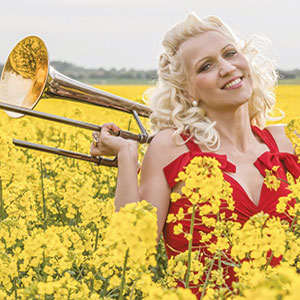 Aneesa Strings
Sat, Noon
Jazz Beyond Stage
With a silky approach to R&B songwriting and both feet firmly rooted in the jazz tradition, Oakland-born bassist and vocalist Aneesa Strings honed her talents in the SFJAZZ High School All-Stars. Her debut album, A Shift in Paradigm, was produced by keyboardist and R&B vocalist Patrice Rushen, and their collaboration reveals many similarities in style. A Shift in Paradigm features soulful melodies, lush horn arrangements and colorful harmonies.
Dahveed Behroozi Trio
Sat, 1pm
Adobe Silicon Valley Stage
A jazz educator at San Jose State University and Gavilan College, hometown hero Dahveed Behroozi is one of the Bay Area's leading jazz pianists. Studying under Fred Hersch at Manhattan School of Music, Behroozi drew inspiration from Romantic classical music while developing his style. Colorful and highly expressive, Behroozi's lyrical playing on his 2012 trio album Games evokes compelling emotional hues. Tracks like "The Barnhills" and "Nightwatch" reveal traces of Chopin, Keith Jarrett and Bill Evans in their poignancy and impressionistic harmonic palette.
DOMi and JD Beck
Sat, 4pm
Jazz Beyond Stage
French pianist DOMi, 19, and Texan drummer JD Beck, 16, make up this virtuosic duo. Despite their youth, the two are currently touring across the US and France, and have collaborated with forward-thinking artists like Jon Bap, Anna Wise and Thundercat. The duo's breakneck sound is raw and technically stunning: JD's hypnotizing hip-hop backbeats dance with DOMi's soaring post-bop lines, drawing equally from the legacy of hip-hop innovator J Dilla as well as Chick Corea.
Fred Hersch
Sat, 5pm
Hammer Theatre
Jazz piano grandmaster Fred Hersch is a legendary figure in the jazz pantheon. Since emerging from the New York City scene of the 1970s as a sideman for icons like Art Farmer, Hersch has gone on to define the sound of contemporary jazz piano. Recognized for his supple virtuosity, Hersch has also garnered acclaim for original compositions like Leaves of Grass, a setting of Walt Whitman's poetry for an octet and two voices. On top of that, Hersch's mentorship of contemporary pianists—wizards like Brad Mehldau, Sullivan Fortner and Gerald Clayton—has solidified his influence on today's musical landscape.
Sons of Kemet
Sat, 6pm
Jazz Beyond Stage
Shabaka Hutchins, the fiery saxophonist and composer leading Sons of Kemet, takes diverse musical cues from free jazz, dub and Afrobeat. This politically charged jazz supergroup based in the UK generated considerable buzz with their 2018 album, Your Queen is a Reptile, which pays tribute to influential black women throughout history while challenging British cultural conventions. Tracks from the album, like "My Queen is Angela Davis," present an alternate royal family fleshed out in the group's eclectic instrumentation: Hutchins on sax, Theon Cross on tuba, and Seb Rochford and Tom Skinner on drums and percussion.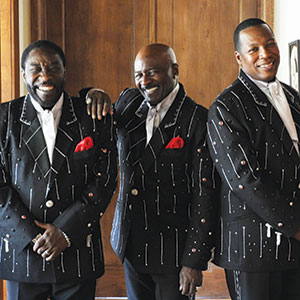 Gregory Porter
Sat, 6pm
Sobrato Main Stage
Gregory Porter carries on the lineage of late 20th-century singers like Nat King Cole and Johnny Hartman, while deftly setting a new standard for vocal jazz. His 2010 debut, Water, highlights Porter's rich tone and superb lyrical interpretation of Great American Songbook classics, such as "Skylark" and "But Beautiful." Later works, like his Grammy-winning 2016 project, Take Me To The Alley, dip into a wavy R&B-inflected sound. Backed by acclaimed instrumentalists like tenor saxophonist Tivon Pennicott and trumpeter Keyon Harrold, Porter draws on the raw honesty of the blues and gospel.
Kassa Overall
Sat, 7:30pm
Inca Azteca Stage
This jazz drummer, producer, DJ and emcee deftly evades categorization. After graduating from Oberlin Conservatory, Overall was a member of pianist Geri Allen's Timeline project, and has performed with Christian McBride, Vijay Iyer and Gary Bartz. As a rapper and producer, he's collaborated with Bay Area-born rapper Kool A.D. His latest project, Go Get Ice Cream and Listen To Jazz, showcases Overall's unfettered creativity: He layers 808s, his own vocals, his own rapping and chopped-up samples of his own live drumming alongside the contributions of pianist Sullivan Fortner and trumpet legend Roy Hargrove.
Dianne Reeves
Sun, 4pm
Sobrato Main Stage
Returning to San Jose for her fourth appearance at the Summer Fest, NEA Jazz Master and five-time Grammy winner Dianne Reeves ranks alongside Dinah Washington and Carmen McRae as one of the most accomplished and critically acclaimed jazz vocalists of all time. Reeves has collaborated with artists like Billy Childs, Lenny White and Airto Moreira. Her stylistic versatility seamlessly moves between quartet and orchestral settings on jazz standards and R&B-influenced compositions alike. Reeves was also behind the Grammy-winning soundtrack for George Clooney's 2005 film, Good Night, and Good Luck.
High School Groups
Sat & Sun, Various Times
SJMA Next Gen Stage
SJZ's support of jazz education continues at the SummerFest, showcasing high school bands from SJZ's own education programs like the High School All Stars Combo and the Summer Camp Combo, as well Monterey Jazz Festival's High School All-Stars. Shining a light on some of the most promising young musicians in the South Bay, the Next Gen Stage provides exposure to these aspiring performers.