Features & Columns
Choice Cuts
Master Selector Peanut Butter Wolf mixes jazz, funk, hip-hop and more into his tastemaking label, Stones Throw Records
San Jose Jazz Summer Fest | Choice Cuts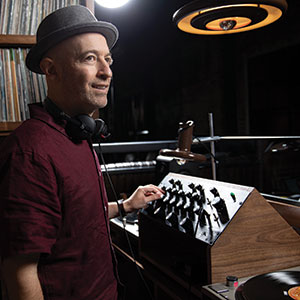 Chris Manak still regrets not signing jazz saxophonist and composer Kamasi Washington. Manak, better known by his DJ and producer handle Peanut Butter Wolf, had contemplated bringing the tenor saxophone prodigy onto his tastemaking label—the weirdo hip-hop and future funk-championing Stones Throw Records—but hesitated.
"I was sitting on his demo and wanted to sign him," Manak recalls, "but I had put out a lot of jazz albums with Madlib—under the name of Yesterday's New Quintet—which never did too well. I always felt bad about that. It got to a point where I decided not to put out anymore jazz music, because I felt like it would just be a disservice to the artists."
Perhaps Manak should have gone with his gut.
In May of 2015, Washington turned heads with his massive major-label debut, The Epic, drawing the attention of pop music critics and listeners who might never have considered themselves jazz fans previously; he headlined San Jose Jazz Summer Fest that August. The same year, Kendrick Lamar dropped his 2015 jazz-laden opus, To Pimp A Butterfly. Seasoned genre-melders like Robert Glasper, Thundercat, Terrace Martin, Washington and Flying Lotus were all instrumental in the realization of Lamar's project. The album was a critical success, winning a Grammy for Best Rap Album, cementing Lamar's reputation and refocusing an international spotlight on the vibrant cross pollination that has always existed between America's hip-hop, jazz and funk scenes.
In 2014, the avant garde electronic producer Flying Lotus—who once served as an intern at Stones Throw—brought Herbie Hancock, Thundercat, Lamar and Washington together on his project, You're Dead!
Manak, who grew up on San Jose's East Side and attended Piedmont Hills High School, performed at San Jose Jazz Summer Fest in 2014. That same year, the festival hosted a screening of Our Vinyl Weighs a Ton, a documentary about Stones Throw Records.
The success of Washington, Lamar, Flying Lotus, Thundercat and all their contemporaries served to vindicate Manak's instincts. Since the foundation of Stones Throw Records in 1996, Manak has staked his reputation to his curatorial expertise. It's a talent he's honed over decades spinning deep cuts and amassing a catalog of some of the most forward-thinking artists ever to lay music to wax. It's a reputation he'll defend this Saturday with a late-night DJ set at the annual SJZ Summer Fest.
ALL THAT JAZZ
This summer marks the 30th anniversary of San Jose Jazz's annual fête, and Manak will once again take to the ones and twos, spinning up a set of choice selections at the Jazz Beyond Stage on Post Street—where many more boundary-bending artists will also explore the borders of America's indigenous art form.
Manak oversees a diverse roster of artists at his independent record label, headquartered in the Highland Park neighborhood of Los Angeles. The Stones Throw offices sit above his newly opened vinyl-oriented watering hole, Gold Line Bar. Stones Throw's highly eclectic catalog makes it one of the most respected boutique labels on the West Coast. And while a cursory review of Manak's roster may read as somewhat scattered, there is a certain consistency within the chaotic crew of creatives who have called Stones Throw home over the years.
"There's always been a lot of jazz influence at the label,'' says Manak, referencing underground OGs of the alternative hip-hop movement like MF Doom, Madlib, Ras G and J Dilla. These are the master samplers, crate-digging savants and oddball emcees who've influenced an abundance of contemporary producers—including Stones Throw label-mates such as trippy, beat-making virtuoso Knxwledge. Through their encyclopedic knowledge of jazz and sprawling vinyl collections, these innovators helped Manak define the contours of the label's aesthetic.
Take, for example, The Unseen, by Quasimoto, the alter-ego of Stones Throw producer and emcee Madlib. The 2000 album's third track, "Microphone Mathematics," samples a live recording of Thelonious Monk's "Pannonica," a languid ballad reminiscent of a nursery rhyme, captured during a 1959 solo concert in San Francisco. This choice needle drop is followed by another great cut, from Blue Note Records trumpeter Don Cherry. The rest of the track, like the rest of the album, is steeped in hazy vignettes of jazz samples and lyrical references to heroes of the genre. "Jazz Cats Pt. 1" name-checks Sun Ra, Dizzy Gillespie and Gary Bartz, among others. "There's plenty more I could name," Madlib raps in his Lord Quas disguise, "but y'all won't put them to good use."
FUTURE FUNK
The label's newer acts are of a slightly different breed. Recent recruits such as Mndsgn and Kiefer are seriously talented keyboardists with a deep knowledge of the musical lexicon of influencers like Monk or Ahmad Jamal. Manak's latest addition, 20-year old prodigy Jamael Dean, is also a promising jazz pianist. Alongside their technical skill, Kiefer and Mndsgn are masters of hip-hop production techniques like sampling, pitch-shifting vocals and drum machine wizardry. The two have been known to track their performances live, then chop up the recordings to mimic the feel of a sample. By running their recordings through a variety of filters, overlaying different patches and slicing up their own playing, they are effectively blurring the line between sample-based and live instrumental music.
Karriem Riggins, a jazz drummer, producer, emcee and original Stones Throw heavyweight, is a pioneer of this production method. Riggins, 43, started his career as a jazzman, playing with musicians like Mulgrew Miller and Roy Hargrove. As a producer, he was a frequent collaborator with fellow Detroit native J Dilla, appearing on three of his albums, and has also worked with Common, Erykah Badu and Kaytranada. Notably, he produced Kanye West's "30 Hours," from The Life Of Pablo. Riggins' 2017 project, Headnod Suite, is composed of tracks like "Bahia Dreamin'," which fluidly transitions from 808 backbeats into an acoustic trio setting, with live keys, upright bass, and Riggins himself on the drumset riffing beneath classic Slum Village samples.
"He's a unique one—I signed him and Madlib as rappers together," Manak says of the musical Renaissance man, adding that nowadays Riggins has primarily been drumming for Canadian pianist and jazz singer Diana Krall. Go figure.
Manak's crew of genre-defying artists have always drawn on cues from jazz, hip-hop and funk—musical idioms that FM radio and the Billboard charts have often segregated, but which in reality lie along the same cultural continuum. This junction of genres is hardly a recent development. On the East Coast, veteran jazz pianist Robert Glasper has been covering J Dilla beats in his trio setting since the early 2000s, working with the likes of Erykah Badu, Bilal, Q-Tip and the Roots. In 2017, Glasper headlined at the SJZ Summer Fest, which has recently been a sanctuary for fellow boundary breakers like Kamasi Washington. Stones Throw artists have also maintained a presence at the Summer Fest, with Knxwledge and Riggins both making appearances at the festival. Manak is well aware of SJZ's patronage of Stones Throw artists, and it's put future prospects on his mind.
"In the future, I'd like to secure a Stones Throw stage," Manak says about the Summer Fest. "There's just so much jazz talent at the label right now, I think that would be the next step."
SIP & SPIN
Speaking of next steps, Manak's newest venture—the Gold Line Bar—has been generating quite a buzz. Eater Los Angeles and Los Angeles Magazine recently profiled the drinking establishment, which opened in late 2018 and pairs high-fidelity analog audio equipment with craft cocktails.
Located in the same building as the Stones Throw headquarters, Gold Line is styled after the Japan's "hi-fi bars," where patrons are encouraged to kick back and listen to deep cuts over top-shelf spirits. LA restaurateur Tyler Bell, co-owner of L&E Oyster Bar and El Condor in Silver Lake, curates the cocktail menu, and they don't serve food.
What Gold Line lacks in small bites it makes up for with quality tunes. The bar is equipped with a vintage analog stereo system and its walls are home to more than 9,000 records from Manak's personal collection. Barkeeps and guest DJs make the selections.
"It's the first vinyl bar in the US with a record collection that large," Manak says, proud to have a leg up over other Los Angeles vinyl bars, like The Semi-Tropic in Echo Park and In Sheep's Clothing downtown. "It's not really traditional DJing, where you have to beat match. No turntables and scratching or anything like that; it's more about selecting music and creating a vibe. For me, it's really just all about the music."
Peanut Butter Wolf
Sat, 10pm
Jazz Beyond Stage, Post St.
summerfest.sanjosejazz.org