Features & Columns
Let the Pageant Begin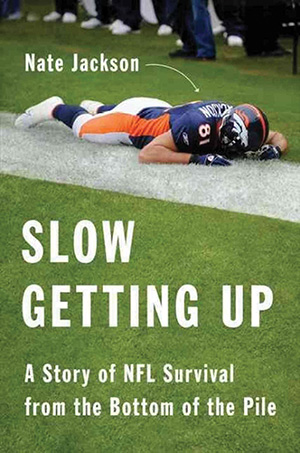 Ahead of the 2002 NFL draft, as scouts sized up prospective players, Nate Jackson got his first minor injury—a pulled hamstring—and got his first look at his future as an "investment," with his agent Ryan Tollner coaching him through the draft. The 49ers had taken an interest in Jackson, a South Bay native who played for two seasons at Menlo College.
As I stand on the sidelines watching one of the East-West practices that I can no longer participate in, Bill Walsh comes and stands next to me. He's one of the chairmen of the Shrine Game committee and helped get me on the roster. Like Ryan, he tells me not to worry too much about the hamstring.
—Just get healthy and you'll have your shot.
I crawl off the ledge and, after the game, start rehabbing immediately.
A couple of months later I'm at San Jose State's pro day. It's early in the morning, cold outside. But the presence of stern NFL men fingering their stopwatches puts a buzz in the air. That's the first thing that strikes me: The NFL is a pageant. Football is no longer just a game. The NFL's regional scouts stretch from Pacific to Atlantic and work all year long compiling information on their employers' potential investments.
They're conducting research for their bosses. I'm trying to touch God. This is the moment I've been training for. Most of us here weren't invited to the NFL Scouting Combine in Indianapolis. Only 260 guys go to that. This is our only shot in front of scouts. We run the 40-yard dash, the L-shuttle, the 20-yard shuttle, and the 60-yard shuttle. We also do the broad jump, the vertical jump, and hit the 225-pound bench press. Then we run routes.
The success I had at Menlo had come with an asterisk: *D3 football. I bought into it for a moment: just like I momentarily bought into Cal Poly coach Larry Welsh's assessment of my athletic ability. But after seeing the D1 talent at the Shrine Game, and now here at San Jose State's pro day, I'm hit with a surge of confidence. They're just dudes: dudes with strengths and dudes with weaknesses. Dudes with doubts and fears and pain. Humanity equalized all of us. D1, D3, NFL: just dudes.
Leading up to the draft the 49ers invite about thirty local prospects to their facility for a workout. I drive the fifteen minutes to Santa Clara and walk in the front door, greeted immediately by a trophy case that holds the talismans of my childhood. All five Lombardi trophies gleam in the halogen lights. Three of them came under Bill Walsh and two were under George Seifert, Bill's successor. We change into 49er shorts and jerseys in the locker room. I'm caught between focus for the workout and a surreal admiration of my surroundings. I walk through the weight room and imagine Joe Montana and Jerry Rice discussing a play between sets of leg presses, or Charles Haley yelling at Steve Young in the showers and having to be restrained by Ronnie Lott.
Out on the field it's all football stuff: ball drills, routes, one-on-ones. No stopwatches and no clipboards: just coaches coaching football. I have a good workout. There was no way I wouldn't. I feel ordained by the tradition of the institution. After I'm done, receiver coach George Stewart—a large, deep-voiced, kindhearted man everyone called Stew—pulls me aside and tells me what I'm starting to figure out. I can do this.
At the end of the month is the two-day draft. The day before it starts, the Niners want to time me in the 40-yard dash. It is a beautiful, sunny day. I drive from the small parking lot outside of my Menlo dorm room, down El Camino Real to Stanford Stadium, where I meet Ryan and a few 49ers scouts. I run a 4.5 and a 4.6 on the bright green field of an empty stadium. I ask Ryan how I looked. Strong, he says.
The first day of the draft passes. The next morning Ryan tells me that the Niners might draft me late. Some of my close Menlo friends come over to my house to watch it with me. Dave Muir sits next to me in the deafening silence as we watch player after player get what I want. I stare at the phone. During the seventh round it rings: the Ravens. They want to sign me as a free agent after the draft ends. I want to be drafted. If I'm not, I can still sign as a free agent. Sometimes, Ryan says, that's actually better, assuming you have a few teams that want you. Then you get to choose. If you are drafted, you have no choice.
The last pick comes and goes and my name isn't called. A few minutes later the phone rings again, the 49ers this time. They want me, too. My first business decision: Baltimore or San Francisco. Because of my many connections to the team, the fact that the 49ers didn't draft any receivers (the Ravens drafted three), and the team's proximity to my family, Ryan and I agree that the Niners are my best bet. I call them back, while Ryan delivers Baltimore the bad news, and not a minute later I'm out the door, making my short way to the facility again. I walk upstairs to sign my new NFL contract, complete with a $5,000 signing bonus. Look, Ma, I'm a 49er!