Features & Columns
Summer Guide 2019
Classic rock legends, alternative trailblazers and local artists grab
the spotlight for three hot months in Silicon Valley
Intro | Music | Santana | Visual Art | Theatre | Festivals | Movies | Reading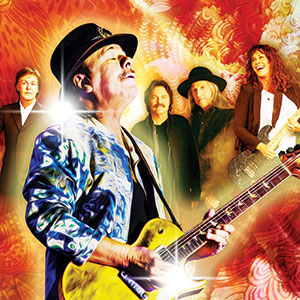 For the past week, Silicon Valley has been hammered with unseasonably wet weather and chilly temperatures, even lightning. But the region's live music venues, theater troupes, museums and tireless creatives are putting off more than enough heat to remind us that we are approaching what promises to be an exciting—and entertaining—summer.
In addition to concerts from classic rock heroes, such as Carlos Santana, the Doobie Brothers and Paul McCartney, the South Bay will also host performances by the legendary hip-hop collective Wu-Tang Clan and alternative heroes, such as Beck, The Smashing Pumpkins and Alanis Morissette.
Local museums are putting on thought-provoking exhibitions by artists such as Rina Banerjee and Tracy Snelling, and stage companies large and small have a stacked calendar—as City Lights Theater will show Cabaret and TheatreWorks Silicon Valley presents Archduke, a black comedy about Franz Ferdinand's assassination.
When the weather finally warms, local cinemas will be screening big-budget Hollywood titles—like the live-action Aladdin. There's also plenty to binge-watch at home, like the new season of Black Mirror.
There are also celebrations of culture and community—like the Obon Festival in Japantown, the Italian Family Festa in History Park and Silicon Valley Pride.
All this and much more are gathered in the following pages, so break out your datebooks and get ready for a fun-filled summer.