Feature
Forgotten Valley
Tom Liggett laments the paved-over orchards of Santa Clara County in new memoir, Mozart in the Garden
Forgotten Valley | Mozart in the Garden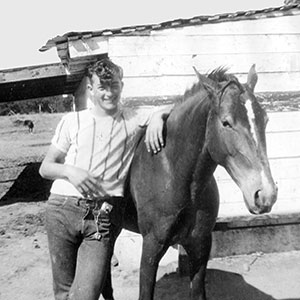 Tom Liggett's new book, Mozart in the Garden: Silicon Valley and Me, We Grew Up Together, performs many services. It is a testimonial to the drastic effects of suburban sprawl, a deep dive into San Jose's architectural underbelly and a journey from abandonment to healing.
Liggett was born in a brothel suspiciously close to Campbell City Hall. His teenage mother hardly raised him and her numerous lovers lovers left Liggett in a state of familial confusion. While learning to care for himself, he developed a passion for fruit trees before he reached the age of 10. He started working as a gardener before he was old enough to drive.
In the process of suffering physical abuse at the hands of his violent and alcoholic stepfather, Liggett escaped long enough to befriend two unique older characters when he was barely 11, both of whom provide rich backstories to his own journey. Faye Wolfe, widow of the architect Carl Wolfe, told Liggett stories one would never expect an eccentric old lady to reveal to a curious 11-year-old. Then there was Max Gosseling, a local printer that lived in a grimy trailer, who hired the young Liggett to perform odd jobs so the neglected kid could have food money. The jobs included cleaning Gosseling's rancid toilet. Both Wolfe and Gosseling left a lasting impression on Liggett.
All of this unfolded alongside San Jose's transition from a fertile agricultural paradise into a valley of beige suburban sprawl. Somehow, Liggett survived—growing up to become an early Apple Computer employee and found the San Jose Heritage Rose Garden. We have much to learn from his tenacity and grit.
The following interview has been edited for clarity.
GARY SINGH: Your book highlights the era (1950-1970) in which San Jose City Manager Dutch Hamann willfully destroyed a valley of fruit orchards and replaced them with uniform subdivisions for miles in every direction. It's all in there: The annexation wars. Man claiming to be separate from nature. Highfalutin tricks to slaughter the livelihood of farmers.
TOM LIGGET: One of the things I wish I would've put in there was how they really forced the farmers to sell their orchards. They jacked up the property rates. One day you had property taxes on 30 acres of prune on Branham Avenue and the next day they said, "Well, your neighbor's got houses on it. You're now paying the rate of the house." This was after San Jose had annexed their properties. And before the Williamson act that protected open space, but it was horrible. In my opinion, Dutch forced people off their farms.
Most of those people didn't want to leave. A lot of them were old men that I knew. I talked to them because I was a lot for trees and I'd prune their wives' gardens and these old guys didn't want to leave their farms. But they'd say, "Hell, Tommy, my property taxes just went up over 10 times and they say they're going to raise them again. I got to sell it." And then the orchardists, they sold their property for almost nothing. It was really a rigged game. It was terrible.
GS: Around the same time, in your predicament as a neglected 11-year-old, you developed a friendship with the eccentric Faye Wolfe, widow of Carl Wolfe, of the Wolfe architectural legacy. The conversations with Faye are priceless. You discovered a remarkable old lady. She was many things: a retired prostitute, for one. Yet as Carl's wife she bore the brunt of the business drama, in ways history has not yet told. Plus, she experienced both the 1900 Galveston Hurricaine and the 1906 San Francisco Earthquake.
TL: This book was originally written to be a screenplay. It was called Faye Wolfe, because I wanted to tell Faye's story. This is probably going to be the last published eyewitness accounts of the worst two American national disasters. Faye did them both. And I want her to be remembered because she was a hell of a lady. She had a landing strip down there at the end of the road for her clients. Did you know that? Senter Road and Monterey Highway? Faye and Carl Wolfe had a landing strip down there. I don't know if it was for Faye's clients, but she had her own airstrip.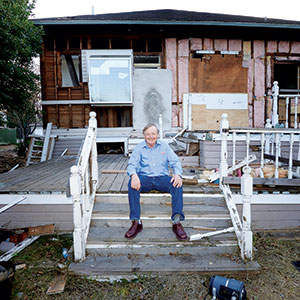 GS: Inseparable from the rest of the book is the suffering you endured at the hands of your mom, Lita and your stepdad, Frank. Physical and emotional abuse. Abandonment. Separation trauma. Starvation. On the good side, your story shows that some survivors, out of sheer necessity, learn to fare for themselves beginning at a young age, and that healing is possible when they continue to transform their suffering into more positive emotions.
TL: I was a bona fide victim until I was 11, and when I was 11, I figured out that if I worked hard, I could feed myself. And that's when I stopped being a victim. And that's why the brutality of Frank's raising, and that's why the hardship of me starving periodically is what made me the person I am today. Because I got tired of starving and I figured out if I worked, I could get a cheap burger. People ask me, the way I was brutalized, why I'm not an axe murderer. And I tell them because I like women. I honestly adore women. I think Siamese cats and women are God's perfect creatures. And how can you hate something you love? And since I didn't get mother love, I was always looking for mother love.
GS: What also comes through in the book is that humility and service played an important role in your healing process.
TL: I think I've been a servant my whole life. Mozart was a servant. And being a servant humbles you and puts you around all kinds of people. I was at Apple Computer, employee number 114. Had a staff of several hundred people and bought and sold scores of buildings for them and then ended my career at a school district mowing lawns and cleaning up horrible things for a lot of money and a great retirement. But I think maybe that's why I became a Buddhist. Because I was able to reconcile that being at Apple was maybe an aberration and maybe the real me was pulling weeds and pruning roses.
GS: One of the most beautifully dark and poetic passages in the book comes when you first move into a not-yet-completed suburban tract house, only to realize what had been destroyed to build it.
TL: You cannot believe what it's like to see a beautiful orchard of apricot trees, where they grew here like nowhere else in the world. Those old Croatian farmers know how to do it. And these trees, these orchards, they'd push them over when they had fruit on them. Maybe each tree, a hundred pounds, 150 pounds with these glorious dark golden apricots, and they shoved them into piles, and I watched it. And then they put diesel on it. Just to watch that fruit burn. I think that's a sin. And I knew it was a sin then. And it was deeply offensive to me.