Features & Columns
Film: Academic
Our film critic forecasts this year's Oscar winners, calls out the snubs
Introduction | Visual Art | Stage | Dance | Music | Film | Talks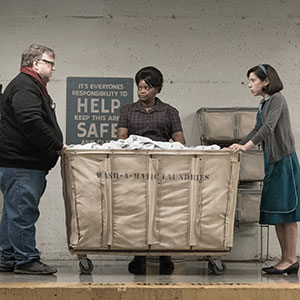 Some watch both the Golden Globes and the Oscars, but the overbooked film critic of today only has time for the more important of the two.
The Golden Globes hand out far too many awards. Separate categories for best comedy and best drama? If I were interested in participation trophies I'd head to a Little League game. The apples-and-oranges, drama-versus-comedy comparisons make the Oscars remarkably arbitrary, but it also ratchets up the tension.
Picking nominees ought to hurt. Viewers should genuinely grieve over having to leave actors, directors and technicians in the dust.
After more than three decades of reviewing films for Metro, I have a fairly firm grasp on how these things go. The below list of my predicted winners is abridged—leaving off the smaller and more technical awards, like best special effects, which really ought to be for War for the Planet of the Apes.
The 90th Academy Awards airs March 4 at 5pm on ABC.
Best picture
Note the absence of Florida Project and Wonderstruck—and then curse the members of the academy who didn't vote for them. A reliable way of handicapping a film is to pick the one that gave the most people work. That's Dunkirk, which, like Phantom Thread, is more admired than loved. Still, my money is on The Post nabbing a zeitgeisty win in this category.
Lead actor
In appreciation for changing Winston Churchill into a cuddly codger and because it's his turn: Gary Oldman.
Lead actress
Frances McDormand by a landslide, with the younger female voters going for Margo Robbie. The Meryl Streep lobby will represent as always, but the nomination may be respect enough.
Supporting actor
I'm sorry to see this as a battle between Willem Dafoe and Sam Rockwell. Both gave their best respectively in Florida Project and Three Billboards. The frontrunner is Rockwell, in reward for his many years as a sterling supporting actor.
Supporting actress
Always the single most interesting category, in range of styles and ages. A long Oscar tradition exists for rewarding singers who turn actresses. Mary J. Blige was excellent in the dire Mudbound—a Netflix program, making this the Los Gatos' company's first acting nomination. I hope Laurie Metcalf wins for leaching the potential for John Hughes schmaltz out of Lady Bird—it would have been a far less interesting movie without her. Most likely winner: Allison Janney for I, Tonya.
Director
Guillermo Del Toro deserves a win for The Shape of Water, but his work isn't everyone's glass of absinthe, and the blood he uses scares off the genteel. As above, Christopher Nolan gave a lot of people a lot of work, and it's the 10th anniversary of The Dark Knight, for which Nolan got no honors at the Oscars—even though he correctly predicted the binary political turmoil we're in right now.
Animated feature
In the bag for Coco. What happened to Lego Batman?
Adapted & Original Screenplay
Every writer who heard the story of James Ivory (age 89) getting the script credit on Call Me by Your Name will take this perhaps last chance for the academy to vote for Merchant and Ivory. For original: It's likely this will be Get Out's sole award, though The Big Sick's success was nearly all script.
Best foreign language
A Fantastic Woman from Chile or In The Fade from the ever-remarkable Fatih Akin.
Cinematography
Blade Runner 2049: Roger Deakins has been nominated 13 times. The Shape of Water was glorious-looking, but The Florida Project and its extremely impressive use of color is again snubbed.