Features & Columns
Winter Arts 2019
Silicon Valley fights the frost with hot concerts, electric exhibitions
and powerful performing arts
Introduction | Art | Stage | Dance | Pop | Jazz | Classical | Film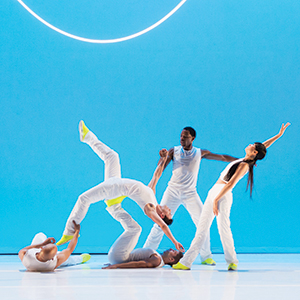 Now that the holidays have passed, it's time for Silicon Valley to get back to work. It can be tough to muster the energy—what with the cold, the rain and the weak sunlight. But that's not stopping the local creative community. All over the South Bay, dancers and performers are limbering up, live music venues are switching on the amplifiers, theaters are drawing back their curtains and museums are splashing some color against the dull, gray of winter.
The coming season offers new visual art exhibits at Stanford University and the San Jose Museum of Art. Broadway San Jose will pull out all the stops with lavish productions, while smaller companies, like City Lights Theater, will tackle tough subjects with stripped-down, black box sets. Local dance troupes will use the motion of the human body to tell stories that can't be put into words.
Venues large and small are gearing up for concerts by classically trained musicians, thrashy punk rockers and Latin heartthrobs. San Jose Jazz Winter Fest takes over downtown in February. After that, the Cinequest Film & Creativity Festival celebrates movies, virtual reality and the power of screens both large and small.
Consider this your guide to all of the best art that the South Bay has to offer this season.