Features & Columns
Year in Review 2012
The year that didn't suck quite as much as years past
Metro Racks Nabbed
Unsatisfied with its quest to snuff out all independent newspapers in the Bay Area via consolidation, the Bay Area News Group—parent company of the Mercury News—decided to start stealing competing news racks and throwing them in a company dumpster designated for scrap metal recycling. After several bumbling attempts to explain the theft, which were proven to be lies, BANG execs dug into their foxholes as the San Jose Police Department continues to investigate
Yahoo Shakeup
Could Marissa Mayer's appointment as CEO of Yahoo while pregnant be one of the coolest things ever? Mayer's eloquent and photogenic presence has long been sought at valley events, and while the former Google VP was always happy to comply, observers noted that the search giant underutilized her talents. Can Mayer turn Yahoo's fortunes around as well as tend to a new baby?
Priest Payback
Despite a mountain of evidence against Will Lynch, jurors acquitted him of beating up an elderly Los Gatos priest who allegedly molested Lynch and his brother when they were kids. An interesting twist in the case was that Rev. Jerold Lindner may have perjured himself by testifying that no abuse occurred. In the end, the District Attorney's Office decided to pass on pressing charges against Lindner as well as retrying Lynch.
Always Sunny in Sunnyvale?
LinkedIn announced a deal to lease a new campus in Sunnyvale that will house its almost 3,000 employees. Expected to move in 2014, the r–sum–/networking site has gained steam since its IPO in 2011, as investors respect the fact that is one of the few (only?) social media sites that has a genuine revenue model through subscriptions.
Cop Out
Less than two years after Chris Moore landed San Jose's top cop position, the chief of police decided he would follow his troops out the door and retire. Stung by layoffs, pay cuts and retirement cutbacks, morale sagged in Moore's two years on the job as the murder rate in 2012 eventually surpassed a 20-year high. Moore will leave with an annual pension payout in the $200,000 range while also receiving a sick-leave payout that might make taxpayers ill when they do the math.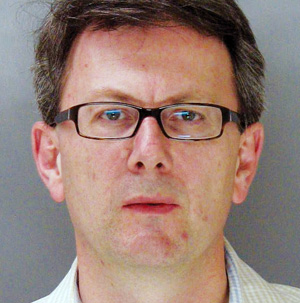 Lego My Legos
Technology exec Thomas Langenbach went on what might be the nerdiest crime spree of the year, which ended when police found eight Ziploc baggies of fake barcode stickers in his car in a Cupertino parking lot. Police arrested the 47-year-old vice president of software giant SAP after he was found to be purchasing Lego sets from Target at artificially discounted prices and selling them on eBay. Over the course of the year, he flipped more than 2,000 units, and police found hundreds of unopened boxes in his $2 million San Carlos mansion. You know, because he needed the money. In August, Langenbach pleaded not guilty to the charges.
Breaking Real Bad
Eric Dean Lewis, a principal at Montague Elementary in Santa Clara, sold meth to an undercover cop on a gay-dating website, according to police. They also say that the headmaster possessed a date-rape drug and numerous hidden cameras in his San Francisco apartment, including one stuffed inside a Teddy bear and others tucked in a cigarette lighter, a coat hanger and a watch on his bathroom shelf. In September, agents arrested Lewis at a Caltrain station, where he unwittingly met an undercover agent. Parents at the school remembered Lewis as an outgoing man who encouraged them to participate, but authorities claim he also used his time there to text the undercover agent and suggest they smoke meth together.
Turn Right on Red
San Jose Mayor Chuck Reed will likely leave office with two major accomplishments on his r–sum–. First, he was able to get pension reform passed by voters. Second, he's the only big-city mayor in recent memory to get a traffic ticket for not using his turn signal. Reed has angered cops the last few years, from cutting their pay to telling them their benefits amounted to a "gravy train." Still, no one expected officers to take a photo of the mayor's ticket and send it out via social media. Police Chief Chris Moore promised to launch an internal investigation into the matter, which, of course, went nowhere.
Paging Pete
San Jose Councilmember Pete Constant receives a salary from the city in addition to his disability pension. The injury has forced him to get several back surgeries, the latest of which had him on the mend in August. Or so we thought. It turns out, Constant skipped a City Council meeting to attend the Republican National Convention just weeks after going under the knife. His absence from council was changed to unexcused. Cost for missing a council meeting: $250. Value of seeing Clint Eastwood murder Mitt Romney's presidential chances in person: priceless.
The Big Squeeze
A man running from the police got himself stuck between two buildings on Capitol Expressway. It took two hours to extract the fugitive. The suspect first called his girlfriend for help, but when she couldn't locate him, he called the police dispatcher and claimed to have been the victim of two men who took his clothes. Did we mention that he was clad only in a garbage bag?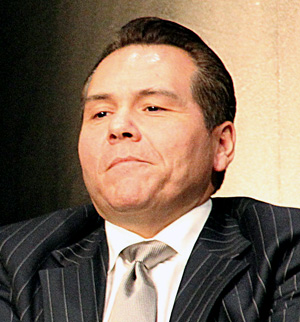 Xavier Campos Escapes Indictment for MACSA Mess
The District Attorney's Office charged two former execs for the Mexican American Community Services Agency (MACSA) with felony grand theft. Both Olivia Soza-Mendiola and Benjamin Tan, the former CEO and CFO, respectively, were found to have diverted $1 million in retirement funds. Escaping criminal charges was the nonprofit's third C-level officer, former MACSA Chief Operating Officer Xavier Campos, who was elected to the San Jose City Council in 2010. The DA cited Campos' continuous payroll contributions to the MACSA pension fund—when he should have known they were worthless—to support the theory that he was ignorant of the threat. Observers were left unsure whether Campos is sly as a fox or simply a dumb investor.
Going Up?
Apple stock crosses the $700 threshold for the first time. Investors experience euphoria.
Doctor, Doctor
Former Santa Clara County medical director Dr. Marvin Bonham allegedly traded Oxycontin prescriptions to felons for cash and street drugs. Police raided Bonham's Los Gatos home Oct. 3 and found meth, mushrooms, ecstasy, weapons and lots of pot during what they dubbed "Operation Oxy Exchange." Bonham now faces 18 felony charges for his one-stop shop operation.
War of the Rose
San Jose Councilmember Rose Herrera experienced the ugliest re-election campaign in the city's history, as labor unions and pension reformers declared war in District 8. The fight featured goofy attack ads on TV, accusations of perjury and two lobbyists getting into an altercation with the councilwoman's husband—who was simply trying to trash campaign signs of her opponent. In the end, conservative estimates have the council primary and runoff totaling more than $1 million spent—an inglorious new record for spending in a local council race.
Field of Dreams
When a report asked Bud Selig, the dour commissioner of Major League Baseball, when a decision would come on the Oakland A's potential move to San Jose, Selig dropped an uncharacteristically candid answer. "I'd be disappointed if you didn't ask," the reporter quoted Selig, via his Twitter feed. "You're not going to get a f#%**%} answer." Well, f#%* you too, Selig.