Features & Columns
Year in Review 2012
The year that didn't suck quite as much as years past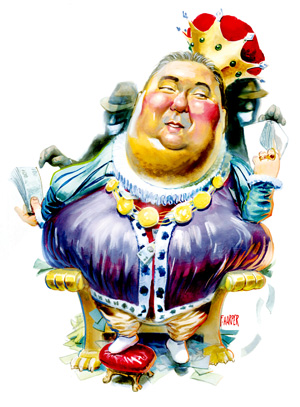 King George
At this point, everyone and their mom knows that county Supervisor George Shirakawa has some 'splaining to do after he hid campaign disclosure forms and misused taxpayer funds. In fact, Shirakawa was so daft he used campaign money to support his babymama and daughters and then swiped his county charge card to buy $100 steaks in bulk, beers for political allies, casino hotel rooms and luxury rental cars. Now the state's Fair Political Practices Commission and the District Attorney's Office are both investigating Shirakawa. Assuming he is forced to leave office in 2013, here are some potential job opportunities for Shirakawa in the future.
Fashion Designer Sure he always wears the same collarless dress shirt and suspenders underneath a pinstripe suit, but fuggedaboutit. Shirakawa has an eye for the finer things in life.
Raiders Mascot Shirakawa wondered if the press went after him for being a Raider fan. They didn't, but that eye patch is quite fetching.
Professor of Ethics Who says you have to practice what you preach?
High School Football Coach If Mike Vick was able to make a comeback.
It's McAfee to You
Face it: Your life will never be as interesting as John McAfee's. While the former anti-virus software CEO was blowing his remaining millions in Belize, he became a suspect in a bizarre murder case that found him hiding in a sand pit before fleeing to Guatamala—and blogging about the details. Not to worry, he's home now and still crazy after all these years.
Undue Diligence
HP announced that it was forced to take an $8.8 billion write-off on its purchase of British software company Autonomy. Conveniently forgetting the old adage "Let the buyer beware," HP blamed $5 billion of the write-down on accounting errors at Autonomy. Autonomy co-founder Mike Lynch angrily rejected HP's charges. HP has asked the SEC and FBI to investigate why the venerable computer company and its army of auditors couldn't figure out that Autonomy was a tad overpriced.
Black Party
A Black Friday party in San Jose led to 42 arrests and one assaulted policeman. Seven people still face felony charges for, among other things, hurling bottles at officers during the post-Thanksgiving fracas. Cops were called out to east San Jose after reports of gunfire. Once there, officers said some people fled while other partygoers held their ground and began acting hostile. SJPD then called in the cavalry, as 70 officers arrived to bring the ruckus under control.
Apple vs. Samsung
The love-hate relationship between Apple and its chief supplier/arch-rival Samsung erupted in a lawsuit in which $1.4 billion was awarded to Apple. Overshadowed by the fracas: a package deal worth upward of $1 billion pulled together by San Jose Mayor Chuck Reed, Santa Clara County supervisors and Gov. Jerry Brown to expand a Samsung campus in San Jose.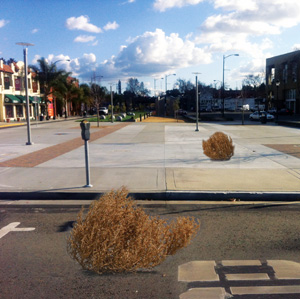 Gored Park
The city of San Jose conspired with several nonprofit agencies earlier this year to close a portion of South First Street and expand a traffic island known as Parque de los Pobladores. Unfortunately, no one bothered to inform Metro or other businesses on the street that they would be losing parking and access. After repeated public-records requests, it became obvious that some city officials and 1stAct, a quasipublic, nonprofit advocacy group in charge of the project, were trying to fast-track the renovation while leaving affected parties in the dark. A compromise was struck to leave a lane of traffic and about a third of the metered spaces in place and the ribbon was cut in September. The park remains curiously empty on a regular basis; could it be all that sun-baked concrete and backless benches that replaced the shade trees and comfortable places to sit?
Pedophile in the Playground
St. Frances Cabrini Catholic School allowed convicted pedophile Mark Gurries, 51, to volunteer at its fall festival filled with children. A sheriff's deputy escorted Gurries off campus after someone who knew about his 2010 conviction complained to the parish priest. But Gurries wasn't arrested. Just two years ago, he was convicted of lewd and lascivious acts on a relative under the age of 14. Bishop Patrick McGrath quickly apologized for the "unfortunate circumstance."
PR Web Ruins the Internet
PRWeb sent out a press release in November claiming that Google was buying WiFi provider ICOA for $400 million. Media outlets picked up the huge story, which would have been fine if it wasn't a complete and total lie. Some blame the smaller company's self-interested stockholders for the tale, while others blame ICOA for buying "news" packages from search engines like Google.The real story is that PRWeb's business model resonates because Google doesn't penalize the company for polluting the news feed.
Mansion Murder
It had been 40 years since the last murder in tiny, tony Monte Sereno, until venture capitalist and ex-Mountain Winery owner Ravi Kumar was found dead in his 7,000-square-foot, gated mansion. His wife, who was discovered tied up, said that from one to four home invaders were responsible. Kumar's past includes charges back in the '90s, as Metro reported at the time, of assaulting a security guard at Mountain Winery and making threatening phone calls to the director of Villa Montalvo. On Dec. 18, Mountain View police arrested Raven Chanel Dixon of Alameda on drug and prostitution counts and charged her with being an accessory to the Kumar killing.
Apple Maps Mess Leads to Exec Departure
Apple doesn't often goof up a product, but when it does, heads roll. That was the case when the company introduced iOS 6 with lots of bells and whistles—and a really bad map app. Apple's maps were so bad that CEO Tim Cook issued a public apology. But the effort to repair the blunder didn't stop there. Apparently in response to his refusal to sign the letter of apology—forcing Cook to sign it himself—Apple software design leader Scott Forstall was fired. This led Cook to further reassign the software group to Sir Jonathan Paul "Jony" Ive, who was already head of hardware design for the company. Significantly, the last person to be in charge of both hardware and software design at Apple was the late Steve Jobs.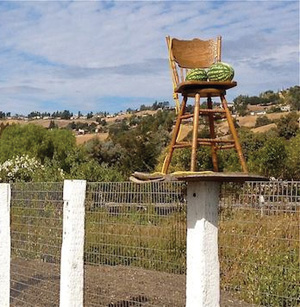 Empty Chair
Leave it to South County to elevate racist political arguments. On the heels of Clint Eastwood's epic conversation with an inanimate object, Morgan Hill resident Blake Lebeck erected a chair adorned with watermelons and a noose hanging above it. A sign on the chair said, "Go back to Kenya, you idiot." Near the chair was a sign in support of Mitt Romney. Most residents were rightly embarrassed.
Good Help Is Hard to Find
In Morgan Hill, two men lured a fix-it guy to their home, whupped him upside the head and insisted that he repair the home's appliances. The pair then hauled the hapless handyman at gunpoint to San Jose to spruce up another house. On the way, they stopped—naturally—for some chow at a Chevron on Santa Teresa, because kidnapping whets the appetite something fierce. The handyman escaped and called the police, who showed up in time to nab the snatchers while they were still snacking.
Status Update
Blogging and posting to Facebook in July, with no prior restraint from the Netflix legal staff, CEO Reed Hastings boasted that customers watched more than a billion hours of streaming content in a month. In December, the SEC threatened to take action against Netflix for selectively releasing material information about the company—instead of putting it in a formal SEC filing for all to see. Hastings responded by saying that Facebook is public enough to satisfy investors.
Instant Mistake
Instagram floated a new policy that sounded suspiciously like total appropriation of its users' photos for advertising content—nothing like unpaid workers. The response came fast and furious, and the company beat a hasty retreat.
Look Out Below
Apple stock dips below $500 as insiders and investors sell off in a mad frenzy to avoid pending capital-gains tax increases on the wealthy.