Features & Columns
Compassion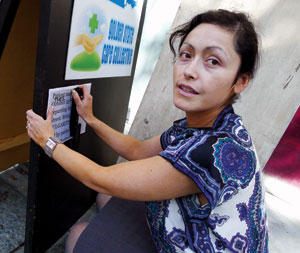 CORINNE REYES sits in the lobby of Golden State Care Collective and thumbs through a four-inch binder stuffed with fliers and pamphlets for everything from gang-tattoo removal to veteran services.
Her dispensary is located just steps away from Saint James Park, long known as a hangout for San Jose's homeless and hard-up. If location is everything in business, Reyes says she has found the perfect spot. Besides offering low-cost or free cannabis—"compassionate," in the lingo—GSCC connects some of the most vulnerable patients with social services.
"We're able to refer them to any local, city, county organization to help them get connected with the right resources," Reyes says while turning the pages of her community resource binder. "So there's anything in here for senior citizens, people who need help finding Alcoholics Anonymous meetings, people that need help who are ex-offenders or LGBTQ supportive programs."
But some neighbors aren't happy with Reyes' business model. "I haven't heard yet in any of the networks that marijuana prescriptions are helping the homeless get off the street," says Scott Knies, executive director of the San Jose Downtown Association. "The idea of getting folks into homes is kind of the whole county plan to end homelessness, not proscribing marijuana to them."
Located near Golden State Care, Knies' office coordinates the Groundwerx Ambassadors, which refers downtown's homeless with EHC Lifebuilders, a Silicon Valley emergency-housing organization. While Knies acknowledges that his office sits in the middle of a rough corridor from Fountain Alley to Saint James Park, he complains about the suspicious foot traffic during GSCC operating hours—especially the able-bodied teenagers skateboarding up to its doors.
Knies' concerns touch on the two issues San Jose has struggled with most in its attempt to reign in collectives: clientele and land use. Worried about the undesirable element collectives can draw, as well as an increase in foot traffic in certain business and commercial areas, the City Council two weeks ago approved a cap of 10 on collectives as well as restrictions on ground-level storefronts—a restriction that would put Reyes out of business.
But Reyes, a political scientist graduate of San Jose State University, with one year of law school under her belt, defends her work, saying she picked her First Street location for a reason. Previously volunteering at the county's Pro Bono Project, which offers legal aid to clients with limited means, Reyes says her dispensary is modeled after Axis of Love, a San Francisco "medical cannabis community center," where founder Shona Gochenaur provides free pot to low- and no-income individuals.
"I did open up here and was able to do a community needs-based assessment and realize that these people cannot give a $65 donation for an eighth," Reyes says. "So if Prop. 215 wasn't written for them, who was it written for? If it's not written for the indigent, the low-income, the disabled, the veteran, then who would need help escaping the dangers of the streets?"