Features & Columns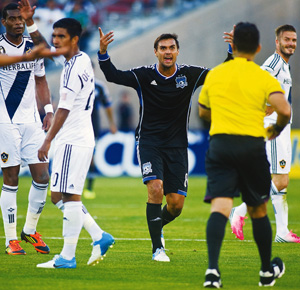 "You can do things
you wouldn't necessarily do in the public's eye. I see a different side of him. He's a nice, genuine person. He's also... he doesn't necessarily know how to deal with it in the best sense. So, he just tries to—he also likes being very reserved and shy as well—so he might rather not deal with it at all rather than dealing with some of it or trying to deal with all of it. So, he would rather keep it at a distance. I don't hold that against him, but definitely at times he's a dick. You're saying no to a kid. That's kind of a dick move. You have been (signing autographs) for a while and you just got done with practice and whatever, but you just said 'no' to an 8-year-old kid."
"Just wait. Some day that will be you."
Wondolowski leans back and laughs. "I'll still sign for that kid."
WHEN CHRIS WONDOLOWSKI WAS 13, his mother Janis took him to see his grandparents at a Kiowa tribe reservation in Oklahoma. The trip served as rite of passage of sorts, as Wondolowski learned more about his Native American ancestry, which comes from his mom's side and makes up nearly half of his bloodline.
"I wasn't wearing headdresses to school," Wondolowski says wryly, "but it still played an important part in my life."
But unlike boys raised on the reservation, where their lives are observed and traits considered, Chris received his Kiowa name after meeting with a tribal elder. He called him Bau Daigh, which was also the name of one of Wondolowski's ancestors, a Kiowa chief. He has it tattooed across his ribcage. It means "Warrior coming over the hill."
THE AIR HAS COOLED NEAR the upper reaches of Stanford Stadium, while the pace at ground level has become feverish. More than 50,000 fans have come to Palo Alto on this night to watch the San Jose Earthquakes take on David Beckham and the L.A. Galaxy. The crowd has taken on a hive mentality. Beckham scored earlier in the game on a trademark bending free kick, but at the moment he looks remarkably pissed. So does Wondolowski, who spent a good portion of halftime screaming at the referees.
The press box is getting tense as well, as fellow Metro writer Gary Singh sits to my right, looking like a music critic who mistakenly wandered into a sporting event. He mutters "not good" every time the Earthquakes lose possession. I ask him questions but the answers only come intermittently. It's quite possible Gary is the most interesting man in the world, or at least the most mysterious: He doesn't talk much, but when he does, he mumbles.
The scoreboard reads 3-3 and the clock says the match has just entered the 60th minute. After giving away two goals in the first half, San Jose has made a remarkable comeback to equalize with scores coming a minute before and after halftime. Martin Chavez, a junebug winger from Honduras, sends in an Earthquakes corner kick from left of the box. The ball comes in at the height of a doorframe, allowing the nearest Earthquakes player, Ramiro Corrales, to jump and redirect the ball with his head into the middle of the box.
In the jumble of bodies jockeying for position and flailing in wayward directions, Wondolowski is, as usual, in the perfect spot to receive the ball—except he's facing the opposite direction of the goal.
Without a moment's hesitation, he continues to spin away from the goalkeeper and pirouettes into a right back heel flick to ricochet the ball into the net. He turns and runs around the goal to a group of soldiers watching the game behind a three-foot wall and throws all 165 pounds of his six-foot frame into a high-five. He then takes a step back and brings a flat hand to his brow and salutes the soldiers in attendance. The entire stadium goes fucking nuts.
"The way he plays the game, it's not about speed and power," Earthquakes coach Frank Yallop tells me a couple weeks after the match. "It's about out-thinking them. He's one of the best in the game."
The Earthquakes use the goal to win an improbable 4-3 comeback in front of a national televised audience, and secure first place in the league standings. It's a stunning finish in what has become a stunning season, as San Jose has gone from among the league's worst to first in less than a year.
Before it's all over, though, Beckham loses his head and kicks the ball at the referee and an Earthquakes midfielder Sam Cronin, who was feigning injury in the waning minutes. A light scrum breaks out and Beckham, fresh off the slight of being left off England's Olympic team, receives a yellow card. Anyone other than Beckham would have seen a red card, but this is Beckham. (He did get suspended a game.) Time expires and Beckham shoves and shouts until leaving the field to boos and drinks thrown at his back as he walks into the tunnel.
Meanwhile, Wondolowski stays on the field, granting interviews and signing autographs. Three years ago this would've been unthinkable.