Features & Columns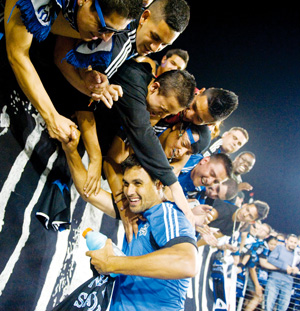 ONLY FOUR TEAMS HAD A WORSE season last year than the San Jose Earthquakes. Injuries occurred at almost every position, heads hung low after giving up early leads, and at the club's lowest point, the team went 13 straight games without a win.
"It was just terrible," says Dave Kaval, president of the Earthquakes. "You woke up every day and wondered, 'When are we going to get a win?'"
After the season mercifully
ended, rather than dismantling the organization, Kaval, General Manager John Doyle and coach Yallop regrouped by spending a summer weekend in Half Moon Bay. It was less a retreat of wine and cheese than an excruciating weekend of counseling, where each man admitted blame for what went wrong in 2011 and how things could improve this season.
"There were hard conversations," Kaval says.
The club wanted more leadership, so among its signings and transfers San Jose snagged hulkish Honduran defender Victor Bernardez. Then there was the addition of sparkplug and overall maniac Steve Lenhart to compliment Wondolowski up top. Looking to add pace on the wing, Marvin Chavez came over from FC Dallas.
Each man had admirable traits before coming to San Jose, but nothing uniquely spectacular. Together, with the partial cast already in place, the Earthquakes have now become an example of a team greater than the sum of its parts, possessing a staggering goal differential of 17-plus as it sits atop the league tables entering this week's All-Star break.
THERE ARE SOME THINGS YOU should know about Chris Wondolowski, so the picture of a man scoring goals, screaming his head off at referees and jawing with opponents jives with the reserved, happily married man. Sometimes he goes home after games and has a beer to relax; other times he's inconsolable for the next 24 hours as he watches the replay of a loss or poor performance over and over.
Born and raised in Danville, his parents divorced when he was in the eighth grade. Characteristically, Wondolowski heard the arguments and went through the oddly universal experience of transferring between divorced parents at a McDonald's parking lot. He was lucky in many ways, because his parents both remarried within years of their divorce. He gained a half-sister and two stepsisters, and his parents continued to work together to raise him and his two younger brothers, ensuring the support structure was always in place.
Ann Wondolowski, Chris' aunt and his father's twin sister, bought him his first car in high school, a Ford Explorer. When he received little attention from scouts despite a standout three-sport career at St. Joseph Notre Dame High School in Alameda, he chose Chico State over UCLA so he could continue playing soccer. Ann paid his tuition.
She went a step further by attending almost all of his games at Chico. This continued through the time he was drafted by the Earthquakes in 2005, left for Houston when the franchise relocated in 2006—he spent almost four seasons there mostly as a reserve, stuck behind some of the best forwards in MLS—and then was traded back to San Jose in 2009. He made the league minimum at the time of the trade, a paltry $30,000 by professional athlete standards, so Wondolowski and his wife Lindsey, whom he met while running in athlete circles at Chico State (she played volleyball), stayed at Ann's house until last November, when they bought a home in San Ramon.
"She's a driving force," Chris says of his aunt. "I've always been grateful for her."
He's equally grateful to his father, John, who played soccer at Cal and coached almost all of Chris and his brothers' teams growing up. The sibling rivalry instilled by the Polish patriarch manifested itself into a culture of constant competition around the house. It also left the impression with some kids in their Danville neighborhood that the Wondolowski boys were a little too intense when it came to sports.
"We played everything from standard wiffle ball and basketball or crazy soccer games with rolled up socks, whatever we could get our hands on and be competitive," says Stephen Wondolowski, the middle brother who now coaches the Earthquakes teenage academy teams after a short MLS career. (The youngest Wondolowski, Matt, plays rugby at San Jose State.)
"It might start out as a fun little throwing the ball back and forth and then it's a competition and rules are getting made along the way," Stephen continues. "We had a lot of 12-inning wiffle ball games, which sounds strange because I was winning after the ninth inning. But we had to play three more until he was winning."
The Wondolowski boys' mother, Janis, knew little about sports, but she too sacrificed to make sure her sons made it to all of their games. The woman who takes care of that role now is Lindsey. In addition to teaching English as a second language to students in Cupertino, she keeps things organized, sheltering Chris from ticket and autograph requests while also doing her best to prevent her hyper-focused husband from brooding.
"Lindsey is definitely the socialite of the couple," Stephen says. "She's not super-out there or anything like that, but she's the one who keeps in touch with family and friends, and it really enables Chris to have a simple life."
Part of that entails protecting Chris from himself.
"I'll make a joke and most people will get it," Chris says, "but some people will take it out of context."
This has, unfortunately, resulted in some of his better off-color Twitter jokes being deleted. One tweet compared Argentinian striker Carlos Tevez, a trollish little man who plays for Manchester City, to a Geico caveman. The other was from a Twitter debate when Wondolowski and Earthquakes defender Jason Hernandez were sitting around one night, bored in their hotel room. Hernandez asked his followers to list their favorite Dave Chappelle Show episodes. Wondolowski tweeted the correct answer: the Clayton Bigsby skit, which features Chappelle acting as a blind black man who becomes the unwitting leader of a white supremacist group. Lindsey had to remind Chris that some people might not understand why he was quoting a line about Bigsby learning the truth about his race and divorcing his wife "because she was a ****** lover," as the tweet read.
"I'm just a goofy guy, and I think there'll be no consequences," Chris says. "She sees down the line."
CHRIS WONDOLOWSKI'S TIMING ON THE PITCH is impeccable. He's not particularly fast or strong or crafty with the ball between his feet. Wondolowski just has a knack for finishing, being in the right place at the right time. But that couldn't always be said of his career.
While playing for Houston, coaches repeatedly passed over Wondolowski when doling out playing time. There were a slew of established forwards in front of him, including Dwayne DeRosario and Brian Ching, who helped the Dynamo winning MLS titles in 2006 and 2007.—titles one could argue belong to San Jose. Wondolowski consistently impressed in practices and reserve matches, but no coach wants to risk sitting a star for an untested, unproven and lowly paid no-name.
"I have no animosity toward them, because if I was the coach I would have been playing these guys ahead of me," Wondolowski says. "There were times where a forward was hurt and I'm like, 'This is my chance. I'm going to show them I can play if I get this opportunity.' But then they would kind of change the lineup around and bring in someone from midfield to forward, or change the formation. You start reflecting on yourself like, 'Wow, am I that bad where they're changing the formation around?'
Wondolowski went on to lead the reserve league in goals scored several seasons, but as his family liked to joke, "Yeah, it's good, but it's kind of leading the league for homeruns in Triple A," says Stephen, who was also a part of the Dynamo for two seasons.
Everything changed, however, when Wondolowski came back to San Jose in a steal of a trade for Cam Weaver, who has scored just 10 goals in the four seasons since the swap.
"I was at a place in my career where I knew I could play, I knew I had all the tools to play, and I got the opportunity," Wondolowski says. "We had forwards that went down and Frank believed in me and said, 'We're staying with two forwards.' I slid right in and scored a couple goals. Confidence goes a long ways."
After scoring three goals in 14 appearances during the 2009 season, Wondolowski stunned everyone by notching 18 goals in 2010. He followed that up with 16 more last season, a total he has already eclipsed this year.
"The biggest thing for me was my mentality changed," he says. "I went from having the mentality of, 'Oh, I better not screw this up,' to, 'I'm going to score. I'm going to make this happen.'"
His emergence as the best striker in the MLS coincides with the Earthquakes building a new $80 million stadium just west of San Jose's airport. Team officials—a group that includes owner Lew Wolff, who desperately wants to relocate his Oakland A's to San Jose, as well—hope to have it ready by the beginning of next season.
Leaving the cozy, if not minor-league-sized, confines of Buck Shaw Stadium at Santa Clara University—the smallest in MLS—will drastically improve the team's revenue stream, which in turn could result in a massive, and well-deserved, raise for Wondolowski. San Jose, similar to Wolff's other franchise in Oakland, has been forced to take a Moneyball approach to building the club. Currently, the best player on the best team in the league is the 30th highest-paid player in MLS. Players like David Beckham, Donovan and a slew of other individuals you've probably never heard of earn more money in a season than the entire Earthquakes roster.
But Wolff, speaking at halftime of a game Wondolowski scored three goals in to help beat Real Salt Lake 5-0, seems to realize the value of his star player, on and off the field: "It's more than just his scoring; in the locker room, everywhere, he's just a very decent human being."
On a recent ESPN telecast, commentator Alexi Lalas, a former U.S. National Team defender who's remarkably clean-cut these days after spending his career looking like a satanic ginger wizard, praised Wondolowski to the point of saying he deserves to be a Designated Player, meaning his contract should be boosted to the point it is exempt from the team's salary cap, similar to the aging European stars who have been lured by dollars to the league.
"Down the line I think we'll be talking more, but I also think I owe a lot of my success to my teammates," Wondolowski says. "The thing about my goals, I'm not dribbling through three or four guys or hitting 25 yards shots into the upper 90. A lot of my shots are making the smart run and having someone put a cross in right to me and finishing. That's' still a tough thing to do, but half the credit goes to the guy who created the opportunity."
The club ripped up Wondolowski's contract the last two seasons, although it didn't have to, which boosted his salary to $300,000 annually. "Each year you always feel he deserves his raise," Yallop says.
Wondolowski negotiates his own contracts, after he fired a former agent that didn't always have his better interest at heart, according to his brother Stephen, who also used the agent. One thing Wondolowski won't be able to negotiate, however, is his place on the U.S. National Team as the 2014 World Cup in Brazil draws closer.
"It's still two years away, but I think about it," Wondolowski says. "I still have to take many steps to do that, but it's a possibility. It's a driving force for me, that's for sure. I'm going to do everything in my power to be there."
And yet, his real focus never seems to stray too far from San Jose, the place that gave him his first true shot. Yallop likes to tell a story from when Wondolowski left the team to train with the national squad.
"He's away from the team and sends me a text to wish the guys all the best with the game," Yallop says, pausing for effect. "He's with the U.S National Team and he's away and he's thinking of us. I think that's great. It's good for us and shows you a lot about him."