Features & Columns
Cinequest Guide 2014
For his first feature-length film, Iranian-Canadian director Mohammad Ghorbankarimi shows off his visual skills, honed by years as an effects man, animator and cinematographer. The Desert Fish unfolds like a fairytale as a young Iranian boy's visions of his vanished mother lead him from his desert home south to the sea that took her away as mysteriously as it conjured her up. Ahmad's father cautions against trifling with fate; the mother was like "an angel," but he abused her love with a greed that emptied the waters of fish and destroyed a village. Dad's punishment is to toil ever after in a well, bent into the pretzel form of a penitent.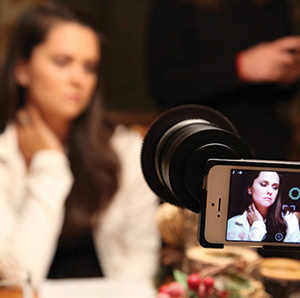 Dinner and wine with friends. Snow—and sledding. Stark, wide-angle winter landscapes. As Uneasy Lies the Mind opens, it's a string of familiar moments: snapshots that could have turned up on Facebook, posted by a friend who's in Tahoe for a few days. The saturated colors, darkened edges of frames and washes of overly warm or cold tones blend into a blown-out, lo-fi look that confers a patina of instant nostalgia, like Instagram shots come to life. And that's not far from the truth.
Though Instagram had nothing to do with the film, director Ricky Fosheim shot the thriller using an iPhone 5 and an app called FiLMiC Pro 2.
It's not easy to watch The Rugby Player with clear eyes, especially when viewing the lonely monument at Shanksville, Penn. as it was in the early days—a draped cross standing next to a chain-link fence on which odds and ends, baseball caps and license plates, hung rattling in the winter wind.
Los Gatos' Mark Bingham (1970-2001) and his mother Alice Hoagland were the kind of people the demagogues hate so much: they were homeless for a short time, and she was a single parent, and he was gay. The courage Bingham demonstrated on 9/11 aboard Flight 93 might be considered the fact that mattered.
At Cinequest this year, the director of the feature film The Purple Onion, filmmaker Matt Szymanowski—working "just down the street from San Jose" in San Francisco—aims to get the audience to help him decide how to proceed. "It's a sneak preview of the rough cut, and we're looking for audience response and feedback to show us what's working, and what isn't. It's a great opportunity to showcase the film in an intimate setting." The Polish-born filmmaker already had a very good and intriguing 32-minute short, History of Solitude, at the 2009 San Francisco International Film Festival.