Features & Columns
Ice Station Valley
Our epic quest for the coldest beer in the hottest month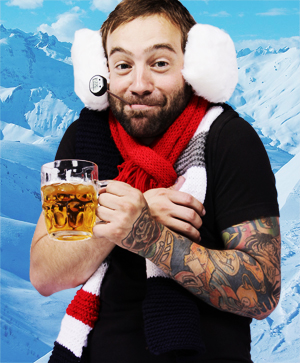 Beer aficionados will tell you that a brew is best served between 45 and 50 degrees. For certain beers like a stout, porter or barley wine, that's true. Too much chill can deaden the malty flavors in heavier, more robustly flavored beverages. But those are winter beers. British drinkers prefer their cask ales in the 53º-57º range.
Sunny California in mid-July, with temperatures in the 80s, is a far cry from foggy London, though. Just south of our border, lighter beers are jammed into ice buckets or served with ridges of ice stuck to the bottle. Around here, a frozen glass or well-refrigerated keg does the trick.
For hot-weather drinking, a colder beer's refreshment trumps the need to savor every nuance of flavor like a wine snob. This is especially true for lagers, pilsners and India pale ales, beers that go with summer like barbecue and a day at the beach. The best sip of beer is always the first one as the cold, hoppy flavors and thirst quenching carbonation wash over one's tonsils. When the mercury approaches triple digits, a cold beer will warm up soon enough anyway. You're better off starting with a tall frosty one.
As a public service to the thirsty and the parched, dedicated Metro staffers took on a grueling challenge: to find the coldest beer in town. Any bar or pub can boast its beer is the coldest. We sought to get the bottom of the coldest beer claims—and a more than a few pints in process.
We fanned out across Silicon Valley, armed with state-of-the-art CDN Pro Accurate Digital Thermometers (complete with pocket clip), a modest beer allowance and a designated driver, of course. The brew crew sidled up to as many bars (62 at final count) as we could fit in and asked for a cold one—and then discretely stuck the instruments into each glass, sometimes drawing puzzled looks from bartenders and occupants of nearby barstools.
It was challenging work, but like many of you, we recognize an ice-cold beer's appeal on a hot day. Temperatures will of course vary by day to day, but our research provides a useful snapshot of some cold, wet truths. So pop a cold one and have a look at what we found. We hit as many places as we could and still make it to work the next day. If you know of a place that merits a mention, please drop us a line at [email protected] or post something to metrofb.com so we can include it in follow-up coverage.
Blue Note Lounge
28.1º
765 E. Capitol Ave., Milpitas; 208.262.8363. No airs, no frills, just a laid-back lounge that serves bottles of beer as cold as ice—or even a little colder.
The Britannia Arms Downtown
30.1º
173 W. Santa Clara St., San Jose; 408.298.1400. Maybe it was the baking 85-degree evening or maybe it was the chilled glass, but the Brit brought relief with a seriously cold pint of Stella ($5). Twenty-five tap beers available in the large bar with a cool staff.
Rookies Sports Lodge
32.9º
1535 Meridian Ave., San Jose; 408.445.2121. The first cold draft beer we asked for clocked in at 48.3 degrees, but our smokin' server in Hooter's style shorts may have heated things up a bit. A second draft came in at a chillier 37.2 degrees. On a different visit, the thermometer registered 32.9, so we gave them the benefit of the doubt. Better check that thermostat!
The Garrett
35.9º
1777 S. Bascom Ave., Campbell; 408.559.7930. From eight beers on tap, we choose a pint of Sam Adam's Summer Ale ($4.77), and the digital readout steadied at a satisfying 35.9 degrees. The A/C added to our cocoon against the 85-degree reading (at 7:30pm no less) outside. The sports bar serves food to a nicely mixed crowd—and look for the Rolling Stones pinball machine.
The Old Pro
36.5º
541 Ramona St., Palo Alto; 650.326.1446.
The A/C helped take the edge off an 85-degree late morning in the spacious, crowded sports bar, but it was the Gordon Biersch Pilsner ($5.75) that really did the trick. At 36.5 degrees, it was one of the coldest drinks we tried in the valley, and it tasted frostier than even the digital readout. Brrr.
Q's Place
36.5º
6075 Cahalan Ave., San Jose; 408.225.7961. The joint was surprisingly busy on a Monday afternoon, with lots of regulars and some serious pool players. The other entertainment options include four TVs, touch-screen games and a jukebox (which has a few too many '90s songs best left in the last millennium—Gin Blossoms?!). The Fat Tire $4 pint was as cool at the A/C.
Vbar
36.5º
Inside Hotel Valencia, 355 Santana Row, San Jose; 408.423.5404. The chic-est place on the Row to clutch a chilled glass of good beer (Stella, for instance; $5 at happy hour) and contemplate your next move.
Mezcal
37.2º
25 W. San Fernando St., San Jose; 408.283.9595. In true south-of-the-border style, our draft Dos Equis at Mezcal weighed in at a chilly 37.2 grados. "They do a grat job of cleaning the glasses here. It's some of the best glassware I've seen," observed Goodwill CEO Mike Fox, Jr., who grew up in the beer business and joined us for the inspection. "We call this a 'beer-conditioned glass'." To illustrate his point, he stuck his thumbs in the mole sauce and dirtied up the inside of a tumbler, then asked for it to be filled with draft beer. "If you have a dirty glass. the foam won't cling to the glass, and it loses the head," he pointed out as the bubbles stuck to the sides instead of streaming to the top, and the beer went flat. "You don't want that. It's not appetizing."
Britannia Arms Almaden
37.3º
5027 Almaden Expwy., San Jose; 208.266.0550. The ancient island of Albion once reached out so far that the sun could never set on its outposts. Today, David Cameron must distance himself from Rupert Murdoch, but the higher standards are maintained at the Britannia Arms. Those include 18 traditions on tap like Harp, Fuller and Bass, although we struck a blow for the New World with a chilly pint of Bud Light for $4.
Court's Lounge
37.5º
2425 S. Bascom Ave., Campbell; 408.559.9880. The pool tables were doing a brisk business on the mild evening we dropped by, thermometer cleverly hidden in our shirt pocket. We went for a pint of Blue Moon at $4.50, and then realized that at happy hour prices we could have had 20 ounces for only 50 cents more. C'est la guerre.
Dive Bar
37.5º
78 E. Santa Clara St., San Jose; 408.288.5252. We stopped by for happy-hour prices and ordered a $3 Fat Tire draft for testing. The friendly bar has a long, narrow front section and a skylight back room with pool table and TV. Bonus points for high-quality selections on the jukebox.
The Old Wagon Saloon and Grill
37.7º
73 N. San Pedro St., San Jose; 408.971.9346. The San Pedro Square saloon offers good food, a big bar and an octet of tap selections. It was an above-balmy 82 degrees at 7:30pm when we stopped in, so the A/C hovered somewhere between luxury and necessity. The Shock Top (16 ounces for $3.50) was shockingly cold.
Antonio's Nuthouse
38.1º
321 S. California Ave., Palo Alto; 650.321.2550. This beloved dive bar surrounded by a sea of pricey conformity serves a selection of tap beers that stretches all the way from local microbrews to major brands. Our thermometer registered a chilly 38.1 in a pint of Lagunitas IPA for $4.
Caravan Lounge
38.5º
98 S. Almaden Ave., San Jose; 408.995.6220. The ceiling fans and A/C combined to make the Caravan extremely comfortable on a warm evening. The $3 pint of HiLife was especially refreshing. Five beers on tap in all.
4th St. Bowl
38.6º
1441 N. Fourth St., San Jose; 408.453.5555. An old-style bar in the bowling alley attracted old folks from Japantown as well as a lively young crowd of partying bowlers. Thursday is league night, so be prepared to play pool instead. The beers all came in bottles or cans (no taps); we lingered with a chilled Red Stripe ($4.50).
Murphy's Law Irish Pub and Sports Bar
38.8º
135 S. Murphy Ave., Sunnyvale; 408.736.3822. At 5pm, the regulars sidle up to the bar at Murphy's Law. We joined them for a happy-hour-priced $3 pint of Lagunitas IPA, one of 10 on tap. 135 S. Murphy Ave., Sunnyvale; 408.736.3822
Alex's 49er Inn
39.1º
2214 Business Circle, San Jose; 408.279.9737. We stopped by the Bascom and Stevens Creek semi-circle for a last call and informed the barkeep, "We feel like something cold." And she replied, "That'll be Bud or Bud Light." The resulting 8-ounce glass, a mere $2, fit the bill. We had to shout to be heard because it was karaoke night and the 49er was packed with a typically colorful crowd.
Tanq
39.2º
301 S. Market St., San Jose; 408.280.1300. The temp was over 80 early in the evening for this test, so the chilled Sierra Nevada pint ($5) and A/C made a refreshing combo. All the glass walls of this lounge in the Marriott evoke an underwater feel that adds to the cooling effect.
Double D's
39.3º
354 N. Santa cruz Ave., Los Gatos; 408.395.6882. Good pub food and bright flat panels everywhere help make DD's one of the best places to watch a game. Our Kona Longboard pint ($5.75) was enjoyed while the regulars were gearing up for the place's 15th-anniversary party. On a second visit, another Longboard clocked in at a remarkably consistent 39.7 degrees.
Yard House
39.3º
300 Santana Row, San Jose; 408.241.9273. There are too many taps to count at the Santana Row newcomer. Vincent Vega from Pulp Fiction might call this place the "Meter House." Whichever measurement system one uses, that's a lot of beer. We passed on the full yard and had a pint of Hoegaarden ($6.35).
Black Watch
39.7º
141-1/2 N. Santa Cruz Ave., Los Gatos; 408.354.2200. A comfortable, unpretentious pub. The hefe is served properly, with an orange slice affixed to the rim of the glass. Our IPA in a pilsner glass tipped the dial just below 40 degrees.
Grand Dell Saloon
39.7º
1040 Dell Ave., Campbell; 408.378.3970. This big, downright cavernous space in the industrial area of Campbell, near Los Gatos Trail, has a stage for live music and five beers on tap, including Bud, Blue Moon and Bass. Our Stella pint was $4 at happy hour.
C.B. Hannegan's
40.6º
208 Bachman Ave., Los Gatos; 408.395.1233. My bartender at this neighborhood institution knew this was his coldest draft (Sierra Nevada Pale Ale, $4.50 in a short snifter) because the keg is located in the deepest corner of the cooler. On our second trip, a 41.5-degree Harp went down well on a hot Sunday afternoon.
Flames
41.2º
88 S. Fourth St., San Jose; 408.971.1960.
We frankly love to knock one back at Flames, so this was a case of mixing business with pleasure. Five beers on tap, including Heff, Gordon Biersch and Stella. We tested a $3 happy-hour Coors pint.
Gordon Biersch
41.3º
33 E. San Fernando St., San Jose; 408.294.6785. Before we even thought about ordering, the bartender invited us to try some brew samples. The Summerbrau in a tall chilled glass was crisp and flavorful—a definite winner ($4.95 for 16 ounces). From the other taps: Schwartzbier, Czech Pilsner, Marxen, Golden Export and Hefeweizen.
Katie Blooms Irish Pub
41.3º
369 E. Campbell Ave., Campbell; 408.379.9687. A Newcastle draft in an imperial pint set us back only $5 late on a scorching 90-degree afternoon. The popular pub supplements the experience with snacks and sandwiches and a friendly staff, although the music on the digital jukebox was, charitably, less than stellar. Lots of choices on tap: 14 in all, including Blue Moon, Stella, Boddingtons, PBR and Guinness.
Britannia Arms Cupertino
41.4º
1087 S. De Anza Blvd., San Jose; 408.252.7262. Silicon Valley is blessed with a surfeit of great pubs in the English and Irish mold, and the Brit in Cupertino has been one of the stalwarts of the scene for 30 years. No wonder, with 23 beers on tap. After some hesitation, we dipped our thermometer into a nicely chilled pint of Lagunitas ($6).
Firehouse No. 1
41.4º
69 N. San Pedro St., San Jose; 408.287.6969. The bar and grill features a decent selection of on-tap beers (8), from which we tested a pint of Stella ($5). We also enjoyed a taste of Hell or High Watermelon by 21st Amendment brewers. The fire-department decor fills the space with interesting accents. There is also a pleasant outdoor seating area.
Naglee Park Garage
41.5º
505 E. San Carlos St., San Jose; 408.286.1100. Under normal circumstances (i.e., not a blistering 95-degree day), the outdoor patio would be really inviting. A very cold Trumer Pils ($6) certainly helped.
Tequila Shots Bar & Grill
41.6º
38 N. Main St., Milpitas; 408.262.7468. The name points in a different direction, but Tequila Shots also serves eight tap beers, with a bent toward Mexican brews. The bar was recently remodeled with a younger crowd in mind—every table now has its own tower to hold three pitchers of beer. The chilled pint of Modelo ($5) was a bracing treat.
Jack's Bar & Lounge
41.7º
167 E. Taylor St., San Jose; 408.287.5225. Jack's enjoys a neighborhood vibe with a young crowd that likes its Giants games, despite the fact the A/C wasn't on during our visit on a very warm night. As we finished testing and tasting our $4 pint of Pabst, a DJ was setting up for some late-night music.
British Bankers Club
42º
1090 El Camino Real, Menlo Park; 650.327.8769. From a wide choice of 16 beers on tap (From Scrimshaw Pilsner to Newcastle Summer Ale), we decided to test a pint of Victoria ($6), a popular Mexican lager that is just starting to appear locally and is giving Tecate, Pacifico and Corona some real competition.
Trials Pub
42º
265 N. First St., San Jose; 408.947.0497. From a dozen taps (Dragon Slayer, Bass, Guinness), we went with an imperial pint (so much more important sounding than a mere pint) of Kronenbourg for $5.50 and said to hell with the heat wave (88 degrees with no sign of breaking outside).
Bears Cocktail Lounge
42.1º
1872 W. San Carlos Ave., San Jose; 408.998.3425. We mulled over the options—Sam Adams Lager, Bud, Bud Light and Gordon Biersch Hefeweizen—and went colonial era with the Adams, at a chilled pint for $3. A shout-out to Miss Jesse for being a most charming bartender. The Bears also boasts a great neon sign, the mark of a superior bar.
Cinebar
42.3º
69 E. San Fernando St., San Jose; 408.292.9562. It was nearly 90 outside, so the A/C was working overtime at the popular dive bar, so it didn't matter that the pint of Pabst wasn't served in a chilled glass. We counted five beers on tap when we stopped shivering.
O'Flaherty's Irish Pub
42.5º
25 N. San Pedro St., San Jose; 408.947.8007. The band was playing traditional Irish tunes, which enhanced the already congenial tone set by the bartender, who worked 16 taps. We ponied up $4.50 for an imperial pint of Stella to cut the heat of a very warm evening.
Blinky's Can't Say
42.8º
1031 Monroe St., Santa Clara; 408.985.7201. An accommodating crowd of regulars made room for our visit. The bar boasts electronic dart boards, lots of TVs, pinball machines, a red-felt pool table and a modest stage. We tested a refreshing Shock Top pint ($4.75).
Boswell's
42.9º
In the Pruneyard, 1875 S. Bascom Ave., Campbell; 408.371.4404. The jukebox was stuck on Pearl Jam on an 80-degree evening, but Boswell's has an A/C that could frost the Sahara, so no sweat on that front. We went mainstream with a pint of Coors Light in an unchilled glass. The crowd, which skewed heavily male, had plenty of cool video games to choose from as well.
Tied House
43.1º
954 Villa St., Mountain View; 650.965.2739. As befits its name, Tied House served its own made-on-the-premises brews—14 of them (up from 6). We opted for the Alpine Gold (a pint for $4.50). The food is excellent as well.
Los Gatos Brewing Company
43.1º
130 N. Santa Cruz Ave., Los gatos; 395.9929. All of the craft beers at the LGBC are the same carefully controlled temperature, with the exception of the cask-conditioned stout, which is served a cellar temperature. Great beer; great food; nice people—and a big flat screen tuned to every Giants game. We sampled a Dog Tail Pale Ale.
Duke of Edinburgh Pub
43.5º
10801 N. Wolfe Road, Cupertino; 408.446.3853. This polished wood and plush upholstered pub had a full range (17 by our count) tap beer, from standards like Guinness, Harp and Bass to some less familiar brews, such as Murphy's and Smithwicks. Our Harp was served in a chilled glass for $6. Pluses include a full restaurant menu and an outdoor patio.
Empire Tap Room
43.7º
651 Emerson St., Palo Alto; 650.321.3030. With a pleasant 72-degree day for our labors, we took special pleasure in the fantastic outdoor patio at the Empire. Our sense of well-being was enhanced by a 20-ounce ($6.50) glass of Lagunitas IPA, one of 16 selections on tap.
Rose & Crown
43.7º
547 Emerson Ave., Palo Alto; 650.327.7673. This English pub and restaurant in a Tudor-style building smack in the middle of Palo Alto dazzled with a genuinely awesome selection of high-end beers. Our Pliny the Elder ($6.50) was one of the best brews we tried.
El Rancho Sports Bar
43.8º
3860 Monterey Hwy., San Jose; 408.281.3002. A cool little dive bar with two pool tables and wooden swivel chairs. A crowd of locals attested to the popularity of this local hangout.
San Jose Bar and Grill
43.8º
85 S. Second St., San Jose; 408.286.2397. The TVs were going, the ceiling fan whirring and a rousing session of beer pong underway for our visit to the spacious bar. The test case was a pint of Pacifico ($3.50), which easily passed muster. Ten beers on tap, from Shock Top to Sierra.
Henry's Hi-Life
44.6º
301 W. St. John St., San Jose; 408.295.5414. It wasn't easy just testing the beer (a $5 pint of Stella), because Henry's is such a great place to eat as well. We saw 15 beers on tap in the red two-story landmark, and bartender Jimmy was a crackup the whole time we lingered.
Los Gatos Bar & Grill
44.6º
15-1/2 N. Santa Cruz Ave., Los Gatos; 408.402.5870. A terrifically hoppy Lagunitas IPA was enjoyed on the nice second-story deck, which looks out over a parking lot northwest up the valley toward Saratoga and the setting sun. The food is great, too.
Rock Bottom Restaurant and Brewery
44.6º
In the Pruneyard, 1875 S. Bascom Ave., San Jose; 408.377.0707. As much an eatery as a bar, Rock Bottom is family friendly, with a pleasant staff, large menu and outdoor seating, plus lots of TVs. We sampled a pint of Rock Bottom's own Red Ale ($5).
South First Billiards
44.6º
420 S. First St., San Jose; 408.294.7800. The capacity pool parlor and bar serves 12 beers on tap; we measured a Bass pint ($4.16). The green-felt crowd was bustling, as were the sports fans glued to the big-screen Giants game.
CJ's Sport Bar
45º
1550 Lafayette St., Santa Clara; 408.423.9013. It was fairly late in the evening, so temperature seemed less important than selection: 10 tap choices, from PBR to Newcastle and Bud Light (we picked a pint of Stella Artois for $4). The expansive bar features a pool table, foosball and a dance floor.
Carry Nation's
45.1º
8 N. Santa Cruz Ave., Los Gatos; 408.354.1771. Mike is the perfect bartender: attentive, smart, funny and familiar (he's been at Carry's forever). The place is packed on weekend nights but cool in the afternoon, where locals gather to enjoy a slice from Pizza My Heart or a taco from Andale. Twelve beers on tap.
Rosie McCann's
45.1º
355 Santana Row, San Jose; 408.247.1706. This traditional Irish pub serves 12 beers on tap, and plenty of food along Santana Row. We considered the Bodingtons and Blue Moon, rejected the Bud Light (in a pub?) out of hand and hoisted a pint of Stella ($6).
The Escape
45.4º
2942 S. Bascom Ave., San Jose; 408.377.5436. The air conditioning was downright glacial when we stopped by. Six beers on tap, from which we downed a pint of Newcastle ($3.50).
St. Stephen's Green
45.5º
223 Castro St., Mountain View; 650.964.9151. This classic Irish pub is spacious and dark. We saw 20 beers on tap, with Blackthorn, Harp, Lagunitas IPA, Anchor Stream, Sam Adams, Stella Artois and Bud Light among them. Our pint of Old Speckled Hen was $5.50 and came in an unchilled glass.
Patty's Inn
45.9º
102 S. Montgomery St., San Jose' 408.998.4566. It was hot outside (95!) the day after the 4th of July when we stopped by for cold glass of Blue Moon, which, at $5, seemed like a bargain to go with the eggs frying on the sidewalk.
Rudy's Pub
46.4º
117 University Ave., Palo Alto; 650.329.0922. The remodeled, expansive bar features very reasonably A/C, priced food and beer a bit on the warmish side. We tested the Leffe Blonde ($5).
Fahrenheit Restaurant and Lounge
47.1º
99 E. San Fernando St., San Jose; 408.998.9998. We appreciated the chance to test-sip a pint of Devil's Canyon ($6), a beer that not many bars carry on tap but that is definitely worth seeking out.
Red Stag Lounge
47.5º
1711 W. San Carlos St., San Jose; 408.292.6777. Three beers on tap, and our old-school Pabst Blue Ribbon was a mere $2.40 for a pint. The companionable crowd directed its attention to a game on the TV.
Sporty's Bikini Bar
47.8º
1053 El Camino Real, Sunnyvale; 408.246.3624. Nude dancers and alcohol don't mix, at least so says John Law. Sporty's fills the void with tattooed vixens in skimpy two-pieces. Our glass of Sierra Nevada was nicely chilled and ran $5.
Fibbar MaGees
48.3º
156 S. Murphy Ave., Sunnyvale; 408.749.8373. The tequila list was surprisingly deep for an Irish pub, but we stuck to our mission and ordered a pint of Batch 19 ($4.25).
The Hut
49.4º
3200 The Alameda, Santa Clara; 408.296.8934. Santa Clara U. students crowd this popular bar when school is in session. Multiple TVs covered the sporting world while we measured a 16-ouncer of Bud Light ($4).
Azucar
50º
71 E. San Fernando St., San Jose; 408.293.8482. We sampled a Fat Tire, one of four beers on tap, but really, we asked ourselves, why aren't we having something more appropriate, like a mojito. This is definitely a "cocktail" lounge in the best sense of the word.