Features & Columns
2012: The Beginning
So say some readers of the Maya calendar—a new documentary examines the reality behind the theories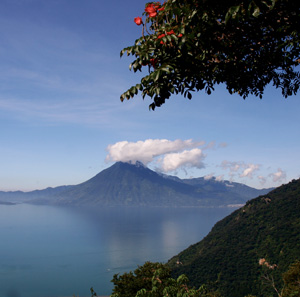 It seems apocalyptic, but the final local event for this year's ÁVivaFest! Mexican Heritage and Mariachi Festival will unfold this Sunday at the Tech Museum of Innovation. "2012 Maya Calendar Revealed" will include a screening of Shannon Kring Buset's documentary 2012: The Beginning, plus a celebration of Maya food and a panel of experts on Maya spirituality, culture, science and philosophy—all to explore the significance of the end of the Maya calendar.
Now, the hysteria surrounding Dec. 21, 2012, has exploded in every ridiculous direction, with everyone from politicians to conspiracy theorists contemplating its significance.
After all, the Maya have given us an utterly bewildering cosmology of myths, ideas, superstitions, binary frequencies, Tzolkin calendars, numerological tables, celestial bodies, interlocking mathematical cycles and even sacred vegetables. How can anyone figure out what any of this means?
Have no fear. In making the documentary, Shannon Kring Buset crisscrossed oceans in order to read between the lines and decipher the ancient texts. She shot the film in six countries, taking viewers to the very origins of the Maya Long Count Calendar and into the lives and sacred ceremonies of leading archaeologists, scholars, shamans and the living Maya.
I have not seen the film, but trailers and outtakes provide convenient windows. At the ruins of Copan, Honduras, for example, Kring Buset descends 20 meters underground to the preserved 1,600-year-old Margarita Temple, where few cameras have ever gone.
In Dresden, Germany, she visits the famed Dresden Codex, one of three remaining ancient Maya manuscripts. In Mexico, she examines Tortuguero Monument 6, the only place on earth where one finds an actual inscription citing the end of the current cycle, around Dec. 21, 2012.
Thankfully, this is not some '70s In Search Of episode, with Leonard Nimoy in plaid slacks standing by the Great Pyramids, nor is it Geraldo nosing around for Al Capone's tomb. The filmmaker actually gave up a lucrative career to reinvent herself and live among the Maya, discovering their spirituality and cosmologies, which eventually inspired her to make the film.
Aside from being the most watched documentary at MPIDoc in Cannes earlier this year, the film has screened at a rocking variety of venues: the Chicago Institute of Noetic Sciences, the New England Antiquities Research Association Spring Meeting and the Maharishi University of Management in Fairfield, Iowa. What a combination.
Following the Tech Museum screening, the panel session will feature internationally recognized scholars and experts in various components of the Maya cosmologies, including Dr. Isabel Hawkins, a staff scientist at the Exploratorium; Dr. Michael Grofe, a specialist in Maya hieroglyphic writing and comparative mythology; and Jean Molesky-Poz, author of Contemporary Maya Spirituality: The Ancient Ways Are Not Lost. Kring Buset will also participate.
Even better, Molesky-Poz is local. A lecturer in religious studies at Santa Clara University, she originally discovered the wisdom of the Maya people while teaching ESL in San Jose years ago. A young refugee from the revolution in Guatemala wound up here in town and eventually introduced Molesky-Poz to a Maya man that Molesky-Poz eventually married.
From there, her interest in the culture blossomed. At that time, the refugee, whose brothers had been killed in the war back home, was so distraught with the bloodshed going on in Guatemala that she invited Molesky-Poz up to the hills above San Jose to perform spiritual Maya fire ceremonies. The experience helped solidify Molesky-Poz's interest in the Maya traditions.
"It was the first time, I began to see that there was a whole different spirituality that I was not in touch with," Molesky-Poz explains. "And when we went to Guatemala with our 8-month-old daughter, they did a ceremony up in the mountains for her, up in a cave, and I thought, 'Whoa, what is this?' and I didn't realize that was the moment I decided that this was something I needed to understand, for my children, for my marriage and also for a larger population."