Features & Columns
'22 Joes Every Day' at the
Martin Luther King Jr. Library
Exhibit by artist and veteran explores the crises soldiers face after war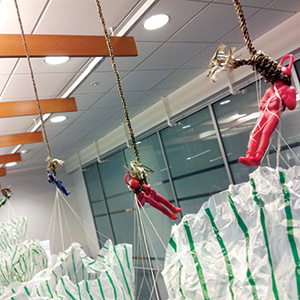 Twenty-two plastic toy G.I. Joe dolls hang suspended from nooses attached to an overhang inside the Martin Luther King, Jr. Main Library. Parachutes hang beneath them. The number 22 refers to the number of veterans in the U.S. who commit suicide every single day.
Several of us who showed up for the fourth-floor reception participated by hanging the Joes ourselves. Each day last week, culminating on Monday, Sept. 8, participants suspended 22 more Joes from the ceiling—22 each evening to commemorate those veterans who end their lives ona daily basis.
The artist who came up with 22 Joes Every Day, Mark Pinto, was in the Marine Corps for 20 years and served in the Gulf War. Upon retiring in 2002, he joined the Shinnyo-en Order in Tokyo, a tradition of Shingon Buddhism, one of the main forms of esoteric Buddhism in Japan. A lay tradition, the order didn't require him to lead a monastic life, so he became a priest, traveled the world and used Buddhist perspectives to help other veterans deal with their depression, anxiety and PTSD-related issues. After retiring from the priesthood, he entered the MFA program at SJSU, where he just finished his photography degree last spring.
After we all hang the 22 Joes from the ceiling, Pinto brings out a Buddhist-style singing bowl and rings it 22 times, to memorialize those veterans who decided to end their lives on that particular day. The scene is powerful, yet poignant; strong yet serene. I've had more than my share of acquaintances commit suicide, so it is difficult for me to hold back tears. But I do.
Another component of the show adorns the opposite wall. Eight large-print photographs of G.I. Joe dolls in various positions—all related to veterans' issues—comprise the exhibit, Joes Come Home. Each image depicts a specific problem veterans sometimes face when returning to society. "Drunk Joe," shows a toy G.I. Joe doll passed out, slumped over a table with an empty tequila bottle. The caption tells us that 27 percent of returning current-conflict veterans met criteria for alcohol abuse or being at risk for other substance abuse problems.
"Homeless Joe" shows a doll wrapped up in a Hefty bag, sleeping outside somewhere. The caption says, "33 percent of homeless males are veterans. 300,000 veterans are on the street." Perhaps the most powerful image, "Joes Wait," deals with the VA scandal and shows a queue of veterans, hopelessly waiting in line outside an ominous, monolithic building. They're just standing and sitting and waiting. The caption says: "Many veterans returning from war and needing health care are not put on waiting lists so that VA officials can earn bonuses for short waiting times." Others images include "Divorce Joe" and "PTSD Joe."
"It draws on my experiences working with veterans, helping veterans," Pinto told me. "Each of the G.I. Joes you see in the pictures are somebody that I know, basically, from stories, and their families, and working with them."
While a still member of the Shinnyo-en order, and after moving back to California, Pinto never thought he'd turn into a photographer, initially, but Buddhist perspectives helped him find the path. Still struggling with Gulf War memories, he took his camera out into the temple garden, every day, and started taking macro shots of flowers.
"I found an incredible beauty in that," Pinto told me. "And it was also a meditative exercise, walking through the garden, and just by looking at the flowers, I was going deeper and deeper into my connection to the earth. And kind of regrounding myself. And I think, when you go to war, and just being in the military, I think this was a necessary healing process that I went through. Through photography. So it was a pretty meditative, self-guiding kind of thing. And the path just unfolded great realizations for me and it was very healing."
Joes Come Home and 22 Joes Every Day will be on display at the Martin Luther King, Jr., Main Library, fourth floor, through the end of this month. Pinto and several others will participate in a panel session about veterans' affairs next Wednesday, Sept. 16, at 1pm, room 225/229.