Features & Columns
Art for Abronzino Bowl
Artists, restaurants pitch in to raise funds for a field house
honoring the man who brought soccer to San Jose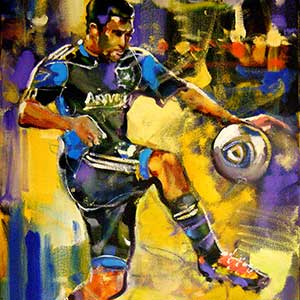 A MULTIGENERATIONAL collaborative powerhouse of fundraising is about to detonate at Le Petit Trianon in downtown San Jose.
In order to raise money for a field house at Watson Park honoring Umberto Abronzino, the man who first brought recreational soccer to this town 60 years ago, interesting people from an eclectic array of San Jose milieus are transforming their skill sets to help raise a quarter-million buckaroos. The fundraising continues this weekend. Most importantly, there's art.
Art for Abronzino Bowl, which unfolds beginning at 5:30pm this Friday, will include a wine reception and a silent auction of original donated works by local artists. Mark Gray of the BRUNI Gallery has donated a painting of San Jose Earthquakes defender Steven Beitashour (see photo). Beitashour is a Leland High School graduate who began playing for the Quakes a few years ago. Just for the event, Pizza Bocca Lupo from San Pedro Square Market will supply an oven, onsite, to crank out pies for the attendees. Devil's Canyon Brewing Company will provide a few kegs. Many of the artists who donated works will also attend the auction, providing a great opportunity for everyone to witness the process—much better than people blindly donating in absentia.
The fundraising model involved here at least partly originated when the Ellington Branch Library needed to raise money and reinvent itself a few years back. The genteel spirits involved initially plotted to throw a superstar bash with—get ready—punch and cookies, hoping such a Dionysian combination of gastronomic Michelin-starred delicacies would elicit funds from the local community.
Enter Don Gagliardi, a local community booster, whose fundraising vision went far beyond punch and cookies. As result, he went out of his way to navigate Roscoe P. Coltrane-level bureaucracies just to get permission for alcohol at a library fundraiser. His efforts eventually succeeded, wine and food were donated, artists bequeathed their works, a wide variety of interesting people participated and after all was said and done, $15,000 was raised for the Ellington Branch Library.
Currently, Gagliardi spearheads the Abronzino Field House fundraising effort, basing the model on his previous experiences raising cold hard cash for his neighborhood library. Full disclosure: Gagliardi is a friend, as his explosive and righteous antagonism toward the San Jose Mercury News sports desk has cracked me up for years now.
But I digress. Some background here is important. Watson Park itself occupies an interesting part of northeast San Jose, situated at the end of Jackson Street and right behind where East Taylor Street collides into 101. The city originally built the park on the former site of a dump—in that sense it was textbook San Jose—but when Umberto Abronzino first arrived in town during the '50s, he helped launch the Peninsula Soccer League with Watson Park as its home turf. He also administrated the league out of the Bascom Barber Shop, which he operated for nearly 50 years until his death in 2006 at the age of 85. Just about everyone who has ever played soccer in Santa Clara County owes a debt to Abronzino. He created the royal soccer bloodline of San Jose. He was an administrator, a referee and a tireless diplomat for the world's game.
Unfortunately, after toxins were discovered in the soil underneath Watson Park, the facility closed in 2005 and reopened in 2011. New soccer fields exist and a dog park occupies one portion of the acreage. But much more needs to be done. Master plans for a new multi-story field house include concessions, additional restrooms, storage areas, office space, a boardroom and sweeping views of the eastern hills. It should be an awesome facility.
If one simply visits the park and stands up above the soccer fields, amid the weeds and dry grass where the field house will eventually sit, the vision comes smashing through. A new interchange will soon appear at Taylor and 101. BART will eventually emerge nearby. The San Jose Earthquakes could stage offsite events or Reserve League matches. All in all, it's a win-win situation. Umberto himself would be proud. The only component missing is a barbershop in his honor. I'm sure somebody has a barber pole to donate.