Features & Columns
Backwater Arts Venue
Celebrates 10 Years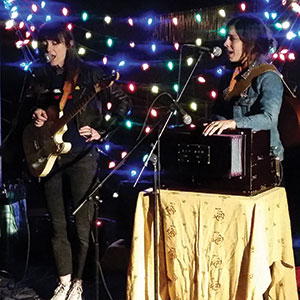 Backwater Arts is appropriately named. To get there, one must venture down Senter Road, in this case at nighttime, surrounded by noir strip malls of seedy karaoke joints, beauty salons, laundromats, and a VietAir freight shipping facility before turning east down Quinn Avenue.
From there, it's only a short stroll past rundown RVs, computer warehouses, trucking yards and a few characters dumping couches on the sidewalk before Quinn dead-ends at a two-story New England-style house built in 1877 and currently home to Backwater Arts.
On a chilly night, local musician Ben Henderson and the amazing female folksy trio the Wild Reeds are gigging on a cool makeshift stage out back. I am among the first to show up. A variety of tenants rent the historic house and stage a variety of events, from weddings to art shows, or, in this case, talented musicians playing for an audience of their close friends and peers. I see gloriously incongruous chairs, benches, a fire pit, a bar and eventually about 100 people bundled up for the weather. It's like any underground San Jose house party, but without the assholes. I see musicians, painters, hair stylists, yoga teachers, DJs, arts impresarios and a few downtown business owners.
The venue and creative space was founded by Anne Sconberg—who also hosts the annual Anne and Mark's Art Party. I recall writing a column about Backwater exactly 10 years ago when it originally started, yet this is my first time back since then. As a result, I confess my idiocy and embarrassment upon arrival, but no one seems to know what I'm talking about, which is probably a good thing. Others making their way in appear blown away by this historic gem of a house just off Coyote Creek and surrounded by industrial warehouse environs and former cannery remnants.
"Everything's so hidden in San Jose," says one person as he walks in, to sheer surprise at the rocking community of artists unfolding before him in the backyard.
The history of the Backwater Arts house is a feature in of itself, but I'll break it down right here and now. Quinn Avenue is named after William Quinn of Tyrone, Ireland, who came to San Jose in 1858 and eventually purchased several acres of land on both sides of Coyote Creek. A Vermont wagonmaker named Frederick G. Wool then came to the area in 1874 and acquired by trade some of Quinn's property west of the creek and built this house in 1877. He later founded the F. G. Wool Packing Co. in 1903, a family-owned and operated business straight up until 1989, making it the longest continuously operating family-run cannery anywhere in California, if not the whole country. The old brick cannery building still remains out back, as does what's left of the greenhouse and the water tower. If you talk to old-timers around town, you'll find many former employees of F. G. Wool Packing.
Subsequent generations of the Wool family spawned so many kids, grandkids and great-grandkids that it's impossible to even figure it out. But Sandy Wool, for example, was a noted county supervisor in the 1930s and '40s. The lake in Ed Levin Park is named after him. After the cannery business went kaput, the last remaining descendant of the family to remain in the house was Page Wool Hamilton, who lived there straight up until her death in 2006 at the age of 93.
Now in 2018, the house looks pretty much the same. Pieces of the original picket fence can be seen in the backyard, along with trees over 100 years old. For the Wild Reeds gig, a makeshift bar is selling beer, wine, sangria, tea and garden fresh oranges. Two-dollar peanut butter-and-jelly sandwiches sit inside a bucket. People occupy about 40 wooden chairs, bar stools and benches covered with blankets and Mexican zarapes. Everyone else is standing up. The yard is packed. Illuminating the scene are dozens of Mason jars with candles inside, all hanging from tree branches. Some people are congregating around a fire pit to stay warm. A garden sits off to one side.
After the show, it becomes obvious that Backwater still functions on so many levels. For one, you have a historic property converted into an artist colony, a phenomenon you see in many respected cities. You also have a fantastic and experiential way to introduce younger people to local history. Here's to another 10 years!