Features & Columns
Barry Eisler Opts for Self-Publishing, Appears at the Four Seasons
in Palo Alto.
Author Barry Eisler's assassin book series severed ties with traditional publishing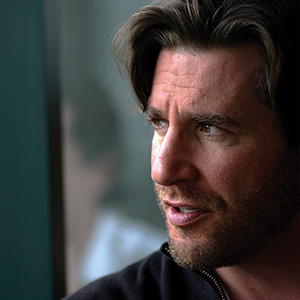 I became acquainted with a freelance assassin named John Rain when reading Rain Fall, the first book in Barry Eisler's soon-to-be-world-dominating thriller series about a half-Western, half-Eastern killer who specializes in making the death look like one of natural causes. The title was somewhat lame, but I was hooked.
Immersed in noir Tokyo atmospherics, transcendent jazz, single malt scotch, CIA backstabbers and endless manifestations of serenely executed violence, Rain was conflicted between East and West, between nomadic and sedentary, between serenity and chaos. I forget which book it was, but he said something like this: "As a freelance assassin, you're straddling many worlds, while belonging to none of them." Since that's exactly what it feels like being a freelance journalist, I facetiously deemed Rain the long lost brother I never had. He was inspiring. I wanted to revisit the manic labyrinth of Tokyo and follow in his footsteps. Whenever a new book in the series emerged, I ate it up.
Now, Eisler has a new one, Graveyard Memories, in which Rain talks about his own background and how his unique viewpoint emerged since he got out of Vietnam in 1972. Even better, Eisler appears at the Four Seasons Hotel in Palo Alto for a book release party, this Friday, Valentine's Day—a perfect backdrop by which to celebrate an assassin who massacres so effortlessly.
Eisler himself is not exactly on the favorite list of legacy publishers. In a now famous story, after several John Rain thrillers he dismissed a six-figure deal and opted to self-publish his next few works, only to then wind up with Amazon as his mother ship. Eisler claims the scenario works much better for him, as he gets more royalties and a higher percentage of the subsidiary and foreign translation rights. On another front, he also found a way to legally annihilate his original contract and reacquire the rights to all of his novels, allowing him to rename the books with titles he originally wanted in the first place. Eisler claims (I'm paraphrasing) that his title choices are far better than the ridiculous bookstore-marketing-driven dreck slapped on by the publisher.
I agree with Eisler and I applaud his efforts to accomplish such a feat. I have six of the first seven John Rain books on my shelf—Rain Fall, Hard Rain, Rain Storm, Killing Rain, The Last Assassin and Requiem for an Assassin. To be blunt, the titles just plain suck. They don't do the books justice. Looking at them on the shelf now, it's hard to remember which book was which, because the hokey generic titles don't do anything to differentiate them. I can think to myself, "OK, well, the one with the yellow cover was the one where John Rain was in Hong Kong, right?" That's it. Otherwise, the titles don't help. Good on Barry for assailing and disregarding the marketing creeps at his former publisher, which was, um, who now?
In Graveyard Memories (Eisler's title), out just a few days ago, John Rain reflects on his younger days in the early '70s, fresh from butchering enemies in Vietnam and first learning the tradecraft of undetected assassination in the urban jungles of Tokyo. We get a glimpse into his mindset from age 20, as he learns not to trust anyone, how to make adversaries underestimate him and how to accept a life of contracted killing, one from which he might not be able to detach. Oddly enough, he learns all of this in the context of mindfulness and how to be present in the moment. For example, the Japanese tea ceremony seems to teach him just as much about attention to detail as do the teachings of an old lockpicker in the back alleys of Tokyo. We see how Rain gradually picked and chose what he found to be useful and relevant to his life and discarded the rest, as with any spiritual path. This is why he's always inspired me. It was refreshing to read where it came from. And thanks to Rain, I'm now aware of just how many milliamps it takes to electrocute someone's heart.
The Four Seasons Hotel restaurant, Quattro, will even offer a special Valentine's Day dinner for those who need some romance after the assassinations. I bow in respect.