Features & Columns
San Jose's Organic Business Sanctuary: Park Avenue
Vestiges of downtown San Jose's retail past spring back to life.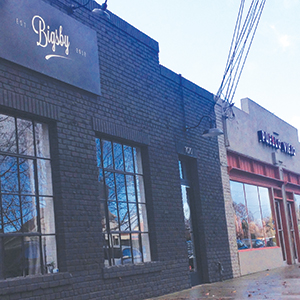 Reading about Sufi mystics in the crumbling relics of Delhi, India, triggered me to think of Park Avenue in San Jose. To be more specific, while ingesting City of Djinns by William Dalrymple, which is about his years in Delhi, certain passages hit close to home.
In the prologue, for example, he confesses that the ruins of Delhi are what fascinated him. No matter how often planners colluded to create new colonies of gleaming concrete, crumbling towers, old mosques, abandoned ruins or ancient tombs would suddenly appear, intruding on the city blocks, the golf courses and the roundabouts. Even though much of the old city from centuries or even decades ago had been destroyed by violence, with many people forced away after Partition, old buildings—just like spirits—often came out of nowhere, even after they were pushed out for shiny new constructions.
The physical and the temporal aspects of Delhi always seemed to merge. Despite the repeated destruction of the city, pieces of it always seemed to reincarnate.
Such has always been my attitude around here, especially when the urban blight exploration junkie typed out his greatest hits from Auzerais, Stockton Avenue or along that hideous stretch of Camden near Highway 17. This time, however, the old ghosts, the djinns, emerged on a weird stretch of Park Avenue heading eastward from Race Street through an old mile of forgotten San Jose. When I ingest cosmic passages like those of Dalrymple, they immediately manifest themselves as San Jose passages, whether it's through time or geography.
Venturing east from that intersection, any explorer would set his sights on Pueblo Viejo Imports. This miraculous place used to be downtown a decade ago, but, for whatever reason, it luckily escaped the city's endless crusade to convince the comfortable classes to move back downtown in search of inner-city recolonization. At that time, the Redevelopment Agency told me, new furniture places downtown—Black Sea Gallery (now Ross Dress for Less) and the original Pueblo Viejo Imports (now Original Gravity)—were "bellwether tenants," designed to kickstart retail in the neighborhood.
Predictably, that never happened and both eventually left. Now, Pueblo Viejo sits right next to another indie diamond, Bigsby House, featuring Japanese shampoo inspired by the tea ceremony. One block over, there's an abandoned building where the Vedanta folks used to give Sanskrit lessons. How's that for serendipity?
Just like in Dalrymple's City of Djinns, pieces of old San Jose continue to resurface in various places, if one looks hard enough. The djinns, as well as the businesses, are like spirits, which is why this particular stretch of Park Avenue is so awesome. For the non-adepts, it's half a mile south of the area of Recycle Books and Art Boutiki, both of which are also refugees from downtown for the same reasons.
Walking this stretch—and one must explore it on foot to get a proper perspective—is like experiencing five different pieces of five different eras of San Jose history, all gloriously cobbled together. It's akin to summoning the Ancients if one temporarily escapes the homogenous high-rise developments not too far away.
The rest of the street, as it leads toward downtown, presents a beautifully incongruous hodgepodge of retail and residential that could only have emerged in organic fashion. No bureaucratic cabal of real estate creeps could have devised an area more interesting. It is here that odd retail sits between random Craftsman bungalows. Scattershot Victorians intersperse with a Brazilian Jiu-Jitsu training grounds and a preschool. Odd apartments sit above a corner market while other blocks feature more indie retail and still more Craftsman bungalows. There always seems to be a side parking lot leading to something else.
Finally, the entire street would be incomplete without Leather Masters, a San Jose institution for more than 20 years, and the Eritrean Community Center. Let us hope that the djinns of old San Jose continue to resurface. The urban blight exploration junkie will be looking for them, wherever he roams.