Features & Columns
The Black & Brown Settles
Into Its New Digs
The Black & Brown consignment shop has relocated from The Alameda
to a historic building on West San Carlos Street.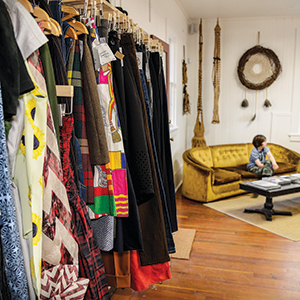 The two-story building at 751 West San Carlos St. used to be a convenience store, a boarding house and a brothel. So says Monisha as she shows me around the new locale for Black & Brown, her popular buy-and-sell vintage clothing boutique.
Due to real estate greed, the store had to leave its former spot on The Alameda. Now, as we traipse up a few stairs, across old-school wooden flooring and into different rooms, the new space is emerging. A better picture becomes apparent.
Featuring 4,800 square feet, the historic building is ripe for a new era. Men's clothing will now occupy the upper floor, while women's goods will fill the downstairs area. As we walk around, I can see where temporary walls have been removed. Clothing racks are being installed. Tools, hooks and hangers appear everywhere. Music pipes in over the speaker system. The newly painted walls emit a shade of white. Pieces of track lighting are strewn about the floor, awaiting installation.
The second level is a glorious maze of rooms. There's even an office and a tiny upstairs patio overlooking a courtyard. From there, one can look across McEvoy Street and gaze at a metal fabrication warehouse or the decades-old San Carlos Street overpass. Both are bastions of faded glory.
Connoisseurs of the ancient, rusty and desolate will love this neighborhood, or at least this corner, which is located just over the hill from Orchard Supply Hardware—right on the other side of the tracks. There's a certain "sympathy with time" quality that pours out of every crack on the sidewalk here. No one ever seems to go down these side streets off San Carlos. The isolation is immaculate. The locale is a forgotten, discarded area, a piece of old industrial San Jose oozing a typically interesting "escape from downtown" charm. Indeed, descriptors like "interesting" and "away from downtown" might become synonymous pretty soon, thanks to the tides of gentrification.
I even went back on opening day, last Saturday, as DJ Cutso was spinning tunes. From both stories of Black & Brown, one can look out multiple windows, gaze across San Carlos, and see developments underway—more lifelessly uniform condos that will undoubtedly offer nauseating chain retail on the street level. Get ready for another Starbucks or a Chipotle. Other parts of San Carlos, and even Sunol, a block over, will host similar atrocities, but the building that houses Black & Brown doesn't seem to be going anywhere. It sits on the corner like a defiant statue. In a strange way, it's both vintage and modern, just like the clothing Black & Brown sells. What a perfect match.
In that sense, by moving into this old building, Black & Brown has found an interstice, a place between places, a safe zone amid the waves of destruction and creation, a rupture in the folds of urban topography. With gentrification and the brokers who worship it just starting to infiltrate downtown, there really aren't that many of these urban havens left anymore. Luckily Black & Brown found just such a place. And with it comes an art gallery.
Up on the second level of 751 W. San Carlos, in one tiny 300-square-foot room, I'm told Seeing Things Gallery will relaunch its operation, after leaving its previous location at 30 N. Third St., where it offered a small but thriving selection of street-inspired art and photography. Next month, the gallery will feature the perfect artist to address the sentiments in this column. Josh Marcotte of Lost San Jose fame, will debut a new series of photographs documenting the underbelly of Monterey Highway: dive roadside motels, discarded junk, abandoned cars, weeds, and the whole nine yards from San Jose's legendary boulevard of broken suburbia. That should be a raging good time. Don't miss it.
So, outside and in-between the soul-crushing excess of the condo-pocalypse, there seems to be hope. Interesting people still do live here and are trying to do interesting things. And they can be found at Black & Brown and Seeing Things Gallery.