Features & Columns
Legends Join Forces for
Stirring 'Border Cantos' Opener
Richard Misrach spent years depicting the isolated, haunting landscapes of
the U.S.-Mexico border areas via large-scale photographs.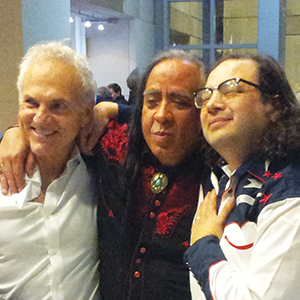 Richard Misrach spent years depicting the isolated, haunting landscapes of the U.S.-Mexico border areas via large-scale photographs. Guillermo Galindo builds musical instruments from debris left behind by migrants at the border. This Thursday, the photographer will join the composer and instrument builder as they both talk about their joint show, Border Cantos, at the San Jose Museum of Art.
The opening reception was one of the most enchanting events I've ever seen at the San Jose Museum of Art. Galindo and Misrach addressed the crowd, as did downtown San Jose Councilman Raul Peralez, who, in particular, delivered a poignant, heartfelt, intellectual speech about immigration and how the arts bring people together in San Jose. It seemed much more human than any speech Sam Liccardo or Cindy Chavez ever gave when they held the same position.
The real highlight of the evening came when the legend himself, Guillermo Gomez-Peña, delivered the official opening performance. A renowned author, poet and Chicano cyberpunk performance-art troublemaker, Peña is one of the all-time greats, and like any genius he has no use for categories, fences, binaries or boundaries of any sort. His entire life seems like a work of performance art in of itself, however one defines "self," of course.
I remember discovering Peña's words back in the '90s when he was the first commentator to characterize Subcomandante Marcos, leader of the Zapatistas, as one of the best performance artists of the 20th century, a "consummate performancero." Marcos seemed to be influenced by Gomez-Peña and vice-versa. Maybe they even knew each other. Marcos seemed to operate in some strange transdisciplinary border zone of Dada, Mexican wrestling, academic socialist philosophy, recycled Che Guevara and Yasser Arafat props, and media manipulation that no other mysterious masked Mexican revolutionary ever articulated. Except for Guillermo Gomez-Peña, that is. He seemed to know exactly what Marcos was doing, and thus Peña was a pleasure to read.
But that was then. This time, there Peña was, standing in front of all the gussied-up patrons of the San Jose Museum of Art, offering an insurrectionary bilingual rant in support of all the ignored, marginalized heroes and escapees from the world's apparatus of oppression. No one else but Peña would place Berlin disco transvestites in the same struggle as the Palestinians and then use it to officially christen an art show about Mexican-American border issues. It was quite possibly the best delivery I've ever seen in that building. Together, Misrach, Peña, and Galindo seemed like the Three Musketeers.
The arts intelligentsia of the valley explored the three rooms the entire night. As an example, a series of Misrach's images depict the arduous yet arcane methods of border patrol agents clearing up dirt pathways by dragging tires, all in order to see migrants' footprints once they get past the fence. Galindo takes rusty ladders, discarded bike parts, shoes, gloves, tires and even a gigantic metal piece of the wall itself, and then wires them up, amplifies them, or even adds strings, pickups or guitar jacks. The contraptions conjure up ghosts of Marcel Duchamp's readymades or Jean Tinguely's kinetic sculptures.
While a more rudimentary dufus might simply attach a contact microphone to a piece of junk, bash on it with a hammer, and call it "sound art," such is not the case here. It's much more human and personal. Galindo is sonically and shamanistically conjuring the remaining stories of the people who discarded these items, which then function as sonic avatars of the immigrants' plight. There are ingredients from Mesoamerican perspectives, 20th century composers like Karlheinz Stockhausen and even Fluxus troublemakers like Joseph Beuys.
Together, the work of Misrach and Galindo fuses into a collaboration highlighting the human layer of the immigration issue. Gone is the belligerent hotheaded phlegm-spittle from political rallies or corporate news networks. What a relief.
What's more, a full-color brochure with curators' essays and a poem by U.S. Poet Laureate Juan Felipe Herrera is now available for free throughout the exhibition.
Border Cantos
San Jose Museum of Art
Thursday, March 17
7-8pm
$6-$12