Features & Columns
Finding Literary Inspiration at the Chiang Mai Writers Club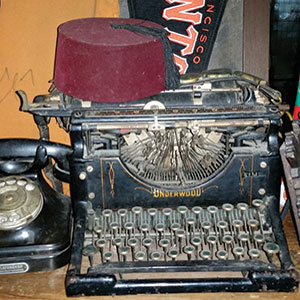 Last week, the anti-man-about-town returned to a literary vortex of major influence. Eight years ago in Chiang Mai, Thailand, I discovered a place on Rachadamnoen Road inside the central area of town. The Chiang Mai Writers Club and Wine Bar was right down the street from the Phra Singh Temple.
Bob Tilley, a retired journalist from the UK, owned the place, along with his wife, Tong, and it functioned as the unofficial English-speaking foreign correspondents club of Chiang Mai. Every possible demographic of expat writer might be found inside. A lonesome traveling screenwriter might show up to get drunk in the corner, a journalist might pop in after filing a story, or someone may just be looking for other writers to drink with. The phrase, "you never know who you'll meet" rang true.
On the day I arrived in 2010, an antique Underwood typewriter sat on the bar. Old black-and-white photos from newsrooms of decades past hung from the walls, each inside an ancient dusty frame. Antique glass cases held fading encyclopedias, books, magazines and other literary ephemera you'd expect a lifelong worldly writer to collect. It also seemed like English-speaking travelers often came in and left gifts. It was that kind of place.
As I sat there, Tilley told me numerous stories about life as a correspondent stationed in East Germany during the Cold War. With 50 years of experiences under his belt, Tilley had serious yarns to tell, some of which jammed a small book that he sold me for seven bucks. He was a living connection to the "old days" of freelance stringing, with hundreds of assignments—some legit, others dubious—taking him all over the underbelly of various European cities and then finally Thailand. He illuminated what it was like to exist as a freelancer, writing for both upmarket and downmarket publications, supermarket gossip rags or academic journals—for whoever would write the damn checks. Such was (and is) the mercenary life of a freelancer. You straddle many different crowds of people without ever feeling truly at home in any one of them.
Which is exactly how I started years ago, so Tilley became not just an inspiration, but a beacon of assurance that a shred of the freelance journalist's life was still imaginable for me somehow, at least in theory. He told me to never give up. If you have to write for salacious outlets just to pay the bills, then do so, but don't quit trying. I was so inspired that I wrote a column about Tilley on the flight back.
Sadly, Tilley passed away a few years ago, so I never got to hang with him again, but last week when I showed up, Tong was still there. The place did not look much different. The same photos and furniture were present. The menu hadn't changed. The antique typewriter now sat like royalty on top of an old cabinet in the back corner, right next to an old communist-era dial telephone from Hungary. A maroon fez sat on top of the typewriter. A Thierry Henri soccer jersey and a San Francisco Giants pennant hung on the wall behind them. The spirit of Bob Tilley was still palpable.
The entire place was filled up with Western tourists, with no natives anywhere. As I ate my meal at a two-seater table, it only took five minutes for a tipsy Australian to walk over from the bar, and then while standing there looking down at me, bash everything that Donald Trump is all about. How could millions of people vote for this immoral degenerate piece of narcissistic garbage, he asked, eyes bugging out. The rest of the world is scared at how a dangerously illiterate lunatic could be the American president, he blurted. Calm as a monk, I agreed, adding that apologizing for Donald Trump is part of any international travel itinerary for Americans these days. Unfortunately.
Hammered Australians are ubiquitous in Thailand, so this was no big deal, really. After my meal, I bid everyone adieu and wandered back onto Rachadamnoen Road. As before, Chiang Mai was alive. Almost every single block seemed to feature bars, backpacker hostels, massage joints, artisan shops, tour companies, scooter rentals, street food carts, laundry services, beautifully crumbling ambience and very old Lanna-style Buddhist temples. Tilley made the right choice by moving here. I vowed to return.