Features & Columns
Discovering the Virtues of
VR Porn at Cinequest
The 2017 incarnation of Cinequest continues through this weekend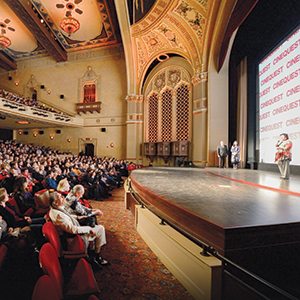 The 2017 incarnation of Cinequest continues through this weekend. So far, the anti-man-about-town is both inspired and disgruntled: inspired because of all the glorious unknown discoveries and eclectic characters Cinequest usually supplies are in full force; disgruntled because a huge portion of the festival is in Redwood City, due to the demise of Camera 12.
Opening night saw director Mark Pellington present his new dark comedy, The Last Word, in which abrasive advertising tycoon Harriet Lauler (Shirley MacLaine) railroads Anne (Amanda Seyfried), a young aspiring newspaper staffer, by having her write Harriet's obituary before she even dies. In a down-to-earth interview after the film, Pellington, also one of the most celebrated music video directors of all time, confessed on stage to having lost his wife several years back and also his own mother. Both events changed him in dramatic fashion and influenced the film's themes of loss and redemption. With a thousand people in attendance, Pellington said he was blown away by the authenticity of the Cinequest crowd. He said—and I'm paraphrasing—that everyone seemed to be genuine film lovers who really wanted to be there, as opposed to the business-marketing hounds and/or disinterested industry types at Sundance.
In Pellington, I saw a glorious example of what Cinequest is all about: A filmmaker explaining how he deals with his own suffering through his art. The audience is elevated and empowered as a result.
Unfortunately, seeing "SAN JOSE. REDWOOD CITY." on all the promotional material was absurd. During the snazzy opening sequence that announces how Cinequest attracts talent from all over the word, I automatically thought, "all over the world ... AND REDWOOD CITY."
It was almost a bad drinking game. I kept wanting to say, " ... AND REDWOOD CITY" after every goofy thing that happened.
This isn't a criticism of organizers. Not at all. After Camera 12 circled the drain for the final time, Cinequest had to do something. They couldn't go down to two screens for a few hundred films. But it's been frustrating. For example, I really wanted to see India in a Day, a poetic and masterful crowd-sourced adventure, in which zillions of people filmed their average selves for a day. Since I participated in an event running concurrently at the California Theatre screening, I would have had to take Caltrain to Redwood City—or sit in traffic for an hour—to see the film.
Thankfully, Uchida Hall at San Jose State University had what Redwood City didn't: a panel session on pornography and horror in the VR industry.
Twenty audience members and three ushers showed up to watch. VR porn star Ela Darling, a former librarian (swoon!) who obtained a master's degree at age 21 and is now the president of the Adult Performer Advocacy Committee, easily out-articulated the two dudes on the panel and talked about ways in which VR might improve the adult entertainment experience.
In the old days, Darling said, adult performers used to simply show up, do the gig and get paid. But as subsequent eras of tech innovation emerged, like home cams, the performers acquired more ability to generate their own content rather than work for a filmmaker. The same scenario is happening with VR.
"I want to use software and hardware to empower the performers to create more content," Darling said. "And democratize VR porn the way traditional porn has been democratized, so performers can enter that kind of space."
VR is a less alienating technology and more helpful if you're socially inadequate, Darling said. VR gives viewers a closer sense of connection, giving lonely people a more comfortable space in which to open up and get accustomed to newer experiences. To wit, if you're badly withdrawn and feel like an emotional convalescent with no talent for social mingling, interactive VR systems can provide a much better way to practice people skills than mobbing the hors d'oeuvre servers at Cinequest soirees.
I learned all of this while sitting in Uchida Hall at SJSU, my alma mater, in a neighborhood where I still live. I didn't need to go to Redwood City.
All of which proves Cinequest offers something for everybody. You just have to know where to look.