Features & Columns
Cinequest Shorts Program
A quarter-century of Cinequest lends greater cred to festival's short films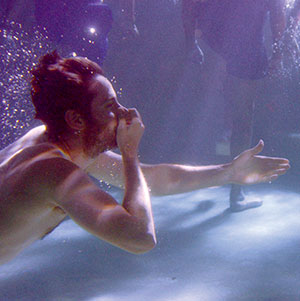 At Cinequest, the short programs can help launch a director's career and give audiences a glimpse at future mavericks. What's more, those who program the shorts inhabit the cutting edge right here in San Jose. This time around, for the festival's 25th anniversary, a wide smattering of snippets will explode off the screen.
Every emotion imaginable will be thrown right in your face, from the extremes of uncomfortable darkness to joyous tear-jerking. Nominated for an Oscar, The Dam Keeper, by animation artists Robert Kondo and Dice Tsutsumi, is a must-see.
And speaking of animation, Cinequest co-head of shorts programming Chris Garcia says the selection this year features a wider variety of animation types than Cinequest normally programs. So get ready.
"There's literally not a weak one among them," Garcia says. "Occasionally a film festival will include a film just because the animation is really well done, but these are all really amazing stories."
Now that Cinequest is an academy-qualifying festival seven or eight years running, if a film wins best narrative short or best animated short, it often goes on to a list of potential Oscar nominees. Garcia says that means more attention and more submissions, giving the programmers an even wider palette of material to choose from.
"Our goal is to give as broad of a view of film as possible," Garcia explains. "We're always looking to get documentaries, animations, narratives and new forms, and all these different things and put them together in a way that both thematically make sense and also enhance one another, by making a bounce between different takes on how filmmaking happens."
At a base level, short films provide audiences with material that simply doesn't make it into feature mainstream content until many years later. They often serve as a director's first foray into the entire medium. For example, many short films that Cinequest originally programmed years ago featured directors and producers that later carved out lucrative careers.
"I can remember seeing an early Eli Roth short, for example, that really just blew my mind," Garcia recalls. "And then a couple of years later, you see his first films on the multiplex screens. There's a personal aspect to programming these early films, to work with the filmmakers who are going to cut it in the future. It's like one of the 20 people that saw Nirvana play at the Cactus Club. You can say, 'I was there at the beginning.'"
In some cases, the shorts programming is a lot like listening to a DJ on a college station. You get a chance to hear what's on the DJ's mind, experience his or her own tastes, or get a flavor of what mood he or she was in. For example, an eclectic assemblage of work highlights the DocuNation set of shorts this time around. Garcia admits his fingerprints are all over selection. There's Mexican wrestling, Japanese Goth Lolitas, the 22 bus, plus a rare tea shop and even an Ohlone flick—Garcia's own tribe. It's a harmonization of local and international, native and exotic, urban and suburban. Just what I'd expect from a San Jose festival.
And why not? If Rancid can write lyrics about the 60 bus going up Winchester, why can't a filmmaker finally document homeless people occupying the 22 bus from Palo Alto to Eastridge? Thousands of us have contemplated making that film for years now, but it took Elizabeth Lo to finally make it happen and bring it to Cinequest.
And then there's the MindBenders program of shorts—nine films dealing with loss, murder, revenge, fear and extreme experimentation. Garcia says Love at Last Sight is one of the darkest films ever shown at Cinequest, plus he talks up the German avant-surreal, borderline musical presentation, Solo Finale, a film that could have worked in a number of other programs.
"Every year that we [program MindBenders], we end up getting great crowds," Garcia says. "It kind of cuts through the crusty folks who just love to see extreme horror, and the hardcore film nuts who might just love experimentation, but this year's program is really, really interesting because we went in a couple of different directions."