Features & Columns
Down in Front at ComedySportz
In celebration of 25 years, San Jose's ComedySportz plans an adult-themed B-movie improv-athon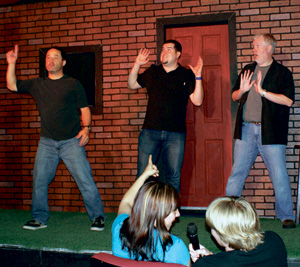 Not many institutions in San Jose can claim a 25th anniversary, but since ComedySportz is about to do just that, a celebration is necessary.
These characters have performed for a quarter-century now, tirelessly improvising onstage for crowds of all ages, plus corporate team-building seminars, bachelor parties and endless league competitions across the country.
Unlike standup comedy, in which one mook rattles off preplanned quips to a jaded audience, fired up on overpriced, watered-down drinks and greasy chicken wings, a ComedySportz match features two teams of comedy "act-letes," plus a referee calling fouls.
An average of seven to 12 games are played during a match, drawn from an entire repertoire of improvised games. Every show transpires in a different way, with different players and games, plus different crowds supplying different suggestions. At the end, the fans judge the whole thing. It can be a super-happy, family-type of event.
This Saturday, however, ComedySportz will debut a new performance unsuitable for all ages. A new show, titled "Down in Front," will be an 18-and-over, B-movie-style extravaganza of atrocities inspired by the format of Mystery Science Theater 3000. Nuclear families are not allowed for this one, apparently.
Courtney Pong, a ComedySportz performer, gave me the lowdown on how the whole mess will unfold: "We start off with the cast coming out. They'll ask for two or three suggestions. The team will create a movie title on the spot, and then we'll present a B-movie to you."
Full disclosure: Pong and I already know each other, since I spent a few years observing her schlep garlic fries at Gordon Biersch as I buried my life's dissatisfactions in hundreds of Blonde Bocks. But that was at least five years ago, and now ComedySportz is producing San Jose's first rolling-blunder revue of improvised B-movie atrocities. It is well worth observing.
For the gig, the performers need no instructions or guidance, but just enough keywords from the audience to trigger a rocking improvisation. The audience becomes the muse, with creativity and improv skills driving the rest.
"We ask the audience, 'Just give us three or four words,'" Pong explained. "From that, we can choose a title or incorporate that into the B-movie. It's very much that they just throw out suggestions and we use them however we see fit and create a B-movie and that's it."
As we talked on the phone, I spontaneously gave Pong some keywords: spaceship, chain-link fence, babies, heroin. Were that the case at the show, she explained, an instant movie could easily emerge.
"We might then title the film Baby Spaceships From Mars," Pong said, improvising over the phone. "And we'll do a 30-minute movie, and anything else we didn't put in the title, we'll find a way to use it within the theme."
Even better, just like Mystery Science Theater 3000, a few kooks in the front row will provide their own commentary over the PA system. It all happens live, improvised, on the spot. Connoisseurs of camp, bring your keywords.
The idea originally came from the Portand, Ore., chapter of ComedySportz. Each team in 20 different cities across the United States has its own format and special performances, so when the local San Jose team visited Portland, they were inspired.
"We actually saw this show about four years ago and finally decided to bring [it] here to San Jose," Pong said. "We wanted to add more types of improv to the Bay Area. We have our regular bread-and-butter show that does quite well across all ages—kids to grandparents—but we wanted more improv, more material and just more variety for people to come watch."
In any case, Down in Front is a great concept for a show. A million ideas come to mind immediately. I can't wait to see who shows up and provides Herschell Gordon Lewis references, just to see if the cast actually gets them. In any event, 25 years of improvising onstage is definitely something to brag about.
"We're the longest-running show after Beach Blanket Babylon," Pong boasted.
A special set of anniversary shows with ComedySportz alums will happen Sept. 13Ð15.
Saturday; 9:30pm
ComedySportz, 288 S. Second St., San Jose