Features & Columns
Reconceived Dadaglobe Project Picks Up Where Tristan Tzara Left Off
'Dadaglobe Reconstructed' at The Kunsthaus Zurich is a landmark show bringing together more than 200 works originally mailed to Tristan Tzara in 1920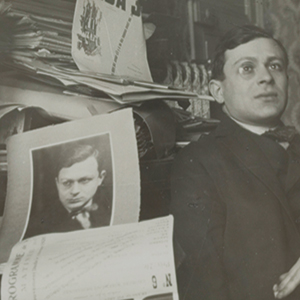 Whenever I hit the road, synchronicities unfold on multiple levels. Last spring, for example, the anti-man-about-town infiltrated Zurich to experience the centenary of the Dada art movement, an international web of radical creative perspectives that forever altered the courses of 20th-century art.
Following in the footsteps of anti-establishment heroes via interviews, museum exhibits, street tours and historical research was a form of creative genealogy. Now, as you read this, certain individuals and vibes from that trip are arriving in San Francisco for the Dada World Fair, organized by City Lights Bookstore, now through Nov. 13. Talk about everything coming full circle.
One major exhibition I experienced during that Swiss adventure was Dadaglobe Reconstructed at The Kunsthaus Zurich, a landmark show bringing together more than 200 works originally mailed to Tristan Tzara in 1920 for his Dadaglobe book compilation. In curating that project, Tzara essentially invented what's now known as mail art. According to Tzara's specific instructions, artists sent him imagery, photo collages, warped self-portraits, poetry or texts via postal mail to be included in the book, which he intended to function as an official Dada catalog representing the radical avant-garde of post-WWI Europe. Of course, in pure Dada fashion, the book never actually happened due to financial collapse and infighting among the participants, so the original submissions were eventually dispersed into public and private collections all over the world.
Some pieces, like Max Ernst's Chinese Nightingale, even went on to become important in their own right, but without anyone realizing they were originally created for Tzara's Dadaglobe book.
Amazingly, about six years ago, New York-based art historian Adrian Sudhalter began tracking down all of the original submissions with the intention of reconstructing the original Dadaglobe book. It was a landmark undertaking of 20th-century art scholarship and detective work, a milestone in Dada research culminating with the Kunsthaus exhibition, which then traveled to MoMA in New York City. Now Sudhalter will talk about her research at the brand new swissnex headquarters at Pier 17 in San Francisco on Nov. 2, just one of many Dada World Fair events over the next two weeks.
Tzara was an original anti-man-about-town. Even though he was among the Magnificent Seven who co-founded Dada at the Cabaret Voltaire in 1916, he never fit into one creative category. Hailing from Romania, he wrote poetry in both his mother tongue and in French. He also orchestrated performances of "simultaneous poetry" in which participants read unrelated poems at the same time in different languages. Coming from a multi-ethnic, multi-religious, multi-political background, Tzara's creative practice was inseparable from all of those characteristics.
As Dada began to circle the drain for good, Tzara branched off to Paris where he continued to duke it out with fellow wiseass troublemakers Francis Picabia and Andre Breton, a scene that eventually led to Surrealism. But Tzara did not go away. For decades he published volumes of poetry, traveled in and out of communism, and even amassed a formidable collection of African and Oceanic art. He was a performance artist, a playwright and a scholar—a true interdisciplinary character.
"Tzara was amazing," Sudhalter said. "He was first and foremost a poet. Dada was something he did for a few years, but he was a poet for his lifetime. He was a poet before he entered the Dada scene and he was a poet after. He had a very sincere passion for poetry. And identity. And for language and the politics that are inherent in language."
When I visited Zurich last April, the current-day Cabaret Voltaire featured an offizium—a prayer or incantation of sorts—to a particular Dadaist every single morning. I attended the one for Tzara, which took place on his birthday. I didn't know ahead of time that I'd be there on Tzara's birthday. For the offizium, Cabaret Voltaire director Adrian Notz stood there and read Tzara's entire 1918 Dada Manifesto. That document was and still is one of the all-time masterpieces of oppositional defiant disorder reiterated as a strategy for creative practice. I can probably identify 100 columns in which I've tried to do the exact same thing. I owe much to Tristan Tzara. Now, thanks to City Lights, it shall continue.
For more info visit www.dadaworldfair.net.