Features & Columns
Death Cafe at Studio Bongiorno
Death Cafe at Studio Bongiorno offers a casual place
to discuss matters of shuffling off this mortal coil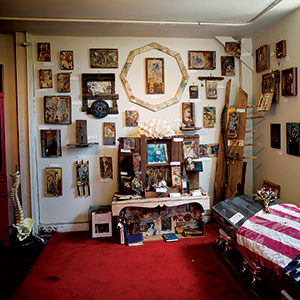 AT Death Cafes people drink tea, eat cake and discuss death." After reading that declaration on the front page of DeathCafe.com, I was hooked. After learning that Santa Clara's second official Death Cafe would unfold this Friday at Studio Bongiorno, I was hooked even more.
First things first. A Death Cafe has no agenda. There is neither a theme nor an objective. It is merely a discussion group, not a grief counseling session. The cafes take place on a non-profit basis, usually in very accessible and respectful places, with no intention of leading people to any conclusion, product or course of action. Everyone just shows up to eat, drink and talk about death. Nothing is taboo for the table. According to the website, common constants are tea and cake. Fair enough? I think so.
Based on the ideas of Swiss sociologist Bernard Crettaz, who started the first Cafes Mortels in 2004, the Death Cafe phenom eventually hit Paris in 2010 and then London in 2011. Guidelines were then codified and Death Cafes began to emerge in a wide variety of spaces and places, whether it was in people's living rooms, coffee shops or rented halls. By now, nearly 1,000 events have transpired all over the world, just in the last few years. Organizers call their events "social franchises." Crettaz has said his aim is to liberate the topic of death from its status of "tyrannical secrecy."
San Jose boosters will be mortified to know that their neighbor city of Santa Clara is far ahead of the game on this. The first Death Cafe in this neck of the woods took place at Studio Bongiorno a few months back, attracting several dozen people, who then broke up into various groups depending on the topics they wished to discuss.
The venue is perfect. Studio Bongiorno is located in the historical building formerly occupied by the California Monument Company, which manufactured headstones for Santa Clara Mission Cemetery across the street. If one prowls around the joint long enough, the history of death becomes apparent. It's also a rocking art gallery and performance space that recently staged events with rock & roll heroes from the 1960s, in the forms of ex-Rolling Stones manager Sam Cutler, photographer Robert Altman and many others. All in all, it's a great place for death discourse over a pot of relaxing nighttime teas.
And why the Mission City? Well, proprietor Phil Bongiorno says two prospective organizers simply walked into his joint one day, discovered it was suitable, and simply asked him if he wanted to hold a Death Cafe. He couldn't refuse. The first event was a success and this upcoming second installment looks to be even better.
"You open up and say, basically, 'What is this experience like in your life?'" Bongiorno explains. "But more than that, what do you want it to look like? It's our last taboo in this country. And so, it's like, put it on the table, get it out there, and they've found that, in the group discussing it and coming to grips with it, people learn to live more. We had 60 people here, we had cake, and it was great."
Michele Barbic, one of the therapists hosting the event, reiterates that Death Cafes are not therapy sessions. They're just happenings where all are invited to participate in a casual environment. For those who've always wanted to talk about such things but haven't yet found an adequate, comfortable venue to do so, in a relaxed fashion, Death Cafes are for them. For so many people, Barbic says, the issue with their grief is usually along the lines of: "If only I had talked to her about death," or "If only I had prepared for death."
"It's really sad to see that," Barbic says. "Because we can prepare for it. We can, if we talk about it in a relaxed setting with people we are comfortable with."
The Death Cafes, Barbic says, are helping get people to a place where they no longer fear death.
"[The events help] to put it out there, so people can get to that place, because when we're living in fear, we're obviously not living our fullest."