Features & Columns
Distinguished Gentleman's Ride Saves Lives, Zooms into San Jose
The Distinguished Gentleman's Ride pairs classic bikes
with a clean-cut look, but for a cause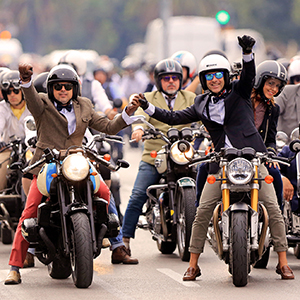 For the first time in San Jose, more than 100 men will wear their finest tailored suits while riding classic or vintage-styled motorcycles for charity. Call it Triumph meets Tweed, or Mad Men on Motorbikes, if you will, but the Distinguished Gentleman's Ride, as it has come to be known, now unfolds in 600-plus cities throughout the world.
Thousands of dudded-up and dapper dudes take to the streets to raise money for prostate cancer and men's mental health, with people from Melbourne to Serbia, from Vietnam to Wales, from Peru and Morocco to India and the Philippines all contributing. If you don't ride a motorcycle but still harbor a passion for the cause, sponsor a rider or make an anonymous donation.
Locally, thanks to Martin Chirotarrab and his crew at Spirit Motorcycles on Meridian Avenue, San Jose will be joining the global effort for the first time. The ride takes place Sunday, Sept. 24, beginning with breakfast in Spirit's back parking lot, where a barber will also take care of any last-minute facial trimmings. From there, the ride goes to Santana Row, then to Willow Glen and downtown Campbell, and on to Saratoga and Los Gatos before returning back to Spirit Motorcycles, where end-of-ride festivities will take over the parking lot.
Spirit Motorcycles opened in June 2014, and immediately filled a gap in a longtime San Jose tradition of Indian Motorcycle distributors. Indian shops existed in downtown San Jose as early as the 1950s, if not before then. Now Spirit is a major player in Northern California's Indian market. As of a few months ago, Spirit also acquired a Triumph license, likewise returning that brand to the South Bay after a long hiatus. Triumph is the worldwide sponsor for the Distinguished Gentleman's Ride, and since Spirit already connects every new owner to various weekend riders' groups that depart from the parking lot, everything dovetailed perfectly.
"There are a lot of similarities and synergy between what we are as a company, the way we look after our customers, and everything that Triumph is, and then what Distinguished Gentleman's Ride does," Chirotarrab says. "For us it's not only about taking from the community, it's about giving back."
The Distinguished Gentleman's Ride is a slow type of adventure to show off elegantly dressed individuals. They won't be zooming through neighborhoods to make a racket. Although, to be honest, I am dying to see how the spandex bicyclist powwow often infesting Los Gatos on a Sunday reacts when 100 motorcycles suddenly creep into the neighborhood, or what the nuclear families of Willow Glen might think on their Sunday strolls. That should be fun. But since these are distinguished gentlemen—and adults mind you—we shouldn't expect any problems.
Anyone can join. The ride is free, but participants must register in advance, and in most cases, people are encouraged to donate something to the cause. Many have their own fundraising pages and other companies even jump in to match funds in certain cases. At press time, San Jose riders had already raised $16,509 for the cause.
Even better, the event is not just for men. Women are also invited to ride. In the same way that men participate in women's causes, so shall the ladies join in the Distinguished Gentleman's Ride.
Now, when it comes to the details, here's what they mean by distinguished: crisp shirts, tailored suits, monocles, cravats, silk waistcoats, ties, neatly trimmed facial foliage, or any combination the likes thereof.
In addition to vintage Triumphs or Indian bikes owned by dedicated enthusiasts, the rides normally feature cafe racers, bobbers, classics, trackers, scramblers, old school choppers, modern classics and maybe a sidecar or a classic scooter. Bratstyle motorcycles are also welcome. You'll see something like Don Draper's 1957 Matchless G3LS right alongside a custom Triumph. The idea is to feature niche bikes that aren't normally seen all over the streets, or brands that command a cult following.
"Both Indian and Triumph are iconic brands," Chirotarrab says. "There's a long tradition of fellowship. It's not just a piece of metal."
Distinguished Gentleman's Ride
Sunday, Sept. 24. 9am
Start & End Point: 460 Meridian Ave, San Jose
gentlemansride.com