Features & Columns
Trip to Irish Capital Spurs Ideas for San Jose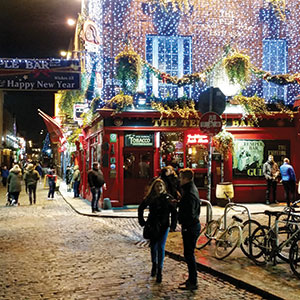 International travel tends to create a heightened sense of awareness, often leading to a productive reassessment of one's own landscape. In regards to Dublin, Ireland, one of San Jose's sister cities, a recent infiltration around New Year's conjured up cosmic comparisons to San Jose, one after the other.
First of all, Dublin is home to the rock band U2, where singer Bono and guitarist The Edge bought The Clarence Hotel about 25 years ago, fully restoring the historic property to iconic status in the Dublin landscape. On New Year's Eve, Bono's son gigged in the bar next door, and afterward, the whole family along with lifelong friends went up to the penthouse and partied until the wee morning hours. I missed the episode by a few hours, but such things happen on a regular basis at The Clarence.
U2's connections to The Clarence go way back. Depending on who tells the story, in 1979 when the band was starting out, they'd gig across the street from The Clarence in a public market. The venue didn't have a bathroom, so people would sneak over to the hotel, which was then a dated property featuring tiny rooms for foreign businessmen and traveling clerics. Legend has it that, after getting hassled by the hotel numerous times, Bono said, "Someday I'm going to buy that hotel," and he finally did.
Upon hearing this story, the first thing I thought was that Greg Camp from Smashmouth should buy the old Hank Coca's Furniture building in downtown San Jose and convert it to a rock & roll hotel. This would be a much needed improvement to the neighborhood. Such a property could appeal to business travelers while making make more room for arts and culture. What an idea.
Just around the corner from The Clarence, at the Irish Rock 'n' Roll Museum Experience, I saw a graffiti-stained piece of the wall from the old Windmill Lane Studios, where U2 cut several legendary albums. It reminded me of the graffiti-stained walls of the Rock Gardens on South Market, an old condemned building that was destroyed to build the luxury Pierce Apartments, but not before Jim Salata saved a few pieces of the wall. At least somebody was thinking ahead. If San Jose politicians ever pivot towards prioritizing culture and history instead of real estate, then maybe those walls will be on display in a similar local rock museum.
Another Dublin legend and one of the country's four Nobel laureates in literature, William Butler Yeats, has his own exhibit at the National Library of Ireland on Kildare Street. Numerous alcoves and glass cases showcase artifacts, notebooks, magazines, letters, photographs and other ephemera. One glass case in particular documents Yeats' occult interests, as the poet was also a member of the Hermetic Order of the Golden Dawn. Rosicrucian symbols and philosophies run through the entire set of artifacts. With the Rosicrucians' presence here in San Jose going on 90 years now, I couldn't help but think of them while exploring the exhibit. They deserve a much more mainstream exhibit somewhere.
Dublin has produced so many heroes that one can't wander anywhere without encountering a plaque of some sort. One such plaque designates Oscar Wilde's birthplace behind Trinity College, a school he later attended. San Jose's equivalent might be someone born in downtown San Jose who winds up attending SJSU. As I wrote once before in this space, Wilde did visit San Jose during one of his speaking tours—April 3, 1882, to be precise—but I don't think anyone here will ever have the vision to install a plaque.
Finally, the most famous Dublin hotel, the Shelbourne, features the Constitution Suite, steeped in history and bedecked with paintings worth tens of millions. It was in Room 112 that the Irish Constitution of 1922 was signed. Entering that room made me recall that San Jose was California's first capital and site of the first state legislature, also known as the Legislature of a Thousand Drinks. "Let's have a drink, let's have a thousand drinks," they famously declared, pretty close to where the Fairmont now sits. The hotel should have a "Legislature Room" or something similar.
As always, I am grateful for the San Jose-Dublin sister city relationship. Dublin to me will always and forever seem like family.