Features & Columns
Juan Felipe Herrera Leads
'Legacy of Poetry Day' in San Jose
Juan Felipe Herrera will lead proceedings May 5 for the new launch of Hammer Theater Center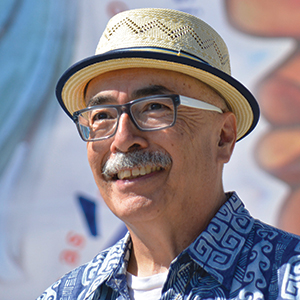 The state's largest group poetry event will unfold Thursday, May 5, both inside and outside of the Hammer Theater Center. U.S. Poet Laureate and San Jose legend Juan Felipe Herrera will preside over the entire gala hoedown spectacular.
Even though Legacy of Poetry Day features a few dozen poets unleashing their stuff—students, faculty, staff, plus former and current civic laureates—the party won't be limited to just poetry.
To begin with, short readings from San Jose State University (SJSU) peeps and community poets will unfold outside the theater from 5 to 7pm. The next hour will feature a glorious theatrical march of the highest order: Pachanga on the Paseo: A Roving Spectacle of Public Art. It probably won't fit into any singular category—Chicano, Cuban, Aztec, or Latino—so don't even try. But it promises to be a cosmic conglomeration of music and dance written by both Luis and Kinan Valdez and directed by the latter.
Presented by SJSU, the Pachanga will blossom into a full-blown procession of performers, poets and audience members entering Hammer Theater Center—formerly The Rep—all while leading up to an official blessing of the venue by Herrera himself. Another series of readings by several poet laureates from various local cities, including alumni and current scribes, will then take place, after which Herrera will sign any number of his many books. Bring 'em if you got 'em. Once all of that is done, the party then spills right back out onto the concrete, taking full advantage of the normally underutilized and squandered Paseo de San Antonio.
There is no admission fee for any of this. Everything is free of charge, and if you're anywhere near downtown San Jose on Thursday, you should at least hover on the periphery, because Juan Felipe Herrera, who taught at De Anza College in the '80s and lived in Japantown, is a legend. Thirty years ago he helped crystallize what's blossomed into an era of Latino arts-and-culture-jamming provocateurism, and in the process he made San Jose a much better city. Now he's the first-ever Latino to become U.S. Poet Laureate, although the designation, 'Latino,' tends to simplify the dude too much, in my opinion.
It might be more accurate to say Juan Felipe Herrera is an American poet in the Chicano-Zen-hipster tradition, personifying a transnational border-shattering performance-life-art bouillabaisse of Surrealist theater, Dada and Maya cosmologies. He can wax poetic about the intersection of Story and King or the struggle in Chiapas. He's conquered academic departments at more than one university. His oeuvre includes standard poetry and prose to the most obscure scholarly publications. He can rant, he can rave, and now he can even bless buildings.
For example, one of the best things ever written about San Jose was a 30-page book of 'scenarios' titled ZENJOSE, back in the '80s. Just as the city was digging up downtown streets in order to install the light rail system and convert the neighborhood from a vast desert of empty parking lots into something urban, Herrera created this little masterpiece of a book. He wrote haiku-like poems and Roberto Segura drew the calligraphy. A copy still exists in the main library but the book is sadly out of print. Herrera used the book to poke fun at City Hall, commuter traffic, million-dollar light rail trains going 1 mph, and even runaway downtown shopping carts looking for their parking lots.
In another book, Mayan Drifter, Herrera journeys to his ancestral homeland of Chiapas and formulates a serious compendium of prose, poetry, travelogue and political ruminations on the systematic demise of indigenous people in Mexico. Written in the first half of the '90s, the book contemplates the inevitable collapse of nation states, borders and associated identities.
In addition to numerous poetry volumes, Herrera also writes children's books. He is an uncategorizable force to be reckoned with, still, and therefore perfect for the christening of the new Hammer Theater Center. Under the auspices of SJSU, the theater now enters a new poetic era.
Legacy of Poetry Day Thursday, May 5
5-9:30pm
Free, Hammer Theatre Center