Features & Columns
My Weekend in Monterey for the Greatest Rock Concert Ever
Ex-Giants manager Dusty Baker pens book on Hendrix concert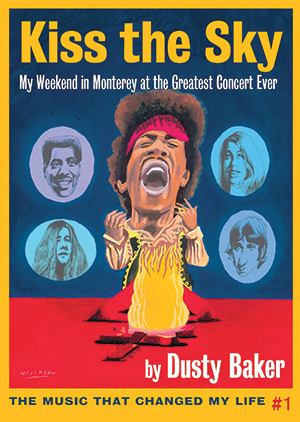 Everyone knows Dusty Baker by now. He managed the San Francisco Giants for 10 seasons, taking them to the 2002 World Series. As a player, he won the 1981 World Series with the Dodgers, and before that, he occupied the on-deck circle in 1974 when Hank Aaron blasted homer 715, breaking Babe Ruth's record. Baker has always been one of the coolest dudes in baseball, but now, thanks to Wellstone Books, he's also a music writer.
Releasing in a few weeks, Kiss the Sky: My Weekend in Monterey for the Greatest Rock Concert Ever, is Dusty Baker's first book, documenting the role music has played in his life, the apex of which was the legendary performance Jimi Hendrix gave at the Monterey International Pop Festival in 1967. The pocket-sized edition is the first book in Wellstone's "Music That Changed My Life" series.
A mini-memoir, the book also appears through the lens of all the different flavors of music that shaped Baker's life to this day. In one layer of the narrative, Baker elaborates on his childhood and teenage years, including near-decisions to either play basketball at Santa Clara University or attend San Jose State solely because it was designated by Playboy as a party school. But his love of music, in a variety of genres, from the very beginnings of his youth, is what shaped him. As a kid, he was required by his mom to attend a Baptist church and give piano recitals, but he was forbidden to attend the local Pentecostal church because it was the first in his hometown to feature music with drums and guitar.
However, the gift Dusty's mom gave him for his 18th birthday, in 1967, eventually led to this book. After receiving tickets to Monterey Pop and permission to drive his family's car down from Sacramento with a friend, Baker experienced one of the highlights of his life. Accounts from that groundbreaking festival already exist, particularly Joel Selvin's book, which Baker even quotes from, but Baker's take on Hendrix is worth the price of his book. Jimi's face on stage that day, he says, was the look of someone hitting a home run.
"[When blasting a homer], most of all, the feeling you have is a kind of calm exhilaration and wonder," writes Baker, "a sense not that you had done something in launching that ball over the fence, but that you were part of something, the swing of your bat striking a ball rushing your way and connecting to make something special happen. You almost feel that the bat did the work, it feels so light in your hands, the swing feels so easy."
Hendrix used a guitar, and all through the performance it seemed to be a part of him. The axe appeared to do all the work, with Hendrix seemingly just as amazed as everyone in the audience at what was happening with his guitar.
"What you saw was a childlike joyousness and ease, a sense of complete comfort, since he knew he was tapping into major talent and everyone else there knew it, too," Baker writes.
The following year, 1968, Baker actually smoked a joint with Hendrix outside the Condor Club in San Francisco. "That was my claim to fame," he jokes.
Wellstone Books is the publishing arm of the Wellstone Center in the Redwoods, a writer's retreat in the Santa Cruz Mountains. They're the same heroes who earlier this year published Bruce Bochy's A Book of Walks, in which the current Giants manager reflects on his favorite leisurely treks around San Francisco. It's already a Zen classic and a testimonial to the benefits of walking. Both books feel like a coffee shop conversation with the authors. At the helm of Wellstone we find the noted baseball author Steve Kettmann, who grew up in San Jose and went to Willow Glen High School.
"The idea is to publish personal writing that's not afraid to inspire," Kettmann says. "We don't want it to be self-help or overtly inspirational. We want it to be cool stuff that gets people excited to make a positive change in their lives."
Kiss the Sky: My Weekend in Monterey for the Greatest Rock Concert Ever will be be published Nov. 10 by Wellstone Books. It can be pre-ordered at Amazon.com.