Features & Columns
Oddball Musician Korla Pandit
Gets Some Long-Overdue Respect
The new documentary 'Korla' explores the life of eccentric entertainer Korla Pandit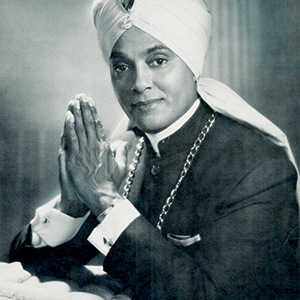 At the dawn of the television era, Korla Pandit mesmerized millions of television viewers with his dazzling talent on the Hammond organ, exotic jeweled turbans, Indian mysticism and deep penetrating eyes. He rarely spoke. He just stared into cameras throughout the 1950s, looking right into everyone's living rooms. His entire shtick was, if not the first, one of the first true TV masterpieces.
Aside from his TV work, he became the undisputed godfather of a music genre that came to be known as exotica. He was a direct antecedent of lounge lizard culture, space-age bachelor pad music, Liberace, and many flavors of high camp in the last half of the 20th century. One might even suggest Marilyn Manson, to a certain degree, ripped off Pandit's shtick.
Thanks to John Turner and Eric Christensen, a fantastic new documentary, Korla, now explores Pandit's life and career, especially the more controversial aspect of his story.
He was not actually Korla Pandit. He wasn't even Indian. He was an African-American dude named John Roland Redd from Columbia, Mo., who couldn't get a proper working gig in racist Hollywood of the late '40s. He broke in by inventing a new identity for himself and stuck to the story for the rest of his life.
That much is old news, but the documentary is long overdue and riveting at every turn. It holds your attention just the way Korla did all those decades ago. And yes, the suburban myths about Pandit are true: he did perform at Pizza and Pipes restaurants in the South Bay many times.
Turner and Christensen are Bay Area media legends—KGO employed them both for decades—so the two were well connected enough to pool their resources and shine a mystic light on Pandit's story. Christensen leveraged years of music industry connections, and Turner brought a lifelong passion for eccentric characters, oddball history and folk-art Americana to the table. Both are retired and together their efforts paid off in the documentary.
"There was a collaboration of interests," Turner said. "Eric's in music and mine in eccentric and wonderful people to celebrate. [We] met for lunch three-and-a-half years ago and started talking about projects, and I thought this Korla thing would be interesting to collaborate on and use both of our talents."
In the film, people from several walks of life rally on Pandit's behalf, including Carlos Santana, who places him on the same mystical plane as Miles Davis and Alice Coltrane. Hammond B-3 legends Dr. Lonnie Smith and Booker T. Jones testify to Pandit's unique approach to the instrument. Highball praise also comes from bands like the Cramps and the Muffs, the latter of which actually dragged Pandit out of obscurity in the early '90s to record.
On the flip side, sociologist Harry Edwards calls our attention to the fact that John Roland Redd never tried to advance the cause of racial integration. Instead, he invented another identity solely to advance his own career.
From an Eastern perspective, there is no absolute ending to this story, but the film rightly conjures up some serious questions on which the viewer will continue to meditate. Did Korla Pandit capitalize on America's insidious caricatures of the "exotic"? Did he make his family miserable by carrying on with a false identity for the rest of his life? Or should his superior musical talent and innovative keyboard play, along with his belief that music is the universal language, take precedent? I'm inclined to believe the latter.
There really won't ever be another story like Pandit's. So far, the story includes obsessive fans, crackpot genealogists, new age housewives, journalists, sociologists, lounge lizards, record collectors, B-movie freaks, organ society administrators, Eastern spiritualists and television historians. It's not crazy. It's poetic: John Roland Redd decided to go west and discovered the East instead.
The Golden State has always been home to fringe spiritualities, eccentrics, the underbelly of the entertainment industry and a place where people simply go to start over. In that sense, the journey of Korla Pandit is a truly California story. It makes me proud to be a native. And exotic.
Korla
FRI 4:40pm; SAT-SUN 12:05pm