Features & Columns
LAST Festival, Paseo challenge help Hammer Theatre Reinvention
Two simultaneous matrices of creative endeavor take over Hammer
Theatre and Paseo de San Antonio this weekend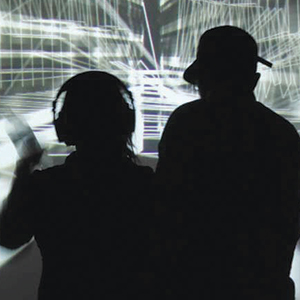 Two simultaneous matrices of creative endeavor take over Hammer Theatre and Paseo de San Antonio this weekend, both of which will be open to the public and completely free of charge. The fourth incarnation of the LAST Festival (Life, Art, Science, Tech) will unfold inside the theater, beginning with a reception Friday evening and continuing with media art installations and provocative panel discussions all Saturday.
LAST Festival founder Piero Scaruffi—also an author, scientist and cultural historian—organized the panel sessions, while SJSU art professor and former ZERO1 Executive Director Joel Slayton curated the art installations.
At the same time, Hammer Theatre and environs will host the final weekend of Paseo Public Prototyping Challenge, in which several student teams from San Jose State University (SJSU) invent—a.k.a. "prototype"—solutions to social and environmental challenges through student-focused, multidisciplinary collaboration and technological innovation. That is, students design projects to make San Jose a more interesting place and then compete for prizes. You'll see demonstrations, workshops and presentations, outside and inside Hammer Theatre.
For the LAST Festival, about 16 artists' installations comprise the exhibit, offering a fresh look at how the convergence of art, science and technology instigate new forms of social interactions. Many of the artists are students or student-aged multidisciplinary characters near the beginning of their careers. The exhibit is not one of those lofty academic artspeak-a-thons that compare and contrast Foucault's elaboration of the panopticon with the bottom-up strategy of genetic algorithms, or something similar. Instead, the whole thing is refreshingly downmarket. The artists are measuring stuff, making stuff, sharing their experiences and supplying components of critique and reflection as a compliment to the Paseo Prototype Challenge's giddy optimism.
"What's interesting to me is that it's low budget, emerging artists," Slayton says. "Most of them are at the first stage of their career. They represent a kind of millennial thinking. All of them have grown up in technoculture in a way that is really unique. So, having a chance to see how they're interpreting and perceiving and interacting with the world, I think, is really refreshing. There's a kind of maker rawness to what these artists are doing, that you don't see in a more refined exhibition."
The challenge grew out of several ideas to activate Paseo de San Antonio. In addition to the city, SJSU and the Tech Museum, several other partners are involved, including Intel, Microsoft and Autodesk. The SJSU art department's Craig Hobbs is at the helm, along with faculty from art, engineering, computer science and other disciplines. Student teams from every possible field of study are competing. In fact, so many people are involved with this adventure that it's hard to keep track of everything, but expect some intriguing civic innovation projects like solar-powered sidewalks, cold storage technology for fruit and vegetable pop-up vendors, or skateboard trucks that power lights for visibility. Yowza.
At both the Paseo Public Prototyping Challenge and the LAST Festival, attendees get to witness young and new interpretations of the world. College-age artists are discussing aspects of cognition, the environment, social interaction and the role data gathering plays in society. Would-be entrepreneurs are conspiring on ways to make San Jose a more interesting place. When we look at the world through a fresh pair of eyes, it just re-informs us. That's a good thing.
All of this is a perfect example of how the Hammer Theatre project is evolving. Students and civic projects. Artists and scientists. Musicians and garage tinkerers. Exactly the type of collaborative congregation that San Jose should be celebrating.
In Slayton's case, he's retiring from SJSU after running the CADRE Lab in the art building for 20 years and then executively directing ZERO1 for another eight years. So curating the artists for the LAST Festival was a logical last call. The evolution of the Hammer Theatre provided a perfect situation.
"If I can do one last thing at San Jose State before I take off, it would be to help push that along," Slayton says. "Let's do something that embraces what the Hammer can be, so let's try something, create some presence, and see if it flies."
LAST Festival
April 7-8
Hammer Theater
101 Paseo de San Antonio, San Jose
www.lastfestival.com
FREE