Features & Columns
A Soccer Star Returns to San Jose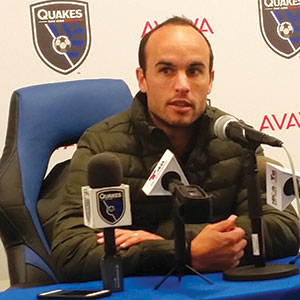 Last week, Landon Donovan, one of the best soccer players ever to emerge from U.S. soil, returned to San Jose, the city that launched his career. Now 36, he plays for the Mexican team Club Leon, which battled the Quakes in a friendly game last Saturday. Landon scored the only goal and Leon won the match 1-0.
Journalism-wise, only a few of us are left from when Landon played here (2001 to 2004), so it was a poignant experience, at least for me, when he gave a press conference at the end of last week. In comparison to when we held voice recorders in front of him, 17 years ago in crumbling Spartan Stadium locker rooms, he's a more contemplative and wiser dude these days.
Landon first arrived in San Jose at the age of 19, in March 2001, just a few months after Silicon Valley Sports & Entertainment, the Sharks' business and marketing arm, had taken over as investor-operators of the team. Major League Soccer (MLS) had only existed for five years. There were only 12 teams and no one knew if the league would survive long-term. Bayer Leverkusen in the German Bundesliga owned Landon's contract, yet he could not make an impact there at such a young age, so he was loaned back to the US. In the bumbling jury-rigged machinations of MLS, the Quakes received him as an "allocation player."
I attended the original press conference announcing Landon's arrival. It was in the Compaq Center, now the SAP Center. Not yet a working journalist, I sneaked into the event, telling the security guard I was a season ticket holder. It was just like sneaking into Cactus Club 10 years earlier. I had no plans to ever be a sports writer, but later that year, a now-defunct website, Slide Tackle Magazine, started paying me $25 to write match reports.
As the story goes, right here in town, Landon morphed into the poster boy for the future of American soccer, whether he wanted that mantle or not, and it didn't unfold without drama from across the country. Certain factions wanted him in the U.S. to help save the league, while others wanted to see him back in Europe, where he'd mature amid better competition. People called him a sissy for wanting to stay and help grow the game in his own country. It seemed like he was constantly tugged in many different directions, all while being manipulated as the young savior of the American game, not something a 19- or 20-year-old usually deals with. Many issues still argued today—the MLS player versus the player with Euro league experience, the ways in which youth talent is developed here and overseas, and the resulting effects on national team quality—were thrown onto Landon's back at that time. All of which might have played a role in his battles with depression.
Aside from helping San Jose win two MLS championships, Landon left a serious legacy. It almost seems like a previous lifetime. After the 2002 World Cup, for example, he helped the United States reach the quarterfinals, the country's best-ever showing. After the U.S. was eliminated, Landon flew right back to San Jose and came onto the field for the Quakes, just 37 hours after he walked off the pitch in Korea. Before the game, a huge news conference unfolded at Spartan Stadium, and later when he entered the game as a sub, the crowd gave him a standing ovation.
The last time Landon was ever pictured in print wearing a Quakes uniform was for a 5,000-word cover story I wrote for Metro in January 2005, titled, "Earth to San Jose: Soccer Team Needs Stadium," during which then-operators, AEG, were threatening to relocate the team because they considered San Jose a backwater market, and they saw Houston as a more fruitful place to build a stadium with someone else's money. Landon was not in the story, but his likeness graced the cover.
Just last Friday, when Landon returned to San Jose for what was probably his last time playing here, barring any future old-timers games, it was a space-time continuum-shattering moment for me. As I write this column, I have nothing but gratitude for my experiences over the last 40 years of this sport in this town and Landon was a huge part of that. I feel lucky to still be here.