Features & Columns
MACLA Celebrates 25th Anniversary
MACLA celebrates legacy of meshing new school, tradition on 25th anniversary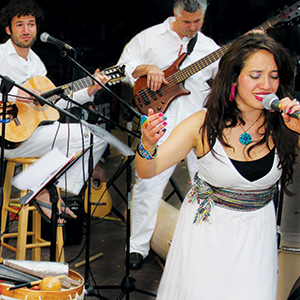 This weekend, MACLA celebrates its 25th anniversary, not only via its annual Latino Art Auction, but also with a celebration to repurpose Parque de los Pobladores across the street.
MACLA (Movimiento de Arte y Cultura Latino Americana) began as a Latino and Chicano arts advocacy group at the end of the 1980s, and it's grown into a nationally-recognized tangible institution. What's more, architect Teddy Cruz, an associate professor in public culture and urbanism at U.C. San Diego, will reveal grand plans this weekend to salvage the hideous sun-baked splotch of ineffectual concrete at the northern end of Parque de los Pobladores. The city screwed the park up a few years ago by ripping out trees and replacing them with pavement.
Expect a permanent stage plus modular and multipurpose components, transforming the space into a vibrant, multidimensional plaza of public and cultural engagement—you know, like something you'd find in any real city anywhere else. Other than that, I won't spoil it. You'll have to show up and see what transpires.
The main gig here, though, is MACLA's 25th anniversary. Around the mid- to late-1980s, seemingly endless construction began to slaughter downtown. The city was tearing up the streets to build the light rail system, driving retailers out of business left and right. Skid row areas and pockets of adult entertainment ghettos still percolated. Debates raged about the future of the city, its socio-economic makeup, housing policies and its investments in cultural life. Just a few years earlier, a Chicano-themed cultural center, the Centro Cultural de la Gente, had closed up shop.
As the '80s wore on, practically all of the city's funding for the arts went to more "vanilla" forms of cultural production and a few provocative heroes began to get sick of it, so they stepped up to the plate and made their voices heard. Maribel Alvarez was one of those people and MACLA essentially began as an advocacy organization, embroidering the threads of the civil rights, anti-poverty and Chicano movements with an ever-expanding Latino identity. Together, these threads ensured ethnic-based arts could flourish in San Jose.
"MACLA was steeped in social-change advocacy from the beginning," Alvarez told me. "In the very early stages we thought we would be more like an umbrella so we could facilitate that for other people instead of our own, but the energy was there to really bring back some of that Latino creativity and harness it."
MACLA's attitude was edgy, political, fresh, high-quality, experimental and it really did establish a movement, which later evolved into an actual physical space on South First Street. It became a repository of youth cultures, Chicano poetics, performance art, and even several other ethnic persuasions. As a group, MACLA published papers, received grants, and made itself known throughout the country. Organizations like the Andy Warhol Foundation, the Ford Foundation and several others across the USA became aware of all that MACLA had accomplished before most people in San Jose even understood what MACLA was. That's typical San Jose, of course.
But eventually, MACLA did indeed infiltrate local governments. People in positions of power actually listened to MACLA, realizing its message was real—not crusty old ethnic politics—and represented a growing tapestry of movements vastly important to the cultural landscape of San Jose. Even better, unlike other organizations, they stuck it out and refused to leave downtown.
Today, MACLA programs cutting-edge material on a regular basis. The building at 500 South First Street, formerly a '50s-era auto dealership, officially belongs to MACLA now, and after I was shown secret plans for what's in store for that two-story complex, I was quite thrilled to say the least.
Looking back on 25 years, Alvarez says she's blown away by what MACLA has accomplished since the beginning. As a movement, it paved the way a quarter-century ago and continues to do so.
"MACLA really helped redefine ethnic sensibilities," Alvarez said. "We were very sophisticated and cosmopolitan. We were very edgy and we were very traditional at the same time.
"But what is different now is that MACLA is starting to finally get that recognition, locally, and show that it has the support and the capacity to do amazing things as part of the downtown fabric."
MACLA 25th Anniversary
Saturday, May 16
Live Auction and Loter'a, MACLA Gallery, 6-9 pm. Celebration at Parque de Pobladores with live music by the YeYe Ensemble, 9-11pm.
Live Auction + Celebration $75 online / $85 at the door
Live Auction + Loter,a + Celebration $350 online
Celebration Only $25 online / $30 at the door