Features & Columns
Manchester United Visits San Jose
San Jose Earthquakes share ties with world-class club,
upcoming opponent Manchester United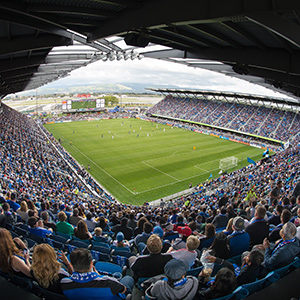 Manchester United, ranked by Forbes as the most valuable sports club in the world at $2.23 billion, will make an unprecedented visit next week to San Jose for a game against the Earthquakes. Many European clubs have played here over the last 40 years, including Real Madrid back in the 1980s, but no one as lucrative as ManU.
There is much reason to celebrate, as the two teams share some history. One of the best players ever to play the sport, and certainly the most famous ManUnited star, George Best, played for the Quakes for two seasons, in 1980-81. His story is more than well documented, but he is inarguably the most famous international sports figure ever to play for any team in San Jose, in any sport, before or since. When he passed away in 2005, I hurried over to the Metro office and jammed out a last-minute obituary on deadline, which later wound up in a UK-based compilation book of memories titled, George Best: A Celebration. His hometown of Belfast, Northern Ireland, gave him the equivalent of a state funeral. Everyone took the day off work and 100,000 people jammed the streets to watch the motorcade.
People all over this valley still tell stories of Best's time here, but his influence on the field especially crossed all boundaries. San Jose's own Brandi Chastain grew up attending Quakes games and in her 2005 book, It's Not About the Bra, Brandi said George Best was one of her first sports heroes.
"When I started playing soccer, I had no role models to inspire me on the field," she wrote. "No one in my neighborhood, or in my family, played the game. But the very first time I saw the professional team that would become my guiding light, the San Jose Earthquakes, I found my role model. He was George Best, and in my mind, the name fit. Watching him corkscrew bewildered defenders into the ground with his amazing moves and a smile on his face, I said to myself, 'That's what I want to do.'"
Best's legacy continues around the world. When the crew of Manchester United TV visited San Jose a few months ago, they wanted to know everything about George Best's time here. They interviewed former Earthquake Chris Dangerfield, who told them a number of stories. He and Best were teammates, pals and even housemates for a short time. After the interview, the TV crew said it was refreshing to meet a club with so much history, which makes Manchester United's upcoming visit that much more relevant.
In fact, just as I was contemplating what to write in this column, I bumped into yet another person with a George Best memory. He apparently taught people how to play darts at The Hot Pot, a nondescript bar in a nondescript strip mall on the west side. These encounters happen to me all the time. In some cases, people may not have even heard of Manchester United, but they remember George Best hanging out in San Jose or Los Gatos more than 30 years ago. In other cases, even if people from that era don't make it to the games now, they still have fond memories of George Best.
Of course, Best is not the only Manchester United connection to San Jose. Another former legend, Bill Foulkes, actually coached the Earthquakes for the 1980 season, when Best first arrived. The team was not very good, but Foulkes brought his own history with him. He was a survivor of the tragic 1958 air disaster in Munich, when 23 people died in a plane crash, including eight United players, three members of the club's staff and eight journalists.
After all these decades, it is truly remarkable for San Jose that one of the world's biggest sports clubs is now playing a match right here at the Quakes' own intimate stadium. In 1981, no one imagined such a thing would ever happen. Next week, the ghosts of George Best and Bill Foulkes will drift among the steel beams of Avaya Stadium. I think they would like the place.